One of the most common concerns about moving into an assisted living community is losing independence. At Sunset Senior Communities, your independence and ability to participate in the activities you enjoy is of utmost importance! Our senior living options are designed to support your independence and promote health through activities at every stage of your stay with us.
From fine art to worship services to strolling our scenic grounds, there's always something fun to explore at your pace, on your schedule. Keep reading to learn how Sunset incorporates activities into our assisted living communities so residents can stay busy and engaged with family and friends.
Sunset Supports Community-Based Active Living for Seniors
Sunset is a Life Plan community, meaning we help you develop a plan to age in place (to stay in the same residence for as long as you're able). Many residents, like Don and Ina, chose independent living before they needed assistance with daily tasks. Then, when the time comes to include more outside help in their daily activities, there is already a support system in place and they can smoothly transition to receiving assisted living services. This allows Don, Ina, and other residents to make the most of their golden years enjoying the activities they love.
Assisted Living Is not a Nursing Home
There's a common misconception that moving into an assisted living community is the same as moving into a nursing home. Once you move in, you'll lose independence, autonomy, and self-sufficiency. The truth is that assisted living is not a nursing home at all! Our assisted living facilities simply provide residents with supportive care on an as-needed basis. This assistance is designed to help you maintain your independence, not restrict it. When you don't have to worry about the stress of preparing meals or doing laundry, for example, you're free to spend more time doing what you enjoy.
Plus, part of the assisted living amenities included in Sunset is the full calendar of events and activities put together by our Life Enrichment team. At Sunset, these activities keep residents busy and engaged with their friends and families—just the way independent living and assisted living residents like it.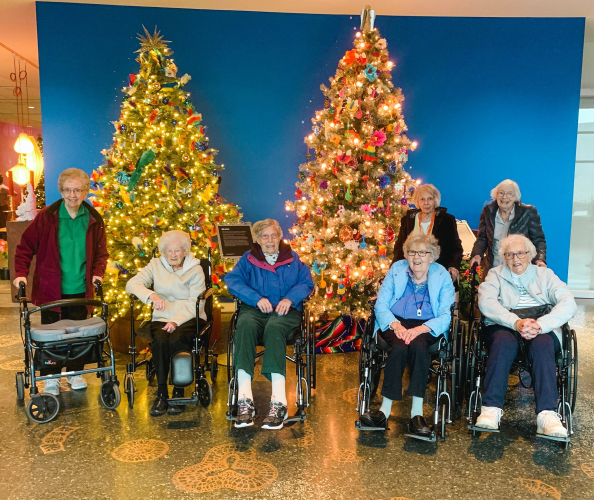 Assisted Living residents visit Frederik Meijer Gardens during the holidays.
Assisted Living Activities at Sunset Communities
So what activities are there at Sunset's assisted living communities? There's a little something for everyone, allowing residents to be as active as they want to be.
Spiritual Activities
We're proud to provide quality services for senior adults in a spirit of Christian love. In addition to our facilities' chapels, there are regular Bible study groups, hymn sings, and worship services. Residents are also encouraged to start groups as God leads them; Ina started a grandmothers' prayer group at Waterford Place and has become incredibly close with the women she prays with!
On-Site Resources and Amenities
Moving into an assisted living community means more time to focus on your hobbies. Enjoy fellowshipping over meals, visiting the beauty salon, or exploring our beautiful grounds—all at your own pace, on your own schedule.
Organized Activities
There's nothing better than sharing interests with friends. Sunset residents enjoy regular book clubs, coffee hours, holiday celebrations, social hours, educational classes, physical activity classes, art shows, and even collaborations with a class from GVSU!
Special Events
Some of our favorite times at Sunset are our special events. All of our communities regularly host concerts, dances, galas, and other special activities. Other standout events from the last few years include the Sunset olympics; packing boxes for Operation Christmas Child; a visit from the ponies of Equine Assisted Development; carnival games, face painting, and petting zoo for Grandkids' Day; an antique car show for Father's Day, Christmas in July, summer concerts and cookouts, gardening activities, and even special ceremonies to honor veterans.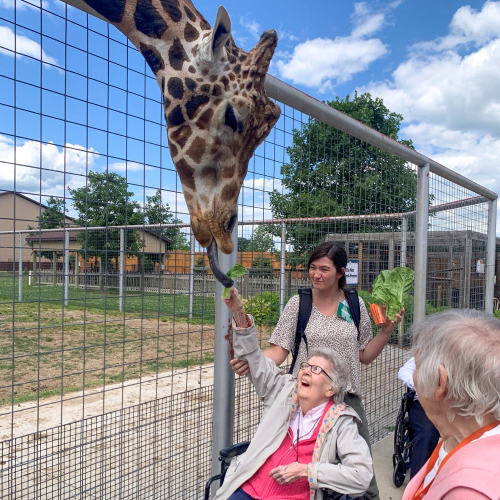 Assisted Living residents enjoy Boulder Ridge Wild Animal Park.
Excursions
Day trips are some of our most popular activities for assisted living residents; we don't let anything slow us down! Sunset assisted living residents have enjoyed excursions to Frederik Meijer Gardens, bowling, Holland State Park, Heritage Park, and Boulder Ridge Wild Animal Park, just to name a few.
Stay Active at Sunset Senior Communities
If you or a loved one are interested in the benefits of assisted living but are worried about losing autonomy, we encourage you to get in touch with us. Meeting your mental, physical, and spiritual is our priority—including the need for an active lifestyle. Give us a call at 616.457.2770 or fill out our contact form to get started.