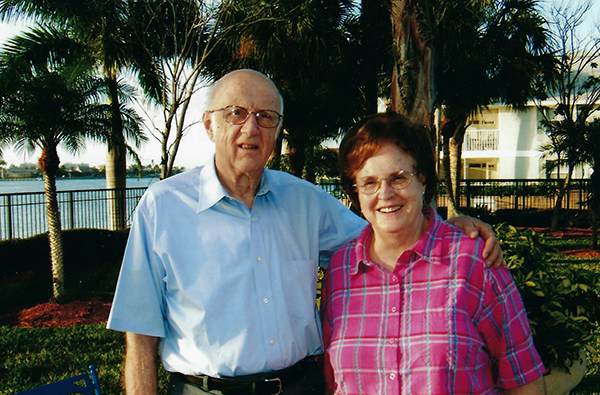 Oftentimes a successful organization begins as a kernel of an idea. The idea germinates and grows when likeminded people unite to invest their time, energy, and talents.
About 60 years ago, a "Home for Retirees" in Jenison was first proposed. John Helder recalls hearing about a meeting that would be held in the evening at 12thAvenue CRC to discuss the venture.
John says, "My dad and mom came to our house for supper that night and my dad said he'd like to go to the meeting, so he and I did. No money had been raised and there was no name for the project yet. It was announced that there seemed to be a lack of interest in the proposed idea and so effective tonight, the idea was canceled.
"I somehow could not believe what was happening and stood up. The idea was handed over to me and the chairman wished me well. A lady who was at the meeting (Jean Vander Laan) went home and told her husband, Harry Vander Laan. He called me and asked to meet at the Elms Restaurant the next morning. Harry asked what my goals were and I shrugged my shoulders and said, 'I have no idea.' Over the next few weeks we decided on a board of directors as well as a possible contractor."
And so the idea was planted. As charter board members and co-founders, John and Harry, along with a growing number of individuals, forged ahead.
"There were no computers in those days," says John, "so my family and I sat at our kitchen table and wrote letters to the local churches, telling them about the project and asking for special collections. We had goose pimples when we signed with Zeeland Bank for the loan, but the Lord was with us all the way.  We did a lot of praying, as did many people in our area."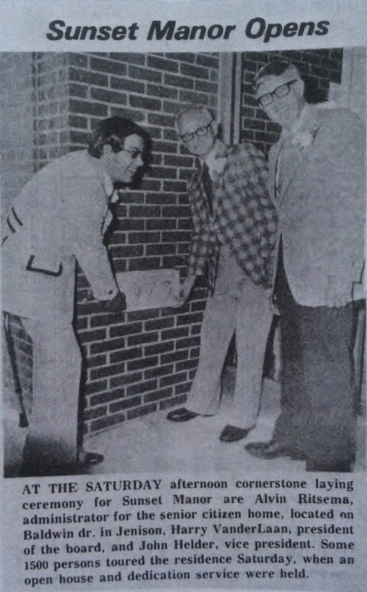 In 1973 the first residents moved into Sunset Manor, a 60-unit facility complete with kitchen, dining room, and lounge. Forty-five years later, Sunset Manor & Villages is home to 400 older adults with over 300 people on the waiting list.
John Helder was born on October 4, 1929 in Cutlerville, Michigan to Martin and Ida Helder. Martin had planned to join the nursing staff at Christian Psychopathic Hospital (now Pine Rest), but when co-founders learned of his family's experience in baking, he was persuaded to become the hospital baker, a job he held for over 40 years.
"My dad never took baked goods home," says John, "even during the depression. But my aunt and uncle owned Van's Pastry Shoppe in Grand Rapids, and every Saturday Dad would drive there and put together boxes of day-old baked goods and deliver them to people. He always brought one home too, and on Sunday morning it was such a thrill to see what was in the box! We were so thankful to have that food during such a difficult time."
John fondly recalls how his mother loved to sing hymns while his sister Florence played the piano. "Even neighbors came to stand around the piano and join in singing," he says.  John's personal interest in music grew after he joined the choir at the Christian school. He took voice lessons for six years and was hired to sing at weddings and funerals. Later in life, he joined The King's Choraliers Male Chorus, where he served as a tenor for 18 years.
During World War II, since so many men were serving in the war effort, jobs on the home front were plentiful. As a teenager, John started as a floor sweeper at C.W. Mills Paper Company. He steadily rose up the ranks and took classes at Davenport Business College, ultimately becoming a buyer at the company.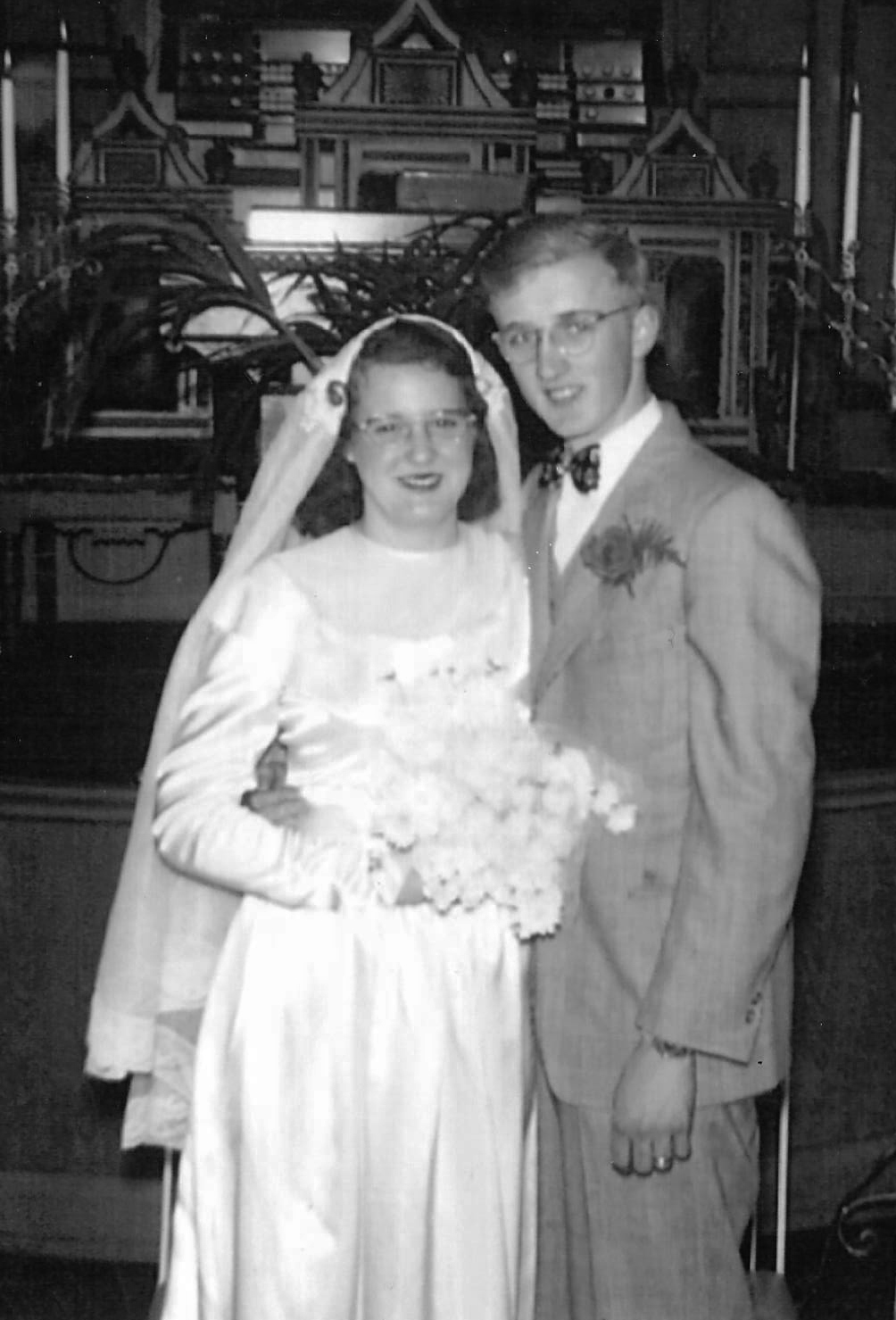 John married Gertrude Diekevers on November 11, 1949. "She had such beautiful brown eyes," he says, "and such a quiet, understanding nature." The Helders raised four children: Karen, Ron, Mary, and Bob. A cottage at Big Star Lake was a favorite getaway for the family. Gertrude was often behind the wheel of the boat and taught the children to waterski. Being involved in Christian school and church communities was essential for the Helders. "Communities only work when people give back," says John.
"Looking back at my professional career," he continues, "I had a lot of jobs, but the Lord provided so many opportunities for me, as He still does today." John was co-owner of City Sign Company of Holland, which provided advertisement for Sunset in its beginnings. He took on roles at several radio stations as well as WZZM TV when it began in Grand Rapids in 1962. John recalls that the television station was initially located on the second floor of the Pantlind Hotel, now the Amway Grand Plaza Hotel.
John worked in many roles at Zondervan Corporation, and with his background it makes sense that he ended up in the music division, ultimately becoming executive vice president. During his career he was instrumental in signing on the young Sandi Patty for her first album, For My Friends, in 1979. After retiring from Zondervan, John served as executive director of Coral Ridge Ministries Media Outreach in Fort Lauderdale, Florida, from 1984-88.
When Gertrude was diagnosed with cancer, the Helders' lives changed dramatically. John says, "For the next two years I took care of her at home, and then Gertrude spent time in different places until she died on December 27, 2014. She was so brave and so strong, even to the end."
John observes that the Christian community plays a tremendous role during times of loss and bereavement. He says, "I am grateful for people who understand that grieving is not a sign of weakness, nor lack of faith, but the price of love."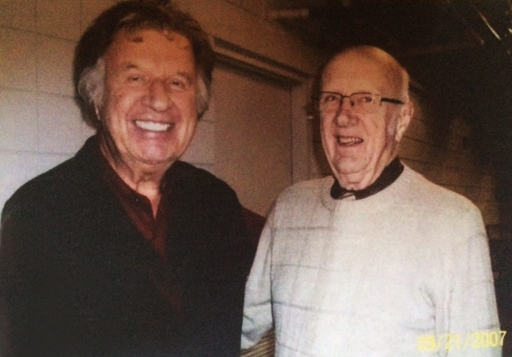 Serving in communities is as important to John now as it was in his younger years. In 2012, John served on Kentwood's Planning Commission, and to this day he attends most meetings. In 2016, the City of Kentwood declared October 4 "John Helder Day" in honor of his many years of service to the community. He currently serves as a co-convener and "searcher for speakers" for The Churchmen's Luncheon, a weekly ecumenical men's group that has met since 1960.
John has lived at Holland Home's Breton Woods since 2010. He has 5 grandchildren and 4 great-grandchildren.
"I have been so blessed with a loving wife and caring family," says John. "My friends and church family are so important, and my kids are so helpful to me now, it's unbelievable. I hope Gertrude and I did our best to teach them how important it is to lean on faith, because that has made all the difference in our lives."