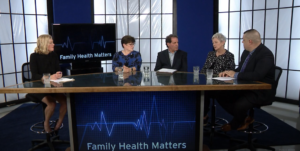 WGVU's Family Health Matters featured a panel of local experts discussing Dementia, including Waterford Place Memory Care's executive director and SAIDO Lead Supporter, Ben Leavell LNHA.
Ben sat alongside Joy Spahn, regional director of the Alzheimer's Association Greater Michigan Chapter, Dean Solden, founder and co-owner of New Friends Memory Care, and Chris Simmons, Clark Retirement's director of Dementia and Life Enrichment Services, to discuss how Dementia impacts lives today and how programming and cognitive activities are improving the lives of our loved ones.
Waterford Place is blessed to offer our memory care residents the SAIDO Learning program, one of 24 facilities in the nation to offer this kind of programming. Through the caring support of our staff, our residents partake in daily mental exercises and have the opportunity to interact with our caring staff and enhance their engagement.
In addition to serving our memory care residents, Ben discusses the importance of caring for the caregiver. Caring for a parent living with memory loss while juggling a career and family can be tiring. However, there is hope for you and your aging loved ones.
We've developed the Caregiver Journey Assessment to help determine which phase of the journey you're in and gain a better understanding of what to expect moving forward. Waterford Place Memory Care's caregiver resource website and staff are also helpful sources for more information.
Watch the full episode to learn more about the work Waterford Place Memory Care is doing to provide hope for those impacted by Dementia.