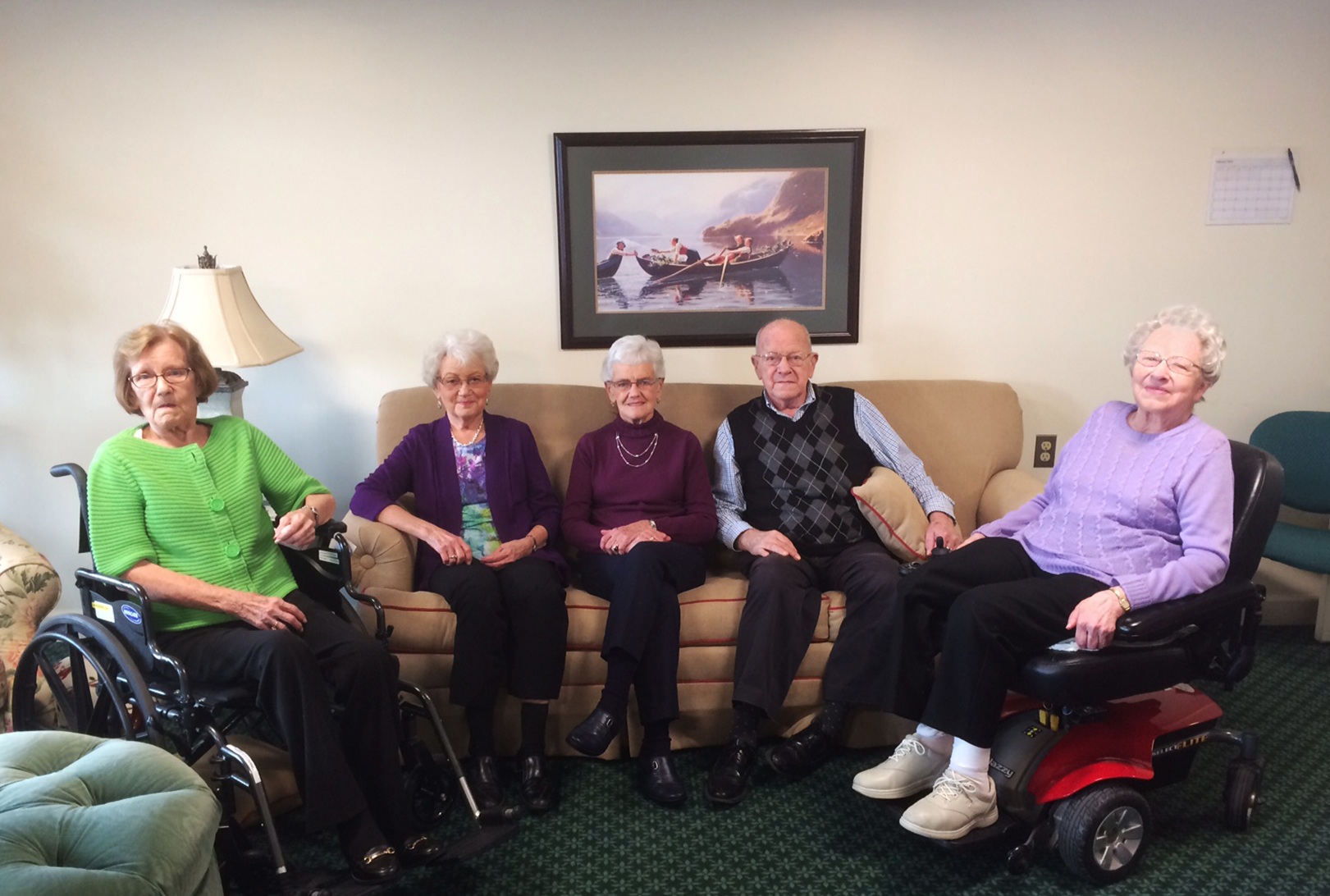 Martin and Beana Faber had six children in seven years. The first five were born a year apart, all in April. Two of them even share the same birthday. Today, the five oldest Faber siblings are together again under the same roof of Sunset.
The Fabers grew up in McBain, Michigan, a rural area about 100 miles north of Grand Rapids. Running the farm required that the children—Al, Thelma, Greta, Lorraine, Irene, and Betty—work alongside their parents. The days were filled with fieldwork, milking the cows, feeding the chickens, and tending the garden. The Fabers attended the local Christian Reformed Church, and the children attended the local Christian school.
Lorraine (Kuipers) recalls, "We never had to go anyplace because we always had our cousins and neighbors to play with. We learned to get along and share things."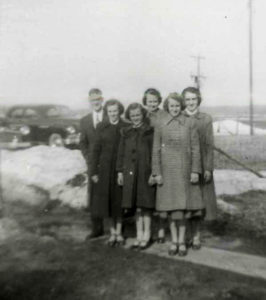 Besides working on the farm, the Faber sisters helped their mother with household chores: clothes were washed by hand and fed through a hand-operated wringer; fruits and vegetables were canned and put up for the winter; water was carried to the house from the pump shed. Every dress they had was sewn on a treadle machine and passed down as long as it held together.
"We didn't know what we didn't have," says Thelma (Walcott). "We were poor, but we didn't know it."
Life was simple, and so were its pleasures. "We so looked forward to when our parents' friends came for a weekend," says Lorraine. "They brought us goodies from Grand Rapids. We had to give up our bed for the guests, but we didn't mind because we got to sleep on a straw tick on the living room floor."
Al Faber recalls the simplicity of Christmases. "We got a shirt or a pair of socks," he says, "and we thought that was something!"
In the 1930s, most urban homes had electricity, but about 90% of rural homes did not; the Faber farm was no exception. Following an executive order by President Roosevelt, Congress passed the Rural Electrification Act in 1936. At this time, however, the Great Depression was in full swing; it was not until after World War II ended that many rural areas were outfitted. Greta (Vander Heide) recalls how thrilling it was to come home from school one day and finally be able to flip the switch. Indoor plumbing followed, and it was a true luxury.
Since job opportunities in McBain were limited, the siblings moved one-by-one to Grand Rapids, where factories such as Keeler Brass and American Excelsior were thriving during the postwar economic boom. After Al was called up to serve in the army in 1954, just after the Korean War ended, Martin and Beana Faber sold the McBain farm and moved to Grand Rapids with Irene and Betty. Thelma, Greta, and Lorraine moved out of their shared apartment and into the new family home until they married. Each of their husbands served in the Korean War. When the siblings had families of their own, family dynamics changed once again.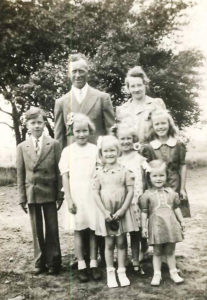 Lorraine says, "At first we babysat one another's kids a lot, but as our kids grew we got involved in their activities, and we withdrew from our siblings because we were so busy. When our kids had families, many of them scattered, and now we, as siblings, are being drawn together again."
Having five siblings together is a first for Sunset. Greta paved the way in 2010, two months after her husband Bob passed away. Over the years, Greta needed several surgeries due to severe arthritis, and infections in her bloodstream necessitated the amputation of her right leg in 2015. "I was so afraid I wouldn't be able to come back to my room at Sunset," she says. "but God answered my prayers, and this is still home."
Getting used to the prosthesis took some time, but Greta was overwhelmed by the help she received from family, fellow residents, and Sunset staff. A humble spirit and a willingness to accept that God is in control has allowed Greta to express gratitude in the face of challenges. Having three sisters and a brother so close is also a comfort.
"My siblings knew I liked it here, and it was convenient, so they followed me," she says.
Al and his wife Bonnie moved to Sunset in 2015 after he had a stroke. He is grateful for his family's support and credits Bonnie for her steadfast care.
"When (my first wife) Sylvia died," says Al, "I felt like I was in a dark tunnel. I didn't see a light at the end, but God was there, holding it. When I met Bonnie, it was like God showed me the light."
Irene and her husband, Bob Workman, and then Thelma followed in 2017. Greta says, "Thelma's room is right below mine. I told her I'd look down on her."
Lorraine joined her siblings in January 2018. She jokes, "I thought the fifth one should be free!" Perhaps the siblings can build a case that the sixth one deserves a discount.
When asked what gives them comfort besides family, several siblings recount the words of Psalm 46:1 – "God is our refuge and strength, an ever-present help in trouble."
"God has helped me through many trials," says Greta. "Without my faith, I don't know how I would have gotten through all this. I knew God had a reason for everything, and that He would be with me."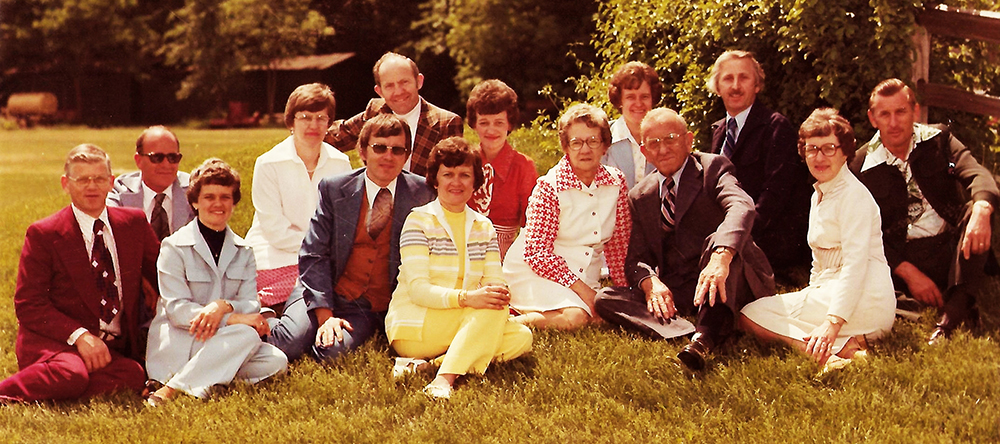 When asked how the family dynamics have changed in this season of life, Thelma says, "The relationships between us girls has gotten stronger."
Lorraine adds, "When you have difficult experiences, you draw closer, and you lean harder."
Each sibling has a unique personality, and they've all had different experiences, joys, and sorrows. Yet they can all attest to new perspectives about how God has worked in their lives, even throughout challenges. Being reunited at Sunset allows them to enjoy activities together, but more importantly, they all know that a loved one is just down the hall or an elevator ride away.
As children, the Fabers united to support their parents. As young adults, they resettled and worked hard to ensure a better education and more opportunities for their own children. Now they can focus on supporting one another, with the assurance that God is faithful in every season.