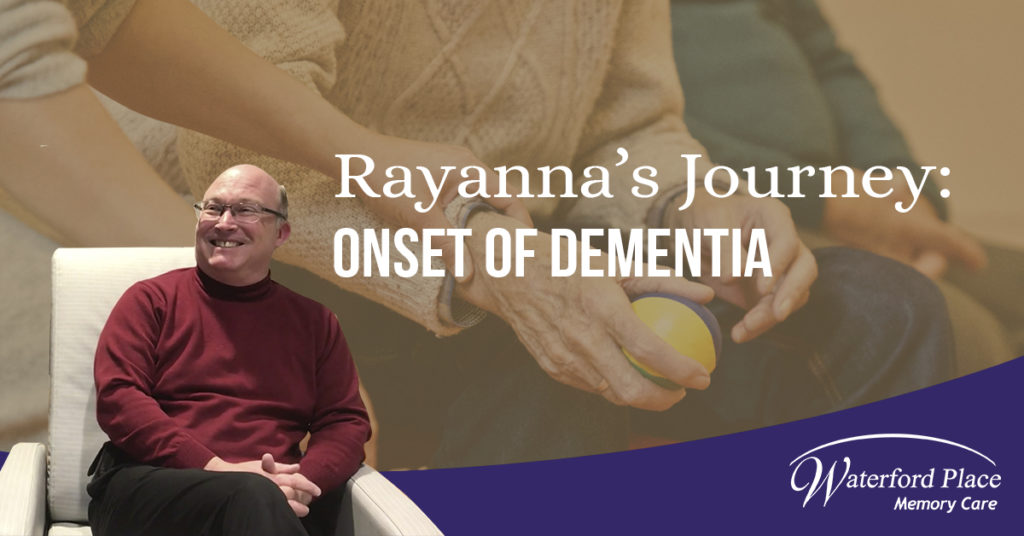 Rayanna lived comfortably in the Independent Living wing for about seven years. We, as her closest family members, started to see indications of dementia beginning in early 2016. It started very subtly; not following the right directions on the car drive, misplacing common everyday items, mixing up dates and times of appointments. We started to become more concerned and took a more active role in her everyday life by visiting every morning and accompanying her on various errands and outings. During this time, we kept in regular communication with the staff at Waterford Place to compare notes on the behavior we were witnessing and to discuss what conditions would need to be present to indicate that she needed more supervision in her everyday life.
One of the things that started occurring relatively early on was Rayanna getting confused about the time of day. As it turns out, her sleep cycle had changed, and she was misinterpreting the time showing on her clock and wristwatch. Every morning when she woke up, she would call down to the front desk to let everyone know she was alright and instead of her calling at 6 or 7 AM, she would call at 2 or 3 AM! She also started to miss her regular morning group chat that she had participated in for years with a group of friends. When she did wake up and make it into the lobby in the early morning, she would comment about how dark it was for the middle of the afternoon, when it was only about 3 AM! We began to realize that she was taking a nap during the day, something she had rarely done before, and when she woke up from the nap, she would think it was the following morning. We looked for guidance on how to handle this and one of the things that was recommended was to keep her occupied during the day so she wouldn't have the chance to nap. We ended up contracting with Sunset Home Services to have someone come by in the early afternoon just to visit with Rayanna for an hour or so. This person could also do any chores that Rayanna might want to have done, but what actually happened was that they would just sit and talk. This had a positive impact on the situation although it did not completely eliminate the date and time confusion Rayanna experienced.
Over the next year or so, we did witness a consistent decline in Rayanna's memory and abilities. We ended up taking her car keys away in late summer of 2016 shortly after an incident when she got a date and location confused for a fundraising dinner she had been invited too. Shortly thereafter, we had her cognitive abilities tested, and her personal doctor told her she should not be driving. From that point forward, no matter where she had to go, we would drive. That gave us a little more comfort that she wouldn't cause or be involved in an accident or end up being lost somewhere. We modified our schedule so that it would include time to take Rayanna on weekly grocery shopping trips, hair salon appointments and attending church every Saturday or Sunday. This was difficult for us, although having four capable drivers available did help a bit. Despite that, every so often we would simply not be able to accommodate a certain appointment for her, and when that would happen she would blame her not being able to drive on one particular individual that had absolutely nothing to do with it! We felt bad about Rayanna having animosity directed at someone who had done nothing wrong and, in fact, had always been very pleasant to Rayanna, but there was nothing we could do about it.
We started to write out a weekly schedule for Rayanna with details on when we would stop by, any appointments that she had, or important events such as birthdays, Waterford activities she could attend, or anything else that would be of interest of her. Each day, we would cross out those events that had passed, and we would review the upcoming events with her. We also gave copies of this schedule to the front desk so they would know what her schedule looked like as well so they could help if she ever got confused about a particular date and time.
Rayanna's Journey: Making the decision to go to Assisted Living