Christian Haven is the latest addition to Sunset's family of senior living communities. This assisted living community has been a beloved pillar of the Grand Haven community for over 60 years! Throughout its history, Christian Haven has been known for its home-like atmosphere and personalized care. Let's take a step back in time to see how this community began and how it continues living out its original mission of nurturing meaningful relationships, promoting wellness, demonstrating compassion, and striving to enrich the lives of our residents, their families, and our colleagues.
A Community Effort
Christian Haven was born out of a desire to serve senior adults in the Grand Haven area and would not have been possible without the loving support of the surrounding community. The first of many fundraisers happened in April 1952.
Annual "Tag Day" quickly became a memorable fundraiser. Those who donated received a tag saying "I have contributed to Christian Haven Home" to display in their vehicles. One year, the fundraiser sold all 2,000 tags they had available! Proceeds from this fundraiser went towards furnishings and equipment for the building.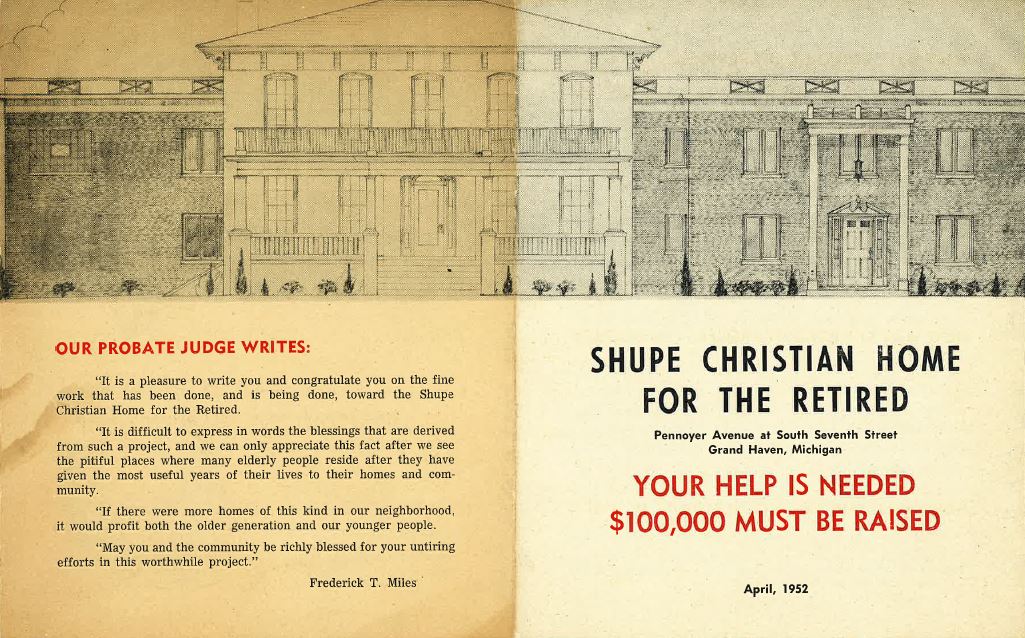 Fundraising flyer for Christian Haven. The community was originally set to be named Shupe Christian Home for the Retired.
On February 15, 1961, ten years after the idea for Christian Haven was born, the community opened its doors. The new community had 36 single rooms and 2 double rooms and was ready to serve 40 residents. Mary Mulder, a lifelong resident of Spring Lake, was the very first Christian Haven resident.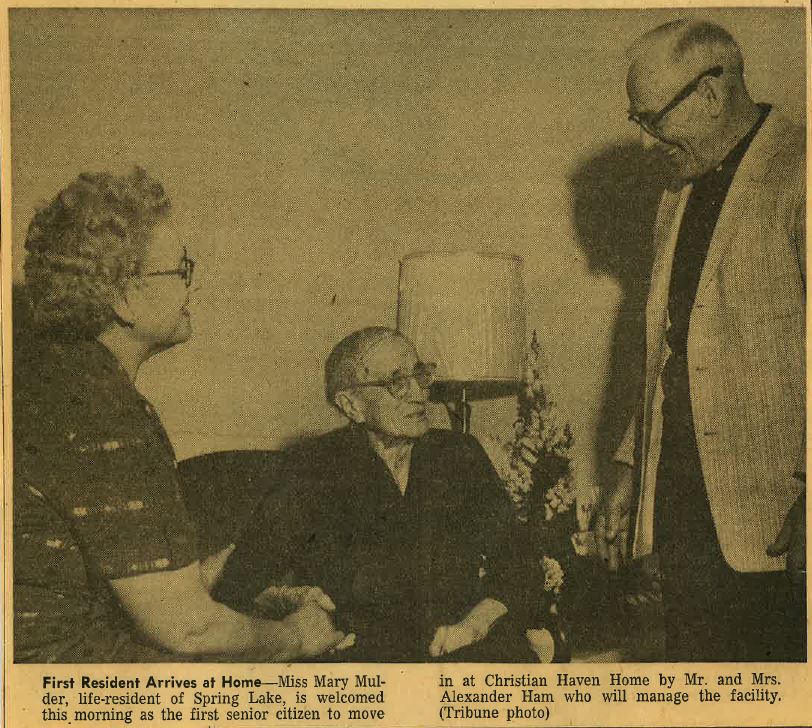 Newspaper clipping of Mary Mulder with Christian Haven managers, Mr. and Mrs. Alexander Ham.
Christian Haven celebrated the grand opening with an open house. Nearly 2,000 people from Chicago, Grand Rapids, Muskegon, Holland, and other area communities came to tour the brand new senior living community.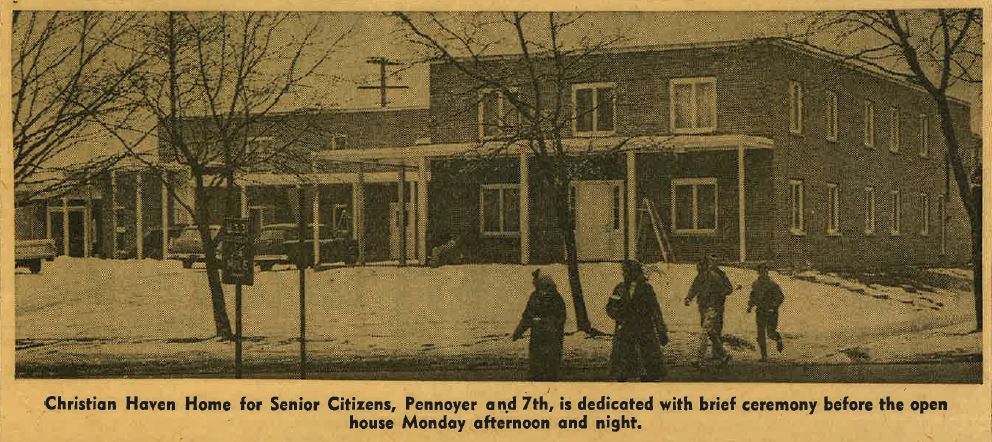 Rev. Benjamin Ypma, chairman of the Christian Haven dedication event, reflected on the previous 10 years, "Today you see the culmination of ten years of planning and activity…it is incalculable the amount of time and effort put into the project by the previous board and present one."
Over the next few decades, Christian Haven become known for its close-knit culture, dedicated staff, and the outstanding level of care provided for residents.
Becoming a Sunset Senior Community
In 2020, during the height of the pandemic, Christian Haven approached Sunset to help bridge some leadership gaps and determine the best future for the community. As a stand-alone organization, they were beginning to see increasing challenges with the way the assisted living industry operates.
During this time of collaboration, both Christian Haven and Sunset Senior Communities realized just how similar our history, culture, and Christian values were. This made the decision to merge so much easier. In March 2021, Sunset Senior Communities officially welcomed Christian Haven into the Sunset family.
The Future is Bright
We couldn't be more excited for the future of Christian Haven! The building is currently going through extensive renovation to help residents age in place. Our goal is to provide residents with the physical spaces and care necessary for them to continue living in the community they call home, even as their needs change with age. Updates include:
New HVAC system
Updated resident rooms
Updated shower rooms
Updated community spaces
New windows and outdoor paint
Though so much is changing at Christian Haven, the mission has remained the same as it did back when the community was just a vision. Sunset is so thankful to be able to carry on that mission for many years to come!
Christian Haven: past, present, and future.
Christian Haven is set to sponsor several events this summer, including Senior Day at Coast Guard Festival and Music on the Grand. Come say "hello" if you see us around!