In 2017, the Sunset team was given a rare opportunity: to transition our five-star, short-term stay rehabilitation program into a world class memory care unit. Rather than settle for a safe and secure facility that was only "locked doors and bingo," we began exploring other options. Driven by our love for people and value of compassionate care, our search focused on identifying programs that would be the best for our community and our future residents.
Our planning committee agreed to some parameters that served as cornerstones in our search:
The program should be recreational therapy-focused
Programming and engagement should be offered all day
Nursing care should be the best quality
The program needed to be evidence-based
So, when Sunset Senior Communities CEO Christina Matzke stumbled upon SAIDO Learning at a conference, she knew she had found something special. SAIDO met every requirement on our list; once our planning committee got to experience SAIDO, everyone knew we'd found the program we had been looking for. From that moment on, it was full speed ahead!
SAIDO Learning: Part of Sunset's Memory Care Program
SAIDO Learning was originally developed in Japan by the Kumon Institute of Education and has been practiced in Japan since 2004. SAIDO Learning has been used in the US for just over a decade.
SAIDO Learning is a simple program that's rich in purpose. The premise is simple: residents (who are referred to as learners in SAIDO programming) participate in thirty-minute SAIDO learning exercises five days a week in a one-on-one or one-on-two setting. In these fun and interactive sessions, learners do simple math problems, read aloud, and complete number matching exercises with encouragement from a supporter. The degree of difficulty is based on their individual cognitive testing scores. We often refer to these activities as "brain exercises," because that's truly what we're doing—exercising the brain so it stays healthy, just like we exercise a physical body.
Why do these exercises work? SAIDO Learning exercises engage a region in the brain called the prefrontal cortex. This part of the brain is responsible for decision-making, planning, and memory recall. By exercising the prefrontal cortex, learners train their mental stamina for activities that dementia would otherwise negatively affect. We can even prove how effective these exercises are! We use a baseline Mini Mental State Exam (MMSE) and a Frontal Assessment Battery test (FAB) to track their progress. The MMSE is scored from one to 30, with 27-30 being considered a "normal" score. A score of 22 to 26 indicates mild cognitive disorder, and below 22 is considered likely to have a cognitive disorder. For the FAB, 18 is considered "normal." After the initial test, we repeat the assessment every six months.
These activities accomplish more than just a half hour of fun every day—the exercises truly do help those living with dementia. Plus, the cognitive scores allow us to track residents' progress. We have observed many scores stay the same and even go up! This is incredible because when someone has dementia, their cognitive scores typically only decline, never improve or even stay the same. Instead, we are witnessing a very slow decline, which is almost unheard of.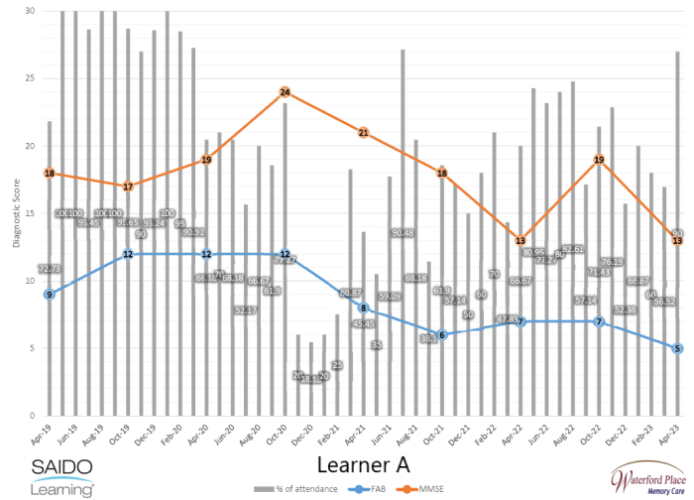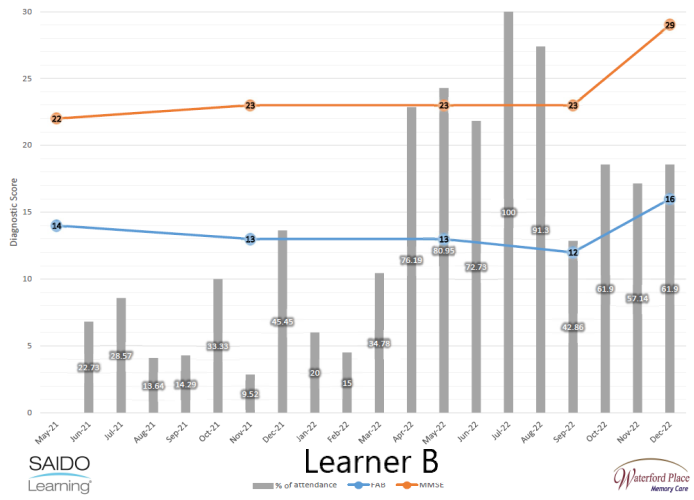 Blessed Beyond Test Scores
An unexpected blessing with SAIDO has been the engagement between the supporters and the learners. While many of our supporters are on the recreational therapy team, some are resident volunteers from our independent living communities or other departments within Sunset, like accounting, maintenance, nursing, food service, and even administration! Connecting with residents is wonderful for everyone; often, the supporter is just as engaged and has just as much fun as the learner does.
Sunset Is Proud to Be a Model SAIDO Learning Community
When we launched our SAIDO Learning program at Waterford Place in March 2017, our goal was to be a model community for America. By November of 2019, Shinju Ito, the Senior Vice President of Kumon Learning, awarded Sunset Senior Communities the model community for America. Mr. Ito and his team flew in from Tokyo, Japan for a few days to celebrate with us and present the award. That celebration was an incredible experience for our residents, staff, and families to be part of!
Today, in addition to being a model community, Waterford Place has the single most learners of any campus in America and some of our residents are the longest-enrolled learners in the history of the program in America. SAIDO is also available to residents at the Sunset Manor and Villages campus.
SAIDO Helped Residents Through the Covid Pandemic
A year after receiving the model community award, the Covid pandemic hit. Rather than give up, our team quickly figured out how to modify sessions for the safety of our residents. Isolation can be devastating for people living with cognitive decline and our team agreed SAIDO was too important to give up, especially during such a difficult time. So, we changed sessions to be one-on-one. We distanced, sanitized between sessions, and made sure we were speaking loudly enough through our masks. SAIDO Learning helped residents in our facility to not just survive the worst of the pandemic, but thrive.
Promoting Healthy Brains at Every Stage of Life
SAIDO has been nothing but a positive experience for all us here at Sunset. In fact, it's been such a resounding success that we decided to grow our SAIDO Learning program even more by opening a Healthy Brain Clinic. This clinic, which is the first of its kind in the United States, is open to independent living residents with signs of cognitive decline or early onset dementia. With support from the SAIDO team in Japan, we opened the first Healthy Brain Clinic in late 2021, and the program is still going strong today!
We are so blessed to have found SAIDO Learning. If you or someone you love is interested in learning more about SAIDO and how it can help keep brains healthy, please don't hesitate to contact our team for more information about our memory care options.