We all feel the need to be part of a community. The special joy of interacting with our family and friends brings a sense of belonging and the feeling of "home".
People living with the challenges of dementia and memory loss often face a reduction in their living space as the disease progresses. They feel as if "the walls are closing in" on them. Research shows that being part of an active and supportive community can greatly benefit those living with dementia.
One study notes the importance of person-centered or patient-centered care when dealing with memory loss. Cornerstones of this approach include individualized care, recognizing the perspectives of the person with dementia, and creating social environments that support their well-being.
The Importance of Community
At Sunset Senior Communities, we have found that creating the right environment is critical when caring for someone dealing with memory loss. Providing individual care and fostering a sense of community helps residents live life to the fullest even though they are battling dementia and other memory-affecting diseases.
Our patient-centered Memory Care programs are tailored to residents' individual needs, providing a variety of care levels that support mind, body, and spirit in a safe and secure environment. Our staff members are specially trained in providing care for those with memory-affecting conditions and are considered part of the extended family of our communities.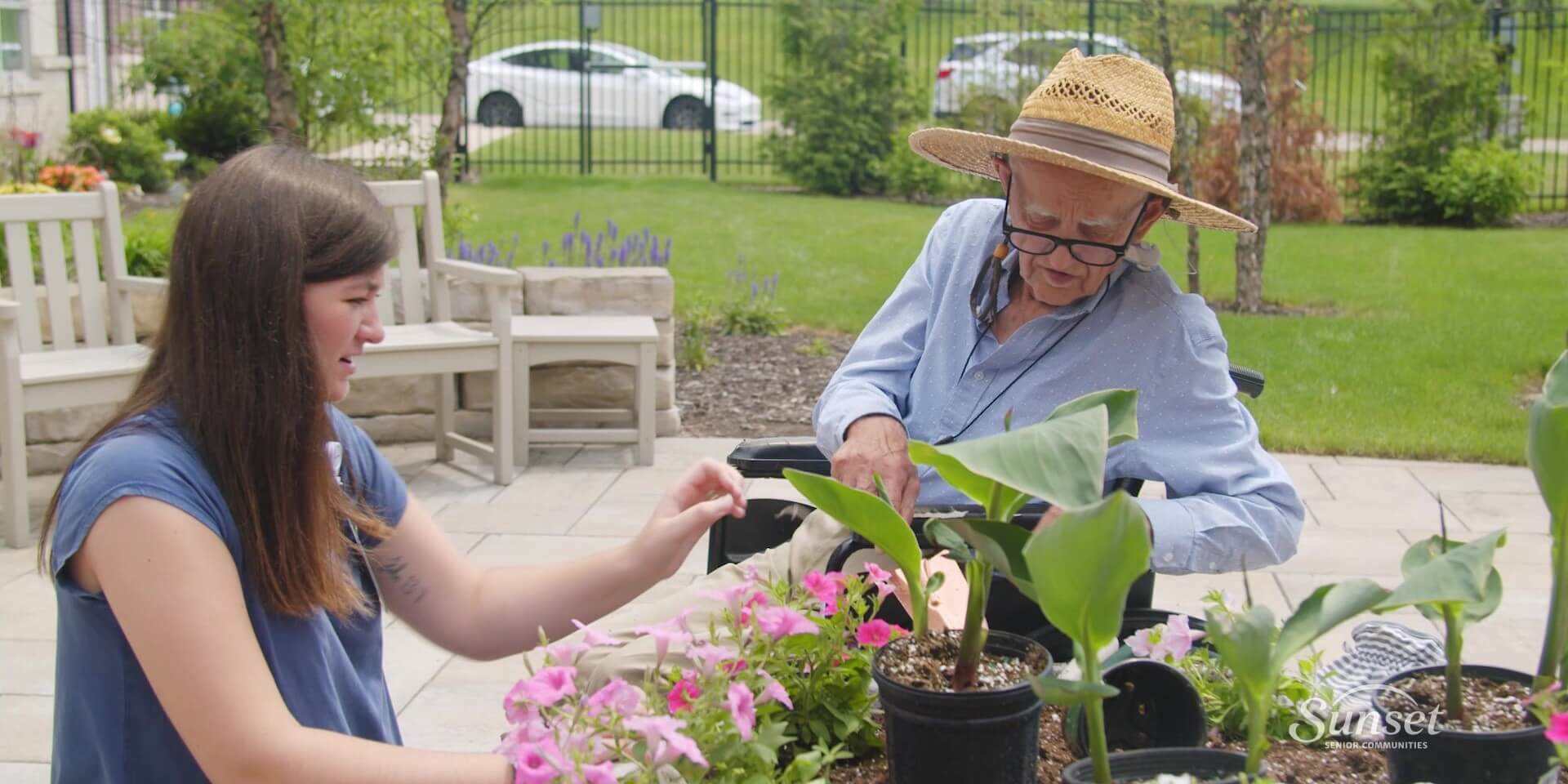 Memory Care Options
There are a variety of options for living spaces within the Sunset Communities based on our residents' individual assessments and evolving needs. We strive to provide a safe, secure, and relaxing environment that reflects these needs, helping residents to enjoy a daily lifestyle that resembles the one they were used to at home.
The initial assessments allow us to create personalized calendars for each resident, including their natural wake and sleep patterns, activities based on their personal interests and hobbies, and building connections with others in the community. This is all experienced in an atmosphere of tranquility, as residents are surrounded by our beautiful grounds and idyllic spaces.
We offer multiple levels of patient-centered Memory Care. Our programs have been known to dramatically improve symptoms typically associated with memory loss. Our goal is to offer residents hope, as well as safety and security, as they live a purposeful, quality life.
Early Stage Memory Care
Our Early Stage Memory Care is oftentimes utilized by residents with mild-to-moderate cognitive decline, and we find social interaction and mental stimulation to be especially effective. At this stage, our primary focus is to engage residents at a physical, mental, and social level.
Patient-centered treatments include SAIDO Learning, the Montessori Method, and other comprehensive programs that have been shown to halt or reverse the symptoms of memory loss. The SAIDO Learning program offered at Waterford Place finds participants becoming more socially involved with family and friends, with an increase in optimism and sense of purpose. Social activities are regularly organized, including larger music performances and outdoor barbeques where residents from all over campus can come together to mingle.
Late Stage Memory Care
In Late Stage Memory Care, our focus shifts to more personable interactions and social engagements, encouraging as much family involvement as possible. This contributes to a calm and comforting environment, and we find these familiar and personal connections are crucial to a resident's quality of life.
One of the ways we encourage these connections is by incorporating familiar activities into residents' lives. Whether recreating family recipes in our kitchen or gathering around the piano to sing hymns—we provide opportunities to socialize and reminisce about cherished memories.
Support for Caregivers
While each caregiver faces their own unique journey, we know that caring for someone with memory loss creates its own additional challenges. Our team is here to provide you with insight, support, and encouragement as your family navigates this unfamiliar chapter together.
To learn more about Sunset's Memory Care Services and how our programs can assist your loved one, please visit https://www.sunsetcommunities.org/services/memory-care/. If you have any questions or need additional information, we encourage you to reach out to us here: https://www.sunsetcommunities.org/contact/.