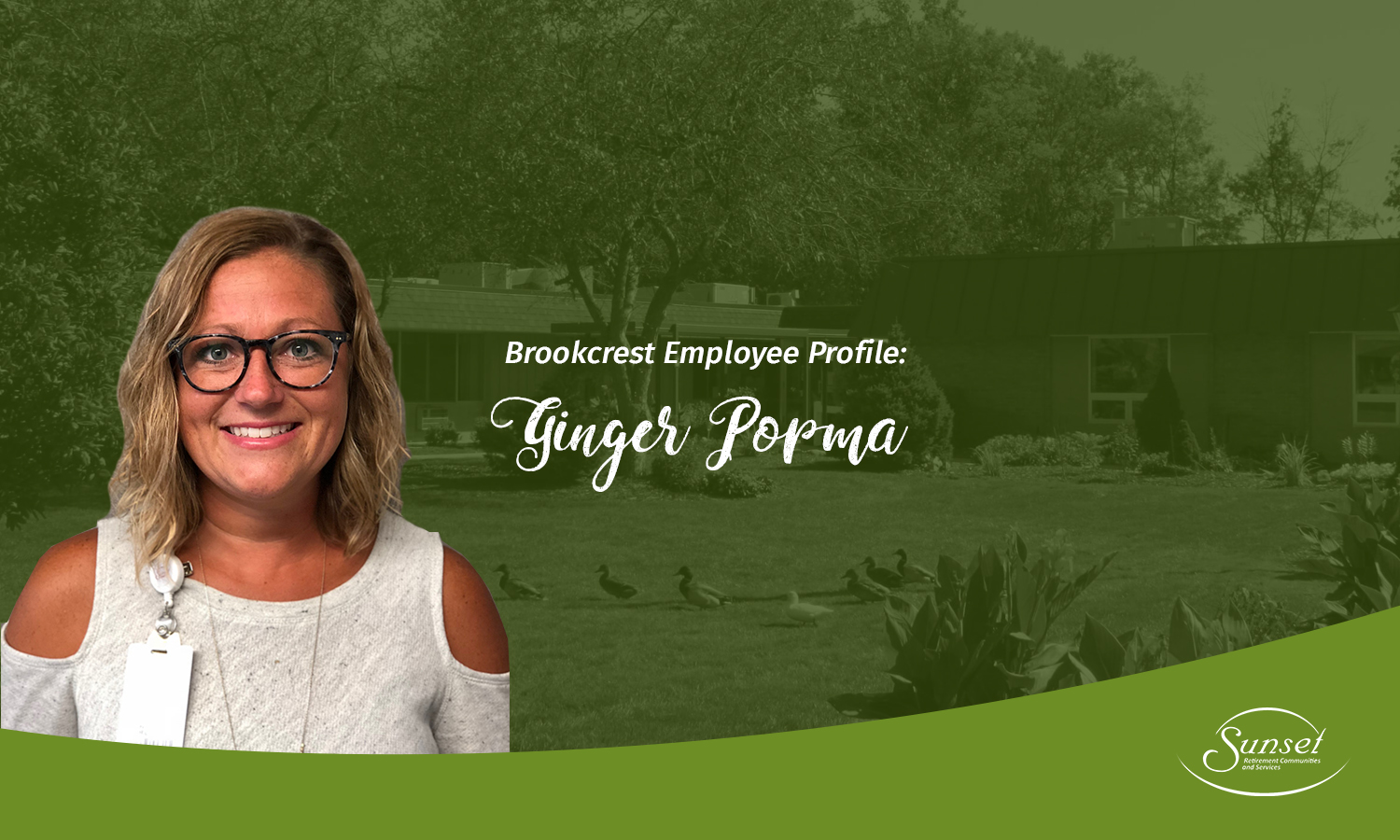 Since she was a little girl, Ginger Popma dreamt of becoming a nurse. But she could not have imagined the passion she would develop for her career or the amazing family she would create during her 14 years serving residents at Brookcrest.
Ginger began her Sunset Retirement Communities and Services career as a charge nurse in Brookcrest's memory care unit. She served there for 11 years before moving to case management for rehab residents. After one year, she transferred to her current position as Brookcrest's long-term care unit Clinical Coordinator, where she's overseen and ensured consistent, quality care for each long-term care resident for the last two years.
In the Spirit of Christian Love
"My job is very fulfilling," Ginger said. "Each resident is so special to me. The love at Brookcrest makes working there extraordinary. Our residents and their families often tell me how much they appreciate our care."
In addition to loving and caring for residents, Ginger's daily tasks include reviewing her unit's events for the last 24 hours, working with the physician team to provide the best resident care, transferring residents to various activities, and intervening with any behavioral incidents. Every three months, Ginger spends valuable time meeting with residents and their families. She reviews their care plan and addresses any concerns they may have.
Ginger truly values Brookcrest's residents and their families, and it shows. Her attention to detail, the time she spends with residents, and her genuine love are just a few ways Ginger shines brightly at Brookcrest.
Ginger has cared for many residents during her tenure, but one stands out above the rest: Elsie. Due to a battle with dementia, Elsie had short-term memory loss and couldn't recall much. But that didn't stop Elsie and Ginger from forming a strong bond.
"When I would arrive at work in the morning, the night staff would often tell me that Elsie was asking for me all night," Ginger said. "When she [Elsie] saw my face in the morning she would recognize me and smile. Being able to be that person of comfort to her meant so much to me."
Brookcrest is Home
Brookcrest is Ginger's second home. She says it feels like one big family and she's proud of the impact her Brookcrest family is making on the community. She stands by Sunset's positive reputation for providing amazing resident care.
"We all hold this idea that Brookcrest is our residents' home and we're all doing everything possible to make it the best living experience for them," Ginger shared. "In return, we all feel like we're home when we're here."
Ginger is grateful for Brookcrest's leadership and their appreciation for employees.
"They make sure to celebrate the wins," Ginger said. "We are treated to food or other small gifts when we reach goals."
Ginger cites the West Michigan Whitecaps summer celebration and meals Brookcrest provides for employees working holidays as small gestures that show how much Sunset cares about its employees.
"I'm very thankful for our team and all of the residents I have had the pleasure to take care of," said Ginger. "I'm hoping to be around for many more years!"
Ginger's passion for her work and Brookcrest's residents shines through in all she does. It compels her to do amazing and extraordinary things while serving our residents. Her belief that each resident is made in the image of God is evident every day she shows up to work. Sunset Retirement Communities and Services is blessed to have her as part of our family. #PassionMeetsCulture