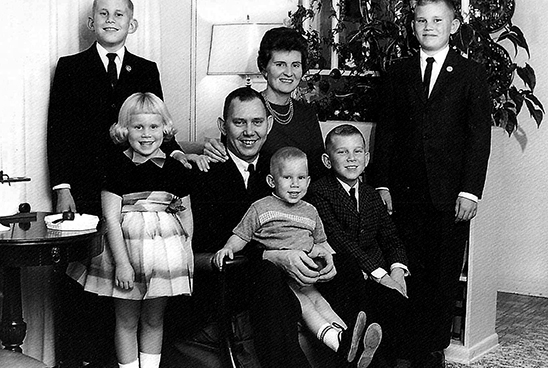 As a Calvinist Cadet counselor for 20 years, Arie Verkaik sang the Cadet theme song, "Living For Jesus," often, and it is still his favorite song:
Living for Jesus, a life that is true,
Striving to please Him in all that I do;
Yielding allegiance, glad-hearted and free,
This is the pathway of blessing for me.
"I became a Cadet counselor for the wrong reasons," says Arie. "I wanted to impress people, and I believed that God's favor was earned by good works. Later I realized that it is by grace alone that I have the gift of eternal life." With this new perspective, service to God became an expression of gratitude.
Arie's parents emigrated from the Netherlands, and his father Hendrik worked in Grand Rapids' furniture industry. Arie was born on February 28, 1926, and the family welcomed Peter the following year. In 1929, during the depression, Hendrik lost his job. He purchased a farm in Wisconsin and sold the Grand Rapids home on land contract.
Arie and other children who lived on neighboring farms walked two miles to a one-room schoolhouse. He recalls, "One winter morning I had frostbite, so some older students rubbed snow on my fingers and toes to thaw them."
Being a farmer had always been Hendrik's dream, but he'd had to start from scratch and had no training. When the residents of the Grand Rapids home defaulted on the land contract, Hendrik was forced to declare bankruptcy.
"It must have been a humbling experience," says Arie. "We returned to the Netherlands, and Dad bought a store. He sold a lot of hot water for Saturday baths and wash day (Monday). I remember sitting by the store's boiler, cutting strips of old tires into rubber bands for the kindling bunches which was the other big money-maker."
Arie also helped an uncle deliver milk door-to-door in a cart pulled by a large dog. Although he had finished second grade in Wisconsin, he was put into first grade because he could not speak Dutch.
In 1936, Hendrik sold the store and the Verkaiks returned to Grand Rapids. Arie and Pete were both enrolled in first grade at Baxter Christian School because now their English was rusty. Arie recalls, "I was ten years old and could hardly fit at the desk. Kids made fun of our accents and clothes and I avoided interaction with people."
The depression was still raging, so Arie and Pete sold apples door-to-door every morning. Their mother took in old coats and suits, and the boys cut the seams with razor blades so she could repurpose and see them.
Arie recalls, "From the time I was 12, I spent summers on farms in Sparta and other towns, working for room and board, and only saw my parents occasionally."
Arie advanced toward his grade level, a semester at a time. At Grand Rapids Christian High School he overcame his fear of speaking by joining forensics, which he considers a turning point in his life. When he graduated in June of 1944, he joined the Naval Reserves and served in New London, Connecticut on a tugboat, which towed ships and captured German submarines into port. As quartermaster, his duties included manning the helm and the radio. He was ironically nicknamed "Hollywood" because he went to church and didn't swear or engage in bad behavior.
When Arie was discharged in 1946 he attended Calvin College, but he felt aimless. He says, "I took aptitude tests offered by the VA, which suggested electronics. Television was just coming out, so I trained for that in Detroit."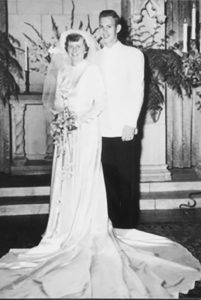 Arie met Bertha "Bert" Hemple at Calvin, and the couple married on July 14, 1950. Arie installed antennas for RCA. He says, "Some people didn't want their neighbors to know they had a TV, so we installed the antennas in the attic instead of on the roof. We called these 'CRC antennas.'" Business boomed, and Arie installed televisions in hotels and hospitals. When color models came out, he was for a time the only person in Grand Rapids who could service them.
Over the years, Arie and Bert had five children: Rich, Duane, Dave, Maribeth, and Mike. While a Cadet counselor, he took his sons on several Camporees and eventually became the national Cadet President.
After RCA, Arie worked as a product engineer for Lear Siegler's aerospace division, but was laid off in 1972 when the program was suspended. In a total career departure, he and Bert became house parents for a boys' home at Wedgewood Christian Services. Arie recalls, "One particular teen gave me a rough time, and one day when I took him to a court meeting he said, 'Verkaik, why don't you ever get mad?' I told him it was because I considered the source, and he never gave me a hard time after that."
Looking beyond teens' challenging behavior, Arie considered the reasons behind it. His philosophy was to develop trust; to listen and withhold opinions until he learned all the facts. He believes that God provided the necessary patience for working with troubled youth. While at Wedgewood, Arie went on to train childcare workers from different agencies. After a few years, he accepted a position at the Veterans of Foreign Wars (VFW) National Home in Eaton Rapids, which would turn out to be another turning point.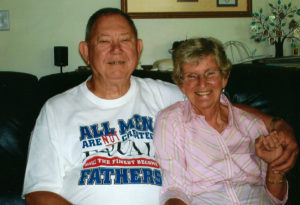 The VFW facility operated as a self-contained village with its own fire department, medical facility, and farm. The program accepted children from infancy to age 18, who lived in eight homes on the grounds. Arie oversaw staff and implemented programming. He says, "It was the best job I ever had, and Wedgewood was our training ground."
In this role, Arie and Bert went on many bike trips to various VFW posts around the country with juniors and seniors, and chaperoned trips to Washington, D.C. with high school graduates, who were guaranteed an all-expenses-paid college education.
"These kids were saved from homelessness, and God had it all worked out," says Arie. "But if you have a beautiful piece of furniture, you don't thank the hammer, you thank the carpenter. I'm just God's tool, and what a blessing it is that He is in control. Life has its ups and downs and we had our struggles, but God led me to what he wanted me to do for Him all along." After retirement, Arie continued to serve as God's instrument with a prison ministry, a fair trade nonprofit, and at Love INC. He and Bert were blessed with 14 grandchildren and 23 great-grandchildren. At Sunset he sorts mail, leads devotions, and serves as a greeter.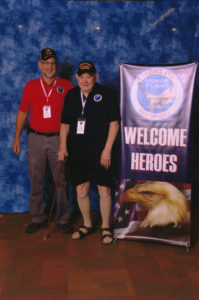 Arie and Bert's son Dave died in 2005, and Bert passed away in 2015. Arie says, "My wife was the best thing that ever happened to me. She took off all the rough edges. Although I miss her, I am very thankful to God that she gave 65 years of her life to me."