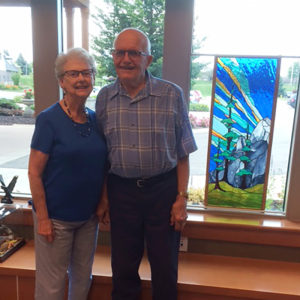 Carl De Vries first stained glass project was far from simple. It was a depiction of the northern lights, approximately 2' by 4', that featured multi-colored bands of lights cascading from the sky. He likes to ask, "Why start small?"
Carl recalls, "I drew a pattern, cut it out, and traced it onto the glass. I'd never cut a curved line of glass before. I scored the line and got out the tool to bend the glass, hoping it would break along my line instead of a line of its own. When it broke right smack on that score line, I said a big 'Thank you, Lord!' I still do that."
Born in Grand Rapids on March 10, 1939, Carl was a youngster during World War II. His father had a steady job at Old Kent Bank but realized he could be drafted, so he took an accounting job at American Seating, which had converted its operations to manufacture goods for the U.S. military; the company supplied over five million chairs during the war. By working here, Carl's father's job was considered part of the war effort, so he was able to stay with his family.
Carl and his four siblings enjoyed, a free-range childhood with fellow children in the Roosevelt Park area. He says, "It seems like every few weeks, my parents bundled us all up and brought us to Ottawa Beach." In this way, he inherited a love of "the big lake" from his parents.
While Carl attended Grand Rapids Christian High School he rode his bike or took the bus downtown to Furniture City Print Shop, where he delivered orders with a two-wheeled dolly. While in study hall one day, Carl noticed "the prettiest little blond I'd ever seen." His interest was not immediately returned, but he was persistent, and finally Phyllis "Phyl" agreed to date him. After graduating in 1957, Carl worked as a tool and die apprentice at Keeler Brass.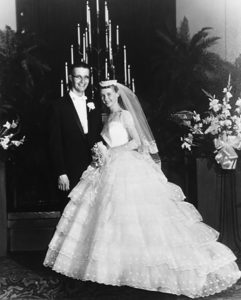 Before Carl and Phyl married on May 14, 1959, they had saved enough money to purchase a house. Months before the wedding, they worked almost every evening to reveal the home's natural beauty by scraping wallpaper from every wall (seven layers in some rooms) and stripping varnish from woodwork. Over the years, Carl and Phyl had three sons: Douglas, Craig, and David. When the family outgrew this home, Carl and Phyl drew plans for a new one and had it built on a twenty-acre piece of property in Byron Township.
While he stayed with the tool and die business his entire career, Carl worked for several companies and rose up the ranks, ultimately becoming a principal owner of Die Matic Tool & Die, Inc. He says, "The nature of the business changed immensely over the years. "When I started, it was almost all handwork, and when I retired (in 2003) it was mostly all computerized. I enjoyed all of it – building dies, going into management as a foreman, being a part owner and an estimator."
Ten years before he retired, Carl bought a 35-foot Chris-Craft and started restoring it. "I never did get that thing in the water," he says. "We traded that dream for another." For Phyl's birthday in February 2000, he took her to the town of Paradise in the Upper Peninsula so she could have her "fix" of snow. They were so impressed, they purchased property on Whitefish Bay and built a house, where they lived year-round after Carl retired.
Phyl says, "We could walk right out to the beach. We enjoyed hearing the waves lapping, the 'quiet noise.'"

"I've been around noise my whole life, and it was so peaceful," adds Carl. "We loved the snow and its beauty. It was the best eight years of our life." He built a workshop above the garage and began alternating between stained glass and woodworking projects; rarely did he make the same thing twice. He never took a class, instead relying on magazines, the computer, and what he's learned in his career.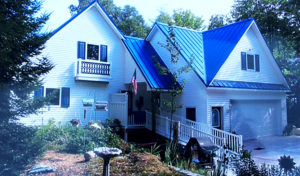 Carl used his camera to photograph their home in the glory of each season, to capture sunrises and moonrises, and to observe bald eagles. These inspired him to craft a six-piece collection of eagles out of wood in a sequence of poses. He served the community as well, leading church groups to build wheelchair ramps and contributing pieces to the Paradise United Methodist Church, where he and Phyl were members. Phyl became involved in a weekly prayer team, and they both joined the "Holy Rollers," a club that made pasties, a common treat in the Upper Peninsula. Carl obliged the group with a stained glass panel engraved with the club's name and mounted with a giant rolling pin.
As Phyl says, Carl "swapped one workshop for another" when they moved to Waterford Place in 2011. Carl considers himself more of a craftsman than an artist, but a walk through Waterford Place offers a different impression.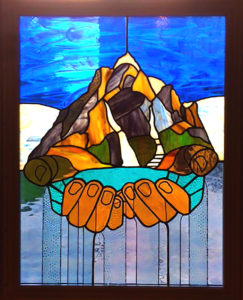 According to Ben Leavell, Waterford Executive Director, "Carl truly has a servant's heart that has been ingrained with a spectacular gift from the Lord. He has always exceeded my expectations with his talents and creativity, from the stained glass in our Memory Care Chapel, to the wooden bald eagles in our lobby, to a beautiful music stand in our atrium and other phenomenal pieces throughout the campus. Carl is an inspiration to me and others, as no matter what his age or physical limitations, he creates world-class art."
Carl entered his collection of eagles into ArtPrize 2016. Visitors were interested in the many species of wood; the white holly from the South for the heads, the black walnut for the brown feathers, yellow heart from South America for the beaks and feet, and African ebony for the talons.
Carl finds satisfaction in every step of the creative process: finding inspiration in nature, designing the pieces, making decisions about colors and materials, determining how to execute the design, watching how varnish makes the grain of the wood pop out, and finally the joy of presenting the piece to someone. He appreciates that Phyl supports him with encouragement and color advice. His family, which includes ten grandchildren and four great-grandchildren, have been the recipients of many of his pieces.
Flowers, birds, and butterflies are favorite stained glass subjects; the De Vries's home is graced by Tiffany-inspired lampshades, and Carl is currently working on a series of crosses surrounded by colors that represent the liturgical church calendar. These will be installed in the windows of the chapel in the new Memory Care unit. His woodworking portfolio includes furniture, puzzles, and gorgeous supple boxes.
"I don't know what I'd be doing if I didn't have this," says Carl. "In everything I have accomplished, I recognize God's hands, and I thank Him for giving me purpose and the continued ability to do what I love. In spite of multiple health issues that Phyl and I have, we both know we're in Big Hands."