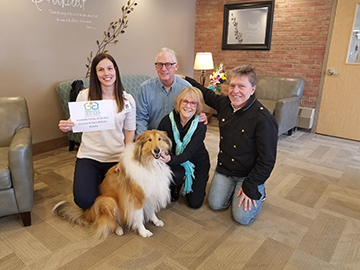 "I am sure some Brookcrest residents feel that Murphy is their dog, and I just happen to be taking care of him," says Suzanne Williams.
Suzanne, a true nurturer, has spent much of her life surrounded by people. She was a teacher at Jenison's Bursley Elementary School for 35 years and counts some Brookcrest staff members among her former students. When she retired in 2006, she felt the need to continue helping people so she began volunteering at a local hospital. She also spent a lot of time visiting people at Brookcrest, including a former colleague's mother.
Suzanne says, "I got to know people at Brookcrest, and I felt God's hand moving me into this path. I started to volunteer here and brought Oliver, the collie I had at that time, with me a few days a week. When Oliver passed away, it broke my heart. A Brookcrest resident wrote a poem to him; his loss was felt by everyone."
In 2014 Suzanne welcomed eight-week-old Murphy into her home, and Brookcrest was the first place they visited. He was a little over 7 pounds as a puppy, but now he weighs in at 77 pounds. Suzanne volunteers with her loyal companion almost every day for three hours.
"Murphy recognizes the word 'Brookcrest' and can't wait to come," she says. "He lets me know when it's time to leave! As soon as we walk in the door, I let go of the leash and people in the lobby immediately call his name."
Volunteers sign in at Brookcrest when they arrive; Suzanne signs her name and stamps the book with a paw print for Murphy. While Suzanne covers the desk during the lunch hour, Murphy sits in front of it as the official greeter. He leads people where they need to go and snuggles in with all who hold out a hand. After lunch, Suzanne and Murphy stroll the halls and visit residents in their rooms. Suzanne has a kind word and a hug for all, and Murphy is always willing to provide some affection of his own.
Suzanne says, "Murphy is compassionate; he instinctively knows who is having a bad day and has a way of comforting them. I've seen a grown man cry while hugging Murphy. Many times, when I leave a room to get a blanket for someone, I find Murphy in bed, keeping his friend warm. Murphy is perfect for this because of his disposition. He doesn't jump, and he has a gentle spirit. Brookcrest is the niche that provides all the things he loves, especially people!"
Carole Micaliff met Murphy years ago when she visited her husband Joe, who lived at Brookcrest. Joe has since passed away, and now Carole is a resident herself. Hers is one of the first rooms that Murphy visits each day. "Joe loved Murphy too," she says. "We were married aver 60 years, and we almost always had a dog. When Murphy looks at you, you melt. He is part of our lives here, and he's the highlight of my day. I'm so thankful that Suzanne is willing to donate her time this way."
The Brookcrest community has surrounded Suzanne during the difficult times in her own life as well. In 2010, her husband Steve was diagnosed with cancer, the staff showered the couple with support during Steve's treatment and recovery. Four years later, Suzanne and Steve received the difficult news that their four-year-old grandson, Aiden,had cancer. Suzanne says, "I always knew my Brookcrest family was praying for Aiden and me. Aiden was not supposed to survive, but he did, and I believe it was through the power of prayer."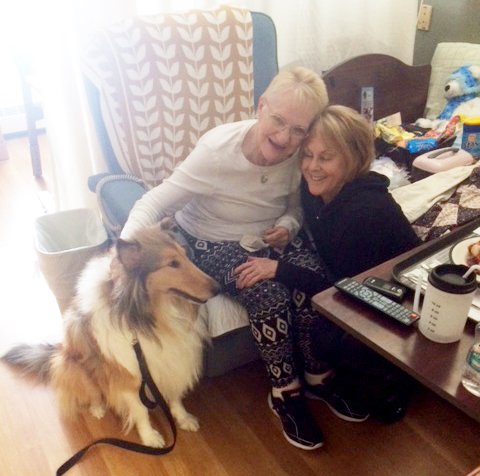 While Suzanne spent time in California during Aiden's treatment, Murphy needed a place to stay. Brookcrest's Administrative Office Manager, Lorie Commans (whom Suzanne calls Murphy's other mother), took care of Murphy and brought him to his "home away from home."
Suzanne is on a first-name basis with residents' family members as well. On many occasions, they have asked Suzanne if Murphy can be alongside their mother or father at the end of life.
"I can't say enough good about the people at Emmanuel Hospice," says Suzanne. "When I volunteered at the hospital, Emmanuel employees were always so positive and kind, and it is an honor to work with them now."
Suzanne believes that Murphy provides therapy for more than just the residents. For young children who are visiting grandparents, Murphy is always a welcome sight. Murphy is also appreciated by staff. "Staff members get really close to the residents, and they have sad moments when residents are not doing well. Many have said, 'I think I need some Murphy time.' "
Cook Funeral Home recently established the "Helping Families Heal Award" to recognize volunteers and professionals who go above and beyond to make a lasting impact on families by caring for a loved one.Suzanne became the first recipient in December of 2017, and news of the award was advertised on two billboards on area expressways. "Murphy has come with me to Cook for visitations," says Suzanne. "It should have been his name on the billboards, not mine."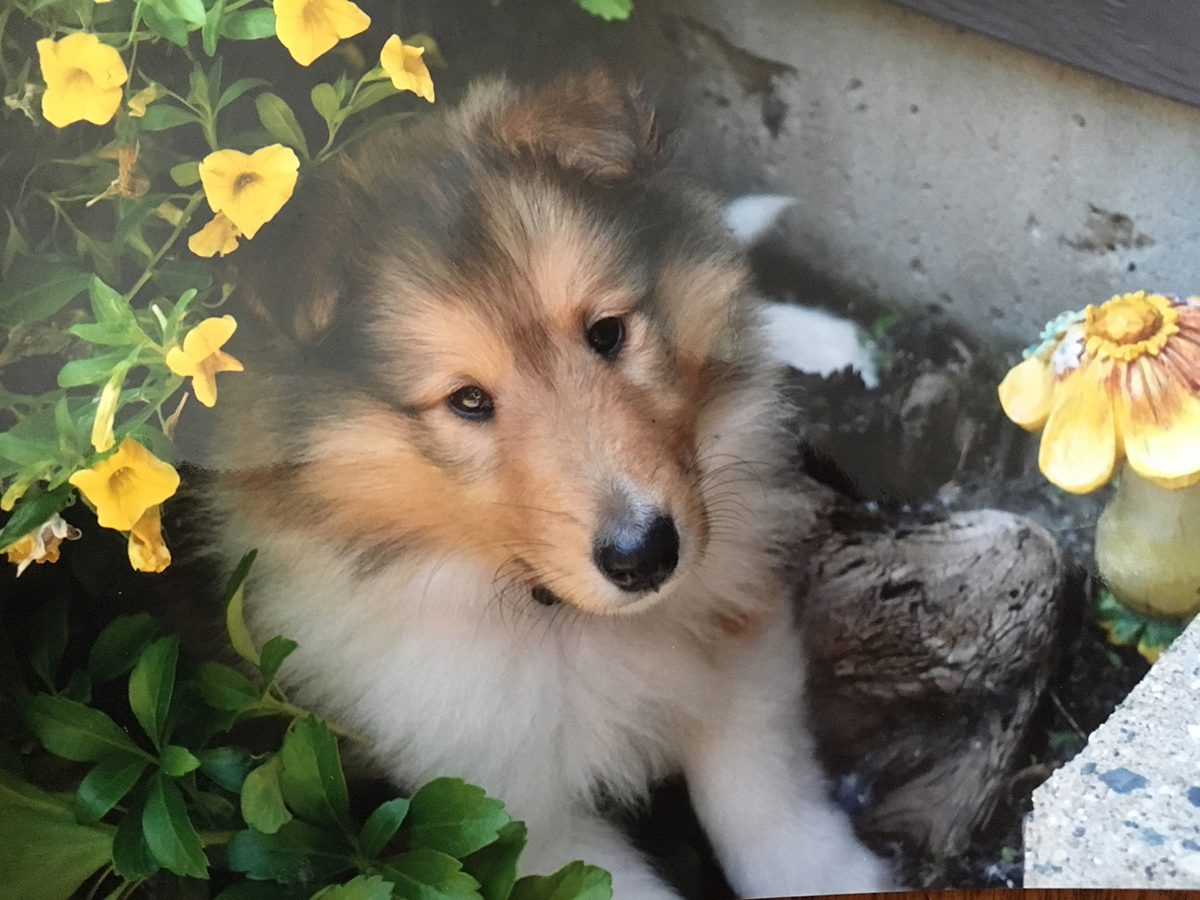 Each year, the City of Grandville selects a Citizen of the Year, and 2018 was the first time this honor was bestowed, in part, on a four-legged neighbor when the Williams family, including Murphy, were selected. In a nomination letter, neighbors recount how Steve and Suzanne have been involved in Grandville's environmental efforts and how they selflessly walk alongside many who need a helping hand — something Murphy has done his share of as Suzanne's constant companion at Brookcrest.
"This relationship with Brookcrest has been one of the biggest blessings in my life," says Suzanne. "Here it feels like you are wrapped up in God's arms. I walk away from Brookcrest every day feeling much better than I did when I arrived. I tell people, 'Look at the word "dog" and spell it backwards; dogs are one of God's blessings.' I don't feel like a volunteer, I'm here as a family member. Brookcrest is warm and close, and part of that is because of Murphy."