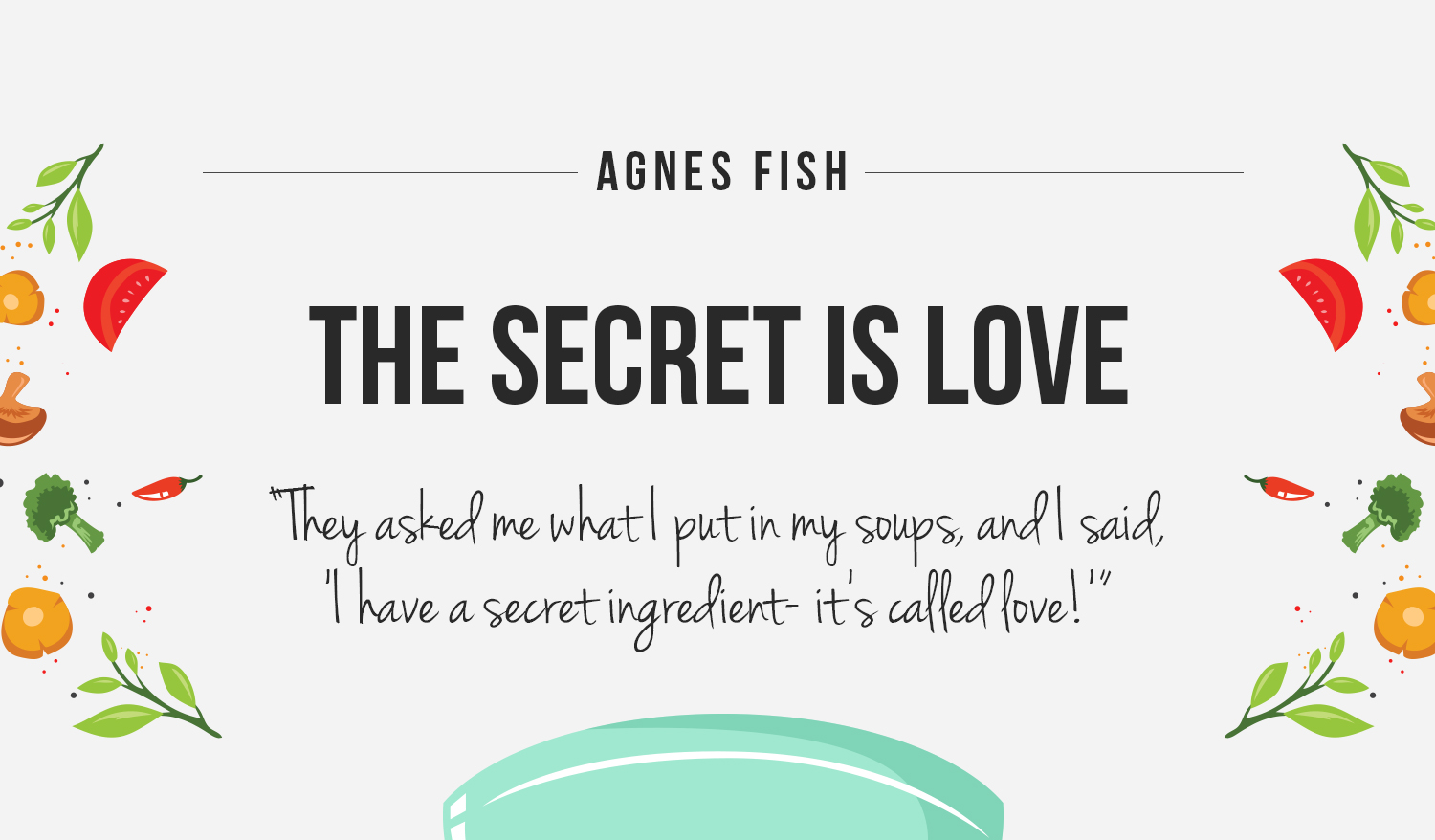 Agnes (Roelofs) Fish, Sunset's cook for almost 29 years, finds her job deeply meaningful. "Sharing food is fellowship," she says. "It's a gathering of the people."
As a child, Agnes lived with her parents and four siblings on a dairy farm in Lowell, Michigan. She says, "We worked long hours, but there was a goodness in the simplicity and there was love in the home."
When Agnes was 15, her mother died at the age of 47. Her father sold the property and moved with the children to Grandville. When he died two and a half years later at the age of 65, the children's ages ranged from 11 to 18. By law, in order for orphans to stay together, they needed a guardian, and the parents of a friend agreed to be appointed. They frequently checked in on Agnes and her siblings, as did relatives and fellow members of the First Netherlands Reformed Church.
Agnes and her older brother quit school and took jobs, pooling their money for living expenses. Agnes did piecework at Keeler Brass; it was hard work, but it paid the bills.
In 1969 Agnes was married, and she had a daughter, Heidi, and a son, Rich. The marriage ended after seven years, and divorce was very difficult for Agnes. She had drifted from the church, but in 1977 she was convinced that she needed to return. Her life began to change, and God provided the strength she needed to raise her children.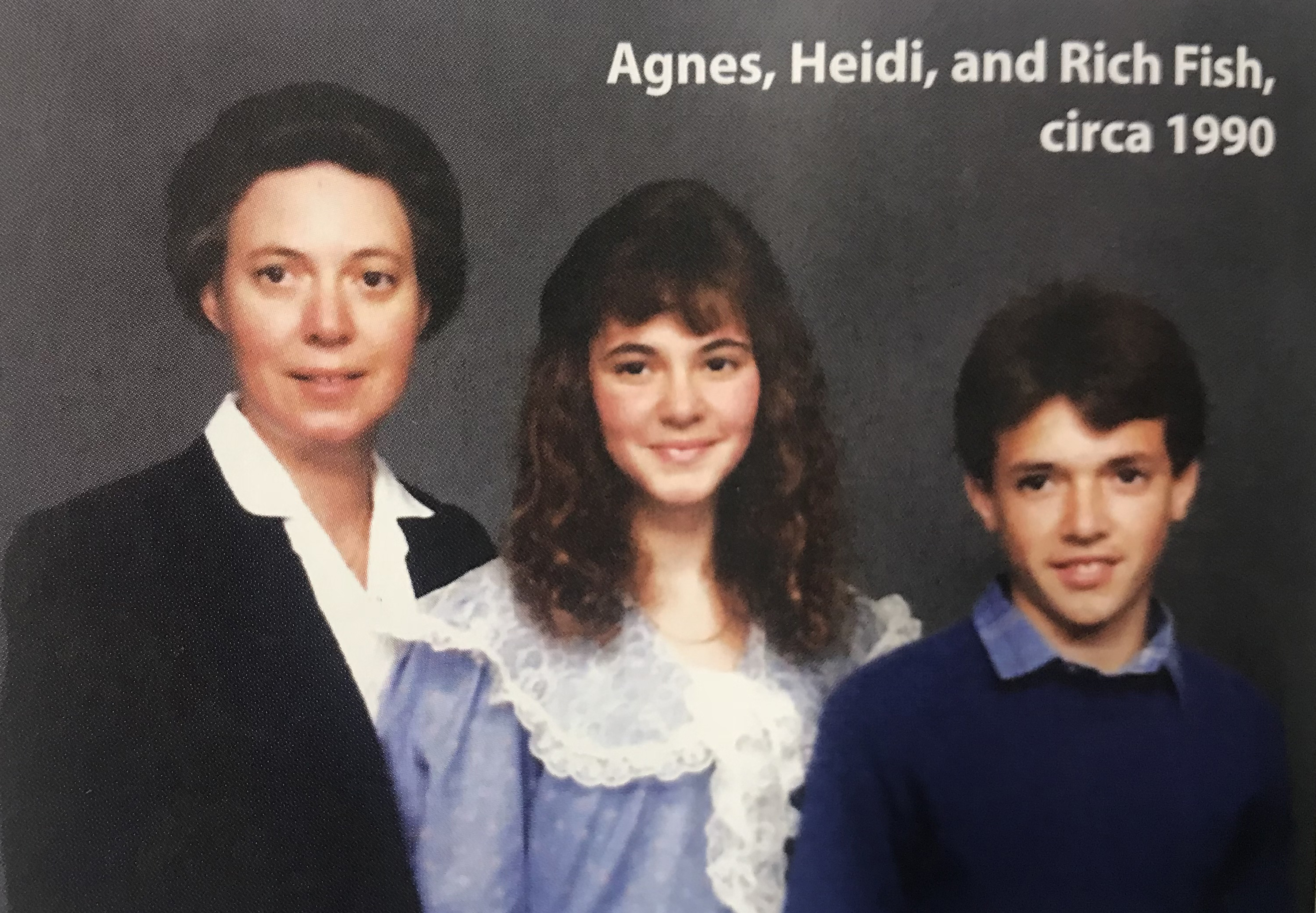 In 1978 Agnes began driving a bus for Plymouth Christian School in Grand Rapids. Her income paid for her children's tuition at the school. "We lived very simply," she says. "As I got stronger, I took jobs with elderly people between my bus routes, doing housework and cooking for them. They told me how the Lord worked in their lives."
Eventually Agnes realized she would need to work full time. In 1989 a friend told her that Sunset was advertising for a cook's assistant.
"In the interview, I said maybe I would have a small purpose to serve the residents," says Agnes. "It would be a fulfillment in my life, because I had a heart for the elderly and I knew I wanted to cook. I got my feet in the door!"
At that time, the dining room consisted of six rows of tables and residents served themselves from bowls that were placed on the table. On Sundays, they received a sack supper to eat at their convenience.
"Sometimes they came to the kitchen and asked for some milk," says Agnes, "and I hoped I had the right words for them. I'd say to myself, 'Agnes, take a good look. This is your life. Someday you will be in that season.' And it meant so much that the Lord allowed me to help them. I couldn't fathom that."
Within the year, Agnes was promoted to night cook. The residents asked her to cook their favorites, like Dutch "rice and raisins" and buttermilk pap, a thin porridge. Agnes adapted recipes to their suggestions.
Agnes saw that change was difficult for the residents, and realized that it was hard to ask for help. She says, "One day a man came and asked for some potato chips, and on the way back to his room he fell in the hallway and died. I saw the brevity of life around me, which I had seen when my mom and dad died."
As Sunset grew, a new dining room and cafe were added. Meals were brought out on plates, and residents had more choices. The new pantry and kitchen facilities were state-of-the-art.
After all these years, Agnes can cook the tried and true recipes from memory. A special favorite is her goulash, which she cooks in a 60-gallon pot, stirring with a metal paddle that resembles a boat oar.
Comfort foods such as soups are also a hit.
"I've never had a title in my life," says Agnes, "but at Sunset I'm known as 'the soup lady.'"
An unexpected benefit of working at Sunset has been Agnes' relationships with the young women who work in the kitchen. "I grew to love the girls and I had compassion, and I hope I have been a small purpose in their lives. I always say that love is the greatest thing. We have to look at ourselves and ask what we can learn. I have learned from my bosses, but I have learned from the young ones, too.
"I tell them, 'Always remember one thing: those you serve are coming to the end of life. Do you know what that feels like, when you have to ask for a piece of raisin bread or a carton of milk?' So if someone wants a poached egg, we make it for them. A little thing can mean so much."
Agnes cherishes the personal relationships she has with residents and is particularly sensitive to their losses. She says, "I hadn't seen one woman for a while, she'd lost her husband, and she said she was nervous to be with others again. I said, 'I've been there, and I'm so glad to see you,' and I gave her a big hug."
In 2015 Agnes had two major surgeries. She says, "Sunset is like my second home, and I know that I was upheld with much prayer by my fellow employees and the residents."
When Agnes returned to Sunset after she recuperated, people told her that the soups had tasted different while she was gone. She says, "They asked me what I put in my soups, and I said, "I have a secret ingredient- it's called love!"
Agnes has five grandchildren and two great-grandchildren, and her daughter Heidi has worked at Sunset for 13 years in Assisted Living. Like her mom, Heidi grew to love seniors.
"The Lord has given me strength all these years and has led me every inch if the way," says Agnes. "He has used even the hard things for good. When I work, I pray that the Lord will grant the strength, courage, and desire to do the tasks laid upon us, that above all we may do it not for ourselves but to serve others and for His glory."