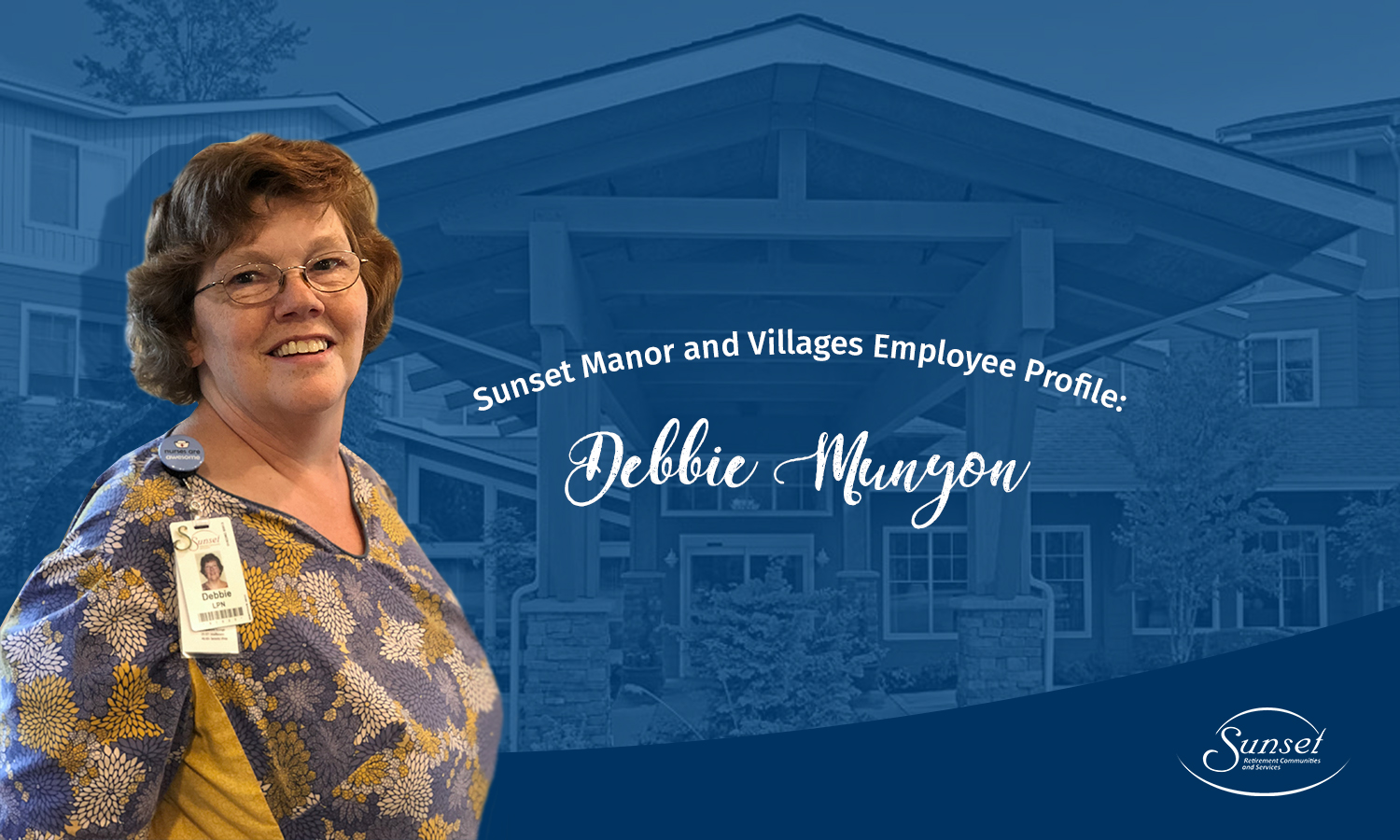 Debbie Munyon brings her heart and soul to her job as a Licensed Practical Nurse (LPN) every day. Debbie has been an LPN for almost 40 years—the past four years she's been a friendly face at Sunset Manor and Villages, and the previous 13 years she worked at Rose Garden.
Between passing meds, providing treatments, and making sure residents are comfortable and cared for, Debbie shares lots of hugs and spends time talking to residents and their family members.
"I love our residents," Debbie said. "I give them lots of hugs, especially on the last med pass of my shift. When I tell residents good night, sometimes I'm the last person they talk to for the day. Just being there to listen and give lots of hugs are my favorite parts of working at Sunset."
Beyond supervising and evaluating residents' medications and care changes, Debbie helps a resident with her sewing machine issues from time to time. She also makes it a priority to teach her younger staff that each resident is a treasure.
While Debbie is committed to her residents, Sunset has stood behind Debbie during some of her hardest times as well. In 2009, Debbie underwent a craniotomy, a procedure that creates a small hole in the skull, to help alleviate daily seizures. While she was still able to perform her job, many of Debbie's residents knew she suffered seizures – often during her shifts. After the surgery, Debbie has been seizure free and uses her experience as an opportunity to tell residents how big God is.
"Sunset staff stood by me during my seizures," Debbie shared. "After a six month leave for my surgery, Sunset welcomed me back and let me slowly work up to a normal schedule. I've always loved nursing, but I realized how much I missed it when I was off for my surgery. I'm so thankful, even after almost 10 years, to be back with this wonderful organization."
Debbie also values the management at Sunset Manor and Villages and how they often support staff with learning opportunities.
"Nursing is a continuously changing field," Debbie said. "I'm thankful for managers that believe in us and walk us through new things, like technology. My managers are always available to answer my questions. We are a family."
We're grateful Debbie is part of our team. She's an example of our employees' passion for the mission being empowered by our culture. Debbie's passion drives her to do amazing, extraordinary things to serve residents. Sunset Retirement Communities and Services truly is a place where Passion Meets Culture.