Your safety, or the safety of your loved one, is so important! Sometimes the way people have always lived can become a safety hazard as they age. Things like rugs, candles, and electrical cords that used to not get a second thought are now things that need to be addressed and eliminated for safety reasons.
Here are a few tips to help keep you or your loved one safe in the home, but specifically the bedroom. These changes don't have to be overwhelming. Take one step at a time. Every change made will be one step closer to having peace of mind about you or your loved one living at home.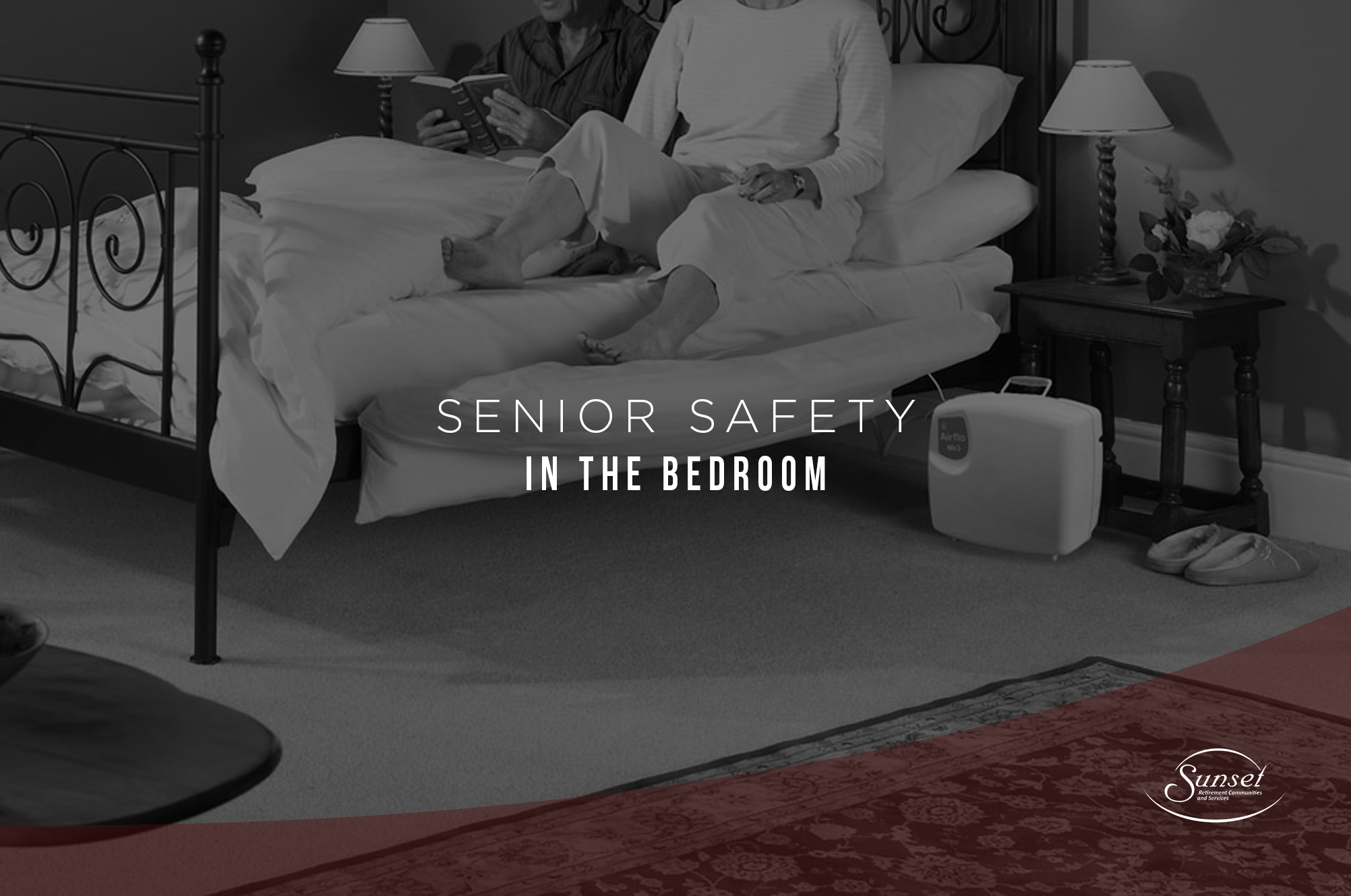 According to several recent studies, over one-third of falls at home occur in the bedroom. In addition, most home fires originate in the bedroom and often while residents are sleeping. Since seniors spend about one-third of their time in the bedroom, it is extremely important to correct bedroom safety hazards and take preventive measures to help avoid potentially life-altering disasters. Here are a few places to start:
Lighting: Place an easy-to-use light within comfortable reach of the bed. Install a light switch at the entrance to the bedroom and use nightlights, especially in the pathway from the bed to the bathroom. Have a working flashlight and place your eyeglasses at the bedside.
Walkways: Remove all clutter, electrical cords, phone cords and protruding furniture from all pathways, especially from the bed to the bathroom. Remove throw rugs or secure them to the floor with double-sided tape.
Bed height: Adjust the bed to a normal height for safe, easy access. To minimize dizziness, sit at the edge of the bed for a minute or two before slowly standing up.
Communication: Install a bedside telephone and attach a list of emergency numbers in large print to it.
Seating: Place a sturdy chair with arms in the bedroom to use while dressing and other sitting activities.
Fire Safety: Install smoke alarms on every level of the home and immediately outside of the bedroom. Close the bedroom door when you go to bed. If there is a fire it will be slowed down. Never smoke in bed and do not use candles! Smoking in bed is the number one cause of fires in seniors' homes. The second cause is falling asleep with a space heater operating. Always turn space heaters off before going to bed.
Besides taking these steps to minimize falls or fires in the bedroom, here are additional tips for minimizing falls at home:
Stay physically active. Walking is an excellent way to keep your lower extremities strong and improve your balance. Your neighborhood senior center may have exercise classes for stretching, strengthening and balance. Check with your doctor before beginning a new exercise program to be sure it is okay.
Avoid alcohol. This is especially true if you are taking medications.
Keep your mind active. Doing crossword puzzles, reading, playing cards and board games with friends are all great ways to help keep you oriented and more equipped to deal with everyday issues and emergency situations. There are even programs available in the marketplace which can significantly improve your memory and mental acuity, leading to greater independence and safety.
It doesn't take much modification to significantly reduce the risks of falling and fires in the bedroom. It could mean the difference between remaining independent versus requiring long-term care or succumbing to premature death.