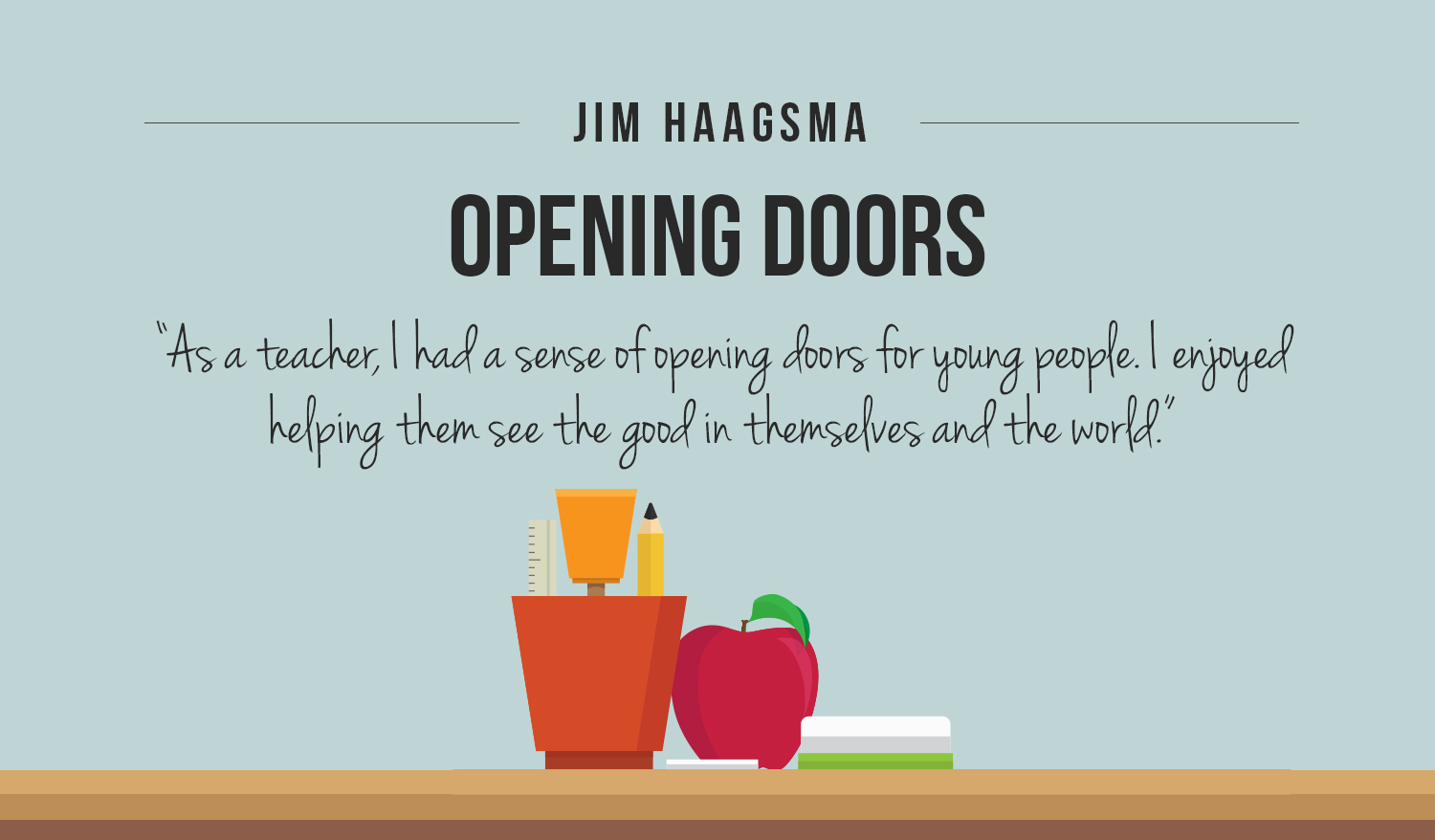 "As a teacher," says Jim Haagsma, "I had a sense of opening doors for young people. I enjoyed helping them see the good in themselves and the world."
Jim was born on December 14, 1933 in Sanborn, Iowa, the oldest of seven children. One of his first memories is sitting in the barn, watching his mom and dad milk the cows by hand. They also bottled it and delivered it to customers. His father later drove a creamery truck and Jim rode with him, stopping at farms to pick up cream that would be churned into butter at the factory. The family owned a hatchery, and Jim enjoyed watching chicks hatch and grow in the incubator. As a senior at Western Christian High School, Jim was entrusted to drive a bus for the school, which paid his tuition.
But despite all the exposure to agricultural pursuits, Jim's parents and teachers noticed he was more inclined toward people than machinery so they encouraged him to attend college.
Jim says, "I'm older than Dordt, so I went to Calvin College. I was considering either the ministry, law, or education."
The Korean War began in 1950, and although young men who attended college received a deferment they would be required to serve upon graduation. After his sophomore year, Jim decided to enlist.
"I didn't want to wait two years," he says. "I had infantry training at Camp Rucker in Alabama and then at Fort Benning, Georgia. When I had a furlough I went back home and married my sweetheart, Mary."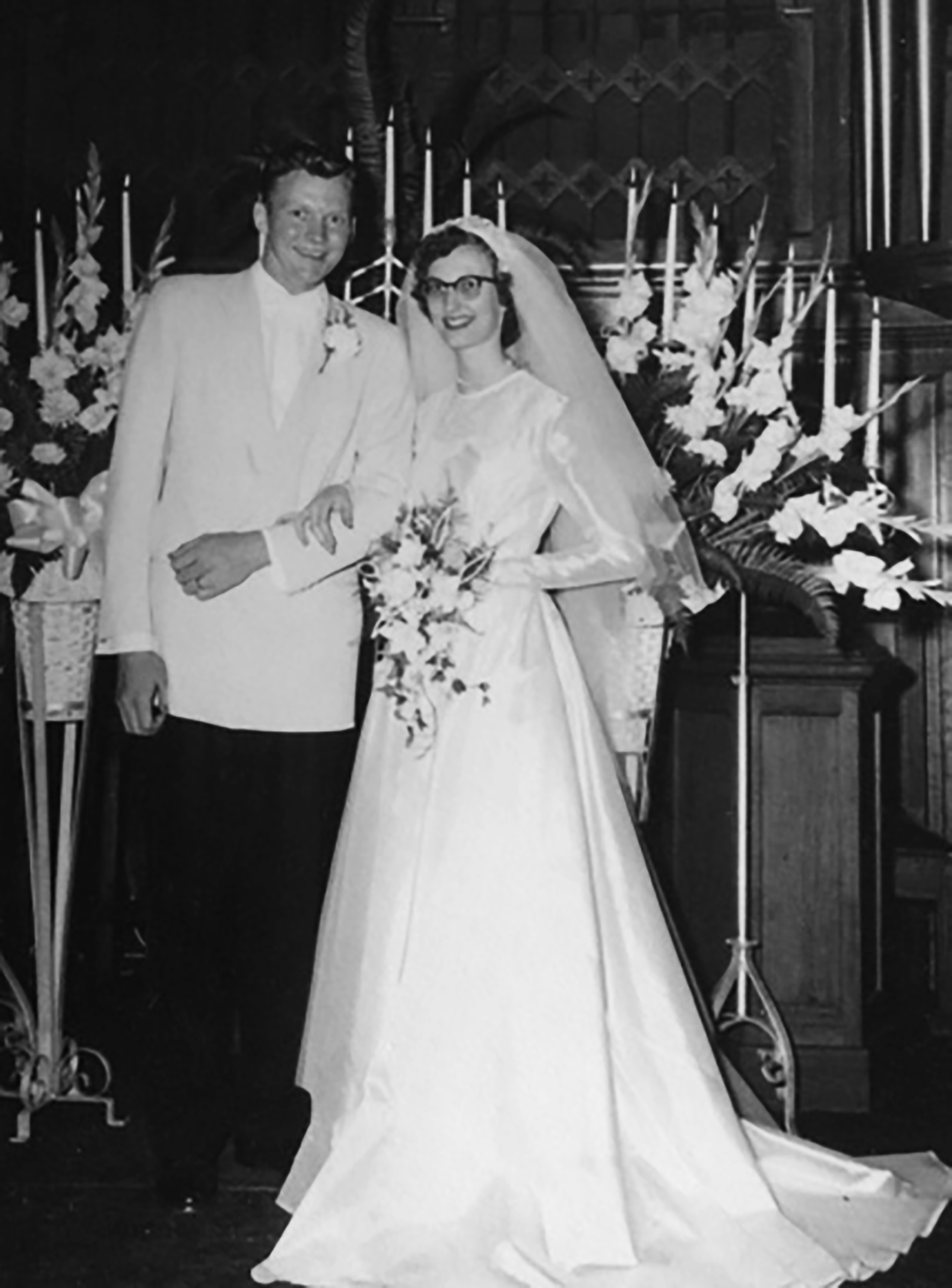 After Jim and Mary were married on May 25, 1953, they lived in a duplex in Georgia, where they witnessed rigid racial barriers. When Mary chatted with a black neighbor over the clothesline, their landlord told her it was unacceptable.
On Sundays, Jim enjoyed being involved in a Young Calvinist group that was organized by a chaplain. During the week, he trained soldiers in everything from first aid to the proper use of 57mm rifles.
"The rifles were quite heavy, so my right shoulder is taller than my left!" says Jim. "I guess the officers thought I had a knack for teaching, which probably saved me from being deployed."
After the Korean War ended in 1953, the Haagsmas returned to Calvin. Jim knew he was best suited to become a teacher, and he graduated in 1957 with an education degree.
After teaching English and Bible at Byron Center Christian Junior High for two years, he became an administrator at East Paris Christian School but he missed being in the classroom, so after three years he accepted a job at South Christian High School, where he taught English and other subjects. He also led the debate team and coached track and field.
Jim recalls, "It brought me such satisfaction to observe not only how sharp students could be, but also how caring they could be. I believe that kids are as good as you expect them to be."
Recently Jim had a conversation with a former student from South Christian, and it brought tears to his eyes to hear that he had been such a positive influence in the man's life.
Jim was on the steering committee that started Cutlerville Hills CRC. The Haagsmas had four children, and Mary focused on motherhood as well as cultivating her artistic skills. "I was very proud of her abilities as an organist," says Jim. "She has an eye for design and was always creating something beautiful."
After retirement, Jim and Mary tutored at Moline Christian School and assisted at John Knox Food Pantry. They traveled extensively and enjoyed the unique landscapes of the different states. The only state they did not visit was Delaware, but Jim insists this was not by design. They spent ten winters in Port Aransas, Texas. Jim served on the Calvin College Board of Trustees for six years.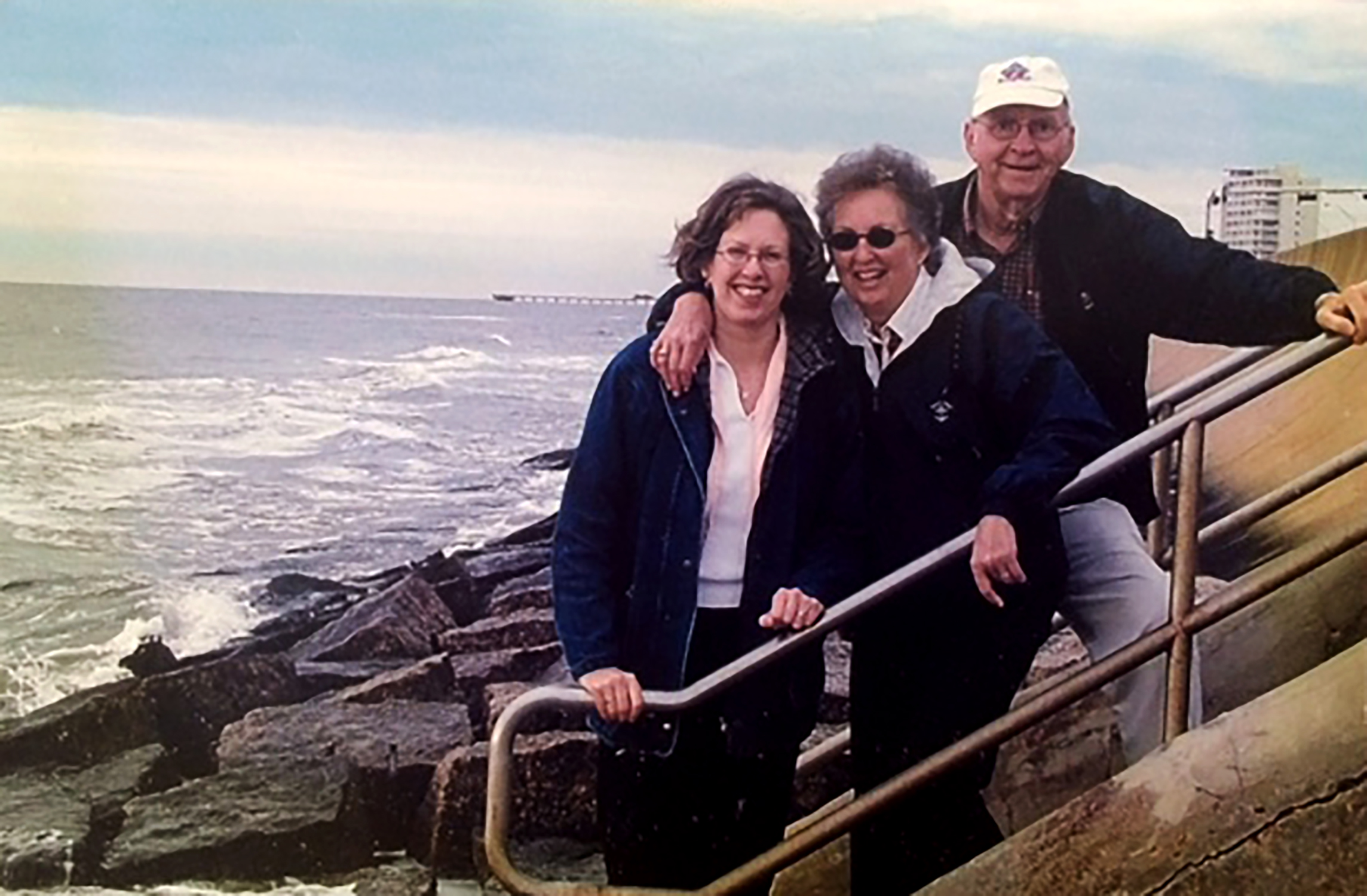 In 1999 Jim went on a mission trip to Cuba with a church group. "Mary says I came back a changed man," he says. "The pastor at the Cuban CRC had so many holes in his clothes, we left all our clothing behind. From that moment I realized that we had so much and tried not to take it for granted."
The Haagsma's daughter Carol later brought a young man from Cuba to the United States so he could study to become a minister. He is now a chaplain in the U.S. Air Force and is married with children of his own. Jim considers him a grandchild, which brings the total to 13. The Haagsmas also have 19 great-grandchildren.
Five years ago, Jim and Mary moved to an apartment in Waterford Place's Independent Living unit. When Mary began to lose her balance frequently, a neurologist diagnosed corticobasal degeneration (CBD), considered a Parkinson's plus syndrome. Mary spent a few weeks at Brookcrest.
"She'd call me and ask me to come and get her," says Jim. "I wanted to be with her, too."
Waterford Place was constructing an Assisted Living unit, so they put their names on the list. In the meantime, they moved to Sunset's Rose Garden.
About two years ago Jim noticed that he, too, was experiencing muscle weakness. "My golf balls weren't going as far as they used to and I thought it was just old age," he says, "but Mary's neurologist diagnosed me with Parkinson's too."
The Haagsmas were one of the first couples to move to Waterford Place Assisted Living when it opened in 2015.  Jim says, "Mary and I are so thankful that we can still be together, even though we are both severely handicapped. The staff is so caring and they're willing to do anything for you."
Jim reflects about the perspective he has gained through the years. He says, "Our daughter Carol died at the age of 50, and Mary and I are prepared to join her. It's such a comfort to know that we'll be reunited. Even if we don't recognize each other in heaven, it wouldn't matter because we'll still be together."