"Although it was the best decision I could make, letting my husband, Pete, be cared for at Brookcrest was not easy." – Marge Salamone
With your help, people needing dementia care at Sunset will continue to call Sunset their home.
Pete was well-liked. He loved his family and never missed anything his kids did. Charming, strong, and vibrant, he won over hearts from all he touched.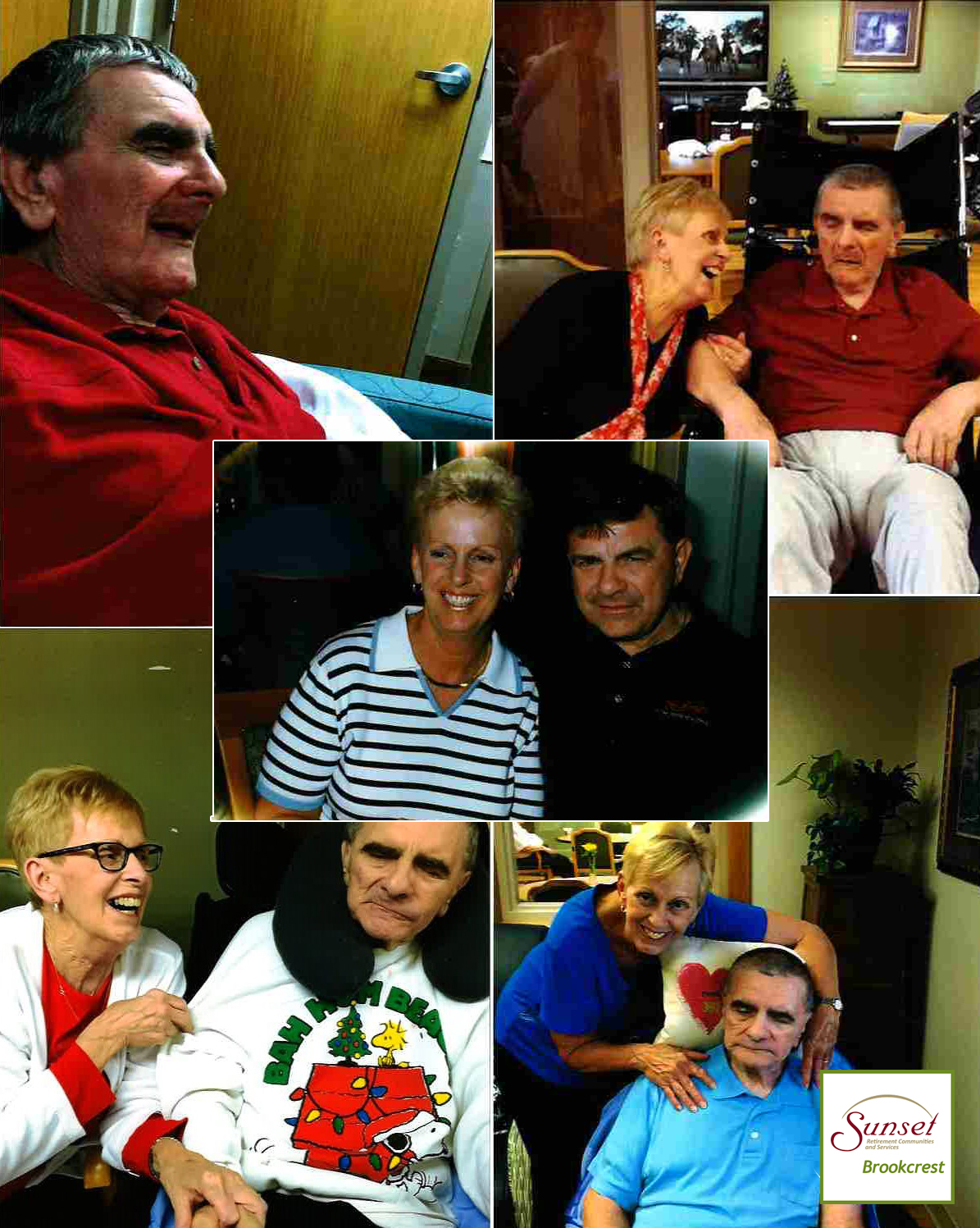 However, everything would change. After surviving a 12-hour brain surgery to remove a tumor, Pete was left with progressive memory loss, confusion, and depression. When their oldest son passed away, Pete's dementia accelerated.
Marge was ready and willing to be her husband's caregiver, having already cared for her grandmother and having been an advocate for her parents. Marge retired from full-time work to be at home for Pete.
Heartbreak
Over time, Pete lost his memory of Marge. "He knew that he liked me, but I was no longer his wife," Marge said. "He would ask me almost every night, 'When am I going home?' I got really good at storytelling. I would tell him, 'You can stay the night here, I have an extra room just for you.' He would go to sleep, and we would start the same routine all over again the next day."
Daily Grace
Uncharacteristically, one Sunday, Pete shouted at Marge during communion. Realizing Pete was unable to control his outbursts, Marge was forced to keep Pete home from church. Pete started wandering outside and found himself in dangerous situations. Securing the doors to their house was necessary to keep Pete safe, but it restricted their world. Although Marge and Pete had a wonderful group of family and friends, Pete began to act out on distorted memories. Lifelong friends and even family members were enemies to him. This made it difficult for friends and family to visit and give Marge much needed rest. One night, Pete got lost looking for the bathroom. Marge woke up in horror to find Pete had fallen down the steps. Marge could no longer sleep without worrying. Over time, Marge and Pete's world became smaller and smaller.
Each morning Marge would pray, "I know, God, with your help, I can get through this day."
It was grace…
… that helped Marge manage Pete's outburst during communion.
… that helped Marge live in a restricted world of constantly locked doors and windows to keep Pete safe.
… that gave Marge the courage to broker fractured relationships when lifelong friends and family became enemies to him.
… that gave her the strength to care for Pete when he got lost looking for the bathroom and fell down the stairs.
World Class Care
"Letting Pete go was more painful than burying our eldest son," Marge acknowledged. Pete needed Brookcrest. Pete moved into The Garden, a home-like therapeutic environment at Brookcrest specifically designed to serve individuals and families living with dementia.
"Pete became a legend at Brookcrest. He went from the one who demanded the most attention to being one of the most popular ones there," Marge recounted. "Brookcrest was the best choice for our family because, in addition to great care, their recreational therapy program is world class."
Much Larger Story
Marge and Pete's story is becoming more and more frequent. Dementia and its predominant form, Alzheimer's, affects 5.7 million people and is projected to impact 14 million people by 2050.  Currently, 16.1 million Americans—mostly women—provide unpaid care for people with Alzheimer's or other forms of dementia, and those caregivers provide 18.4 billion hours of care valued at $232 billion. 1
An Exacting Toll
Caring for a person with dementia exacts a heavy toll. Dementia caregivers experience increased emotional stress and depression, new or exacerbated health problems, and depleted income and finances. Twice as many dementia caregivers experience substantial financial and physical difficulties.2
We Can Help
Brookcrest is the neighbor that can help, because that's what friends do.  We have higher staffing ratios and low turnover which means that Brookcrest's family can quickly become part of yours.  Brookcrest offers respite, rehab, & world class rec therapy.  Let Brookcrest focus on care giving, so you can focus on being the family member.
If you or a loved one are interested, please CLICK HERE for our Long Term Care Application.
This electronic PDF form can be downloaded, completed, and emailed directly to our Admissions Team at Brookcrest-admissions@sunsetmanor.org.  You can also fill out the form, print it out and mail it or bring it into Brookcrest.  (For best results, the form should be downloaded and completed on a PC or laptop with Adobe Reader and email software installed.  Please keep in mind some PDF form functions may not work on mobile devices or in certain Internet browsers.)  Have questions? Please give our Admissions Team a call at (616) 534-5487.
1 Statistics provided by the Alzheimer's Association.
2 Alzheimer's Association. 2018 Alzheimer's Disease Facts and Figures. Alzheimer's Dementia 2018;14(3):367-429.