It might come as no surprise to learn that intergenerational relationships are good for you. Relationships between people of different age groups might seem more and more rare these days, but at Sunset Senior Communities, we know how rich and rewarding intergenerational friendships are! Not only do these types of friendships offer the chance to experience a different perspective, but they also offer some very real health benefits.
In this blog, we outlined some of the most notable benefits and how our partnership with Grand Valley State University (GVSU) promotes intergenerational learning and relationships. Keep reading to learn more—you might be surprised by what you discover!
​
Six Benefits of Intergenerational Friendships
We have a lot to learn from each other. Here are six of the biggest benefits of intergenerational relationships.
1. Share Intergenerational Wisdom
When younger and older people are friends, young people can benefit from the wisdom of their older counterparts. Older people have more life experience and opportunities to learn and grow. When they share that experience with younger friends, it leads to better life outcomes and more positive mindsets. And the feeling of having someone else learn from your mistakes? That's just a bonus.
2. Gain Healthy Perspective
Like intergenerational wisdom-sharing, older generations offer young people the benefit of their life experiences. When a bad thing happens early in life, older people can offer reassurance and comfort that life does go on. And more often than not, they can offer good advice about getting through hard times. Alternatively, younger people can offer insight into modern life and culture—something older folks might not have access to on a personal level.
3. Overcome Preconceived Notions
Having friends of different ages is also helpful when it comes to developing an informed worldview. This phenomenon has been studied extensively, and is a proven benefit for both younger and older people. In fact, having diverse friends helps build mental connections as people learn from each other.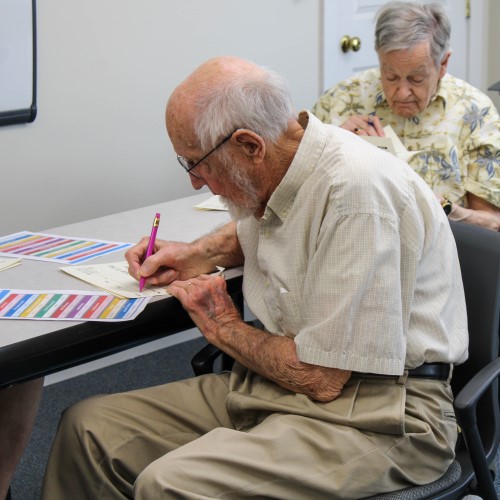 4. Stay Mentally Sharp
One of the best ways to stay sharp for your whole life is to keep learning. Mentally challenging exercises stimulate brain cells and contribute to cognitive health. While this is a heavily-researched phenomenon, the Sunset residents can attest to its effectiveness! Sunset partners with a GVSU class taught by Sunset Director of Recreational Therapy Nick Wahl. As part of this course, students and residents practice SAIDO Learning, a working memory training program and cognitive intervention for dementia. Students and residents work together on systematized basic problems in arithmetic and language, including reading aloud, as well as writing. Students provide residents with "homework" for staying mentally sharp—and residents and their family members notice a positive difference!
5. Ditch Unhealthy Comparisons
As the old adage goes, "comparison is the thief of joy." It's easy to compare yourself to a friend in similar life circumstances and come up short. Whether you're young or old, the comparison trap is all too easy to fall into! But when you're friends with someone of a different age, it's difficult (if not impossible) to play the comparison game. Instead, you can just enjoy each other's company free of complications.
6. Find Comfort and Purpose
According to a 2022 National Institute of Health study, youth who spent time with older adults, interviewing them and asking for life advice, reported feeling more comfort, purpose, and improved attitudes towards older people. Researchers also noticed that young people who spend time with older generations have better health outcomes! Simply spending time with people of different generations has incredible mental and physical benefits.
Sunset's Collaboration With GVSU Class, Recreational Therapy With Older Adults
Sunset Senior Communities has always had a wonderful relationship with GVSU. For the last few years, we have fostered intergenerational learning by opening our Manor & Villages to the Recreational Therapy With Older Adults class from GVSU.
The students spend most of the semester learning in the classroom about different older adult diagnoses, older adult-specific interventions, and how to use recreational therapy to address underlying health issues in the older adult population. The last few weeks of the class are held at Manor & Villages with Sunset residents.
Topics we explore include health insurance, mental health, accessibility in senior living (Continuum of Care), aquatic therapy, and of course, SAIDO learning. Residents even gave students a tour of Sunset and talked about the accessibility and accommodations of the campus! Our collaboration gives the residents a chance to learn alongside these college students, and it gives the students a chance to hear stories and real-life testimonies from older adults. It's a partnership we're so grateful for, and we know the impact of intergenerational friendships and learning experiences will last a lifetime!
Build Lifelong Connections at Sunset
If you or someone you love are looking for a vibrant community in which to build life-long relationships, you've come to the right place. Sunset's four different communities are designed to provide seniors with the support they need to age in place, with all the benefits of active senior living and none of the stress. We frequently collaborate with institutions like GVSU and other groups to build meaningful connections and foster intergenerational friendships.
If you have any questions about our senior community, our programs, or how to get involved yourself, we're happy to hear from you. Give us a call at 616.457.2770.