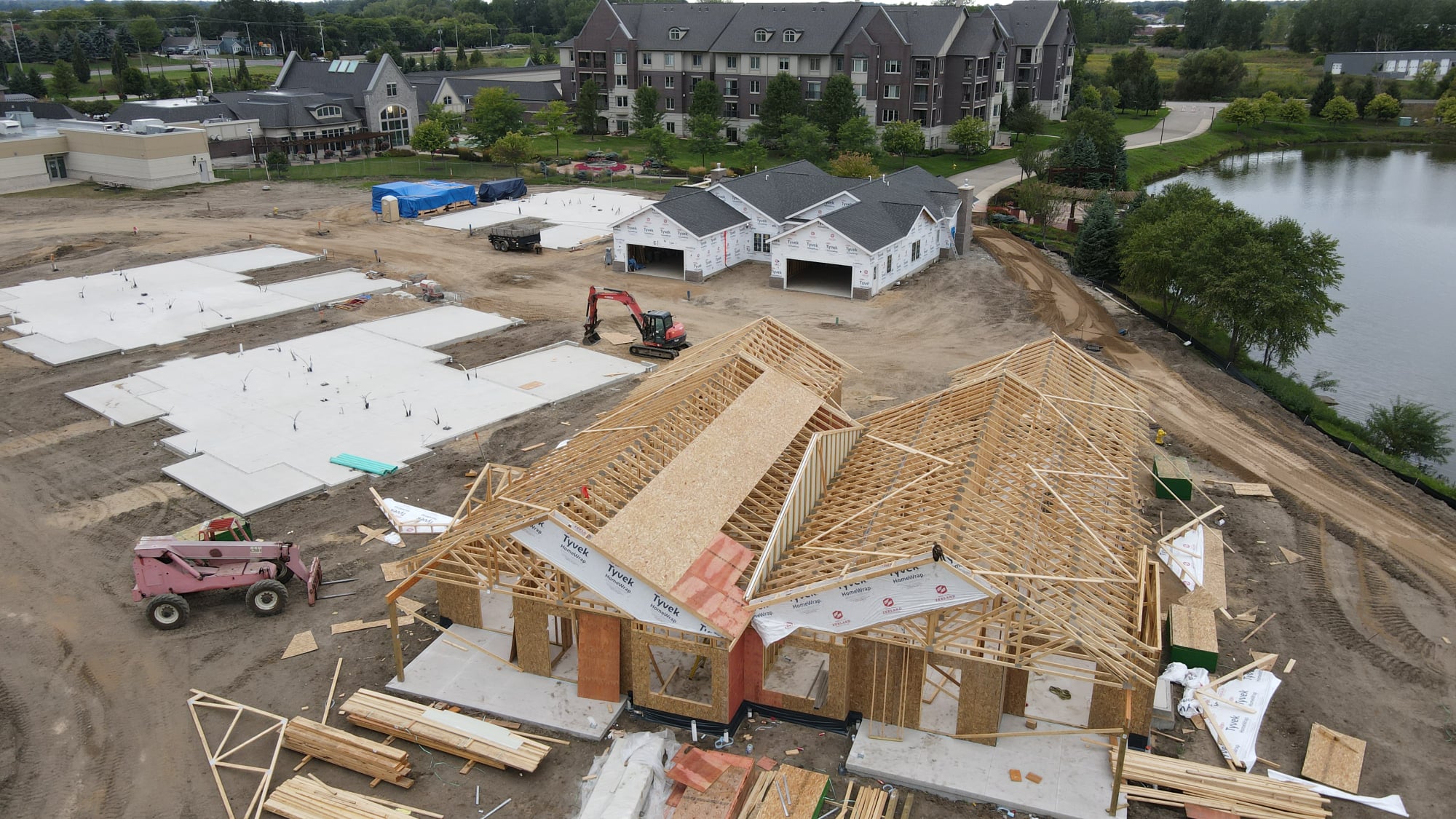 The Waterford Place Phase III expansion is steadily moving forward. Last month we shared some exterior photos of the Villas at the Cove. This month we're excited to share a few interior pictures of the Villas as well as show you other remodeling projects underway at other communities.
The Cove at Waterford
Our cozy pocket neighborhood at Waterford Place is coming along! Kitchen cabinets, doors, windows, and living room fireplaces have been installed in several Villas.
The Cove's independent living Villas have stunning views of the lake with easy access to amenities and services on the Waterford Place campus.
Construction began in July and we look forward to welcoming new Cove residents by late 2020 or early 2021!
Waterford Glens
The Glens will be apartment-style homes connected to the main Waterford campus. Future residents may choose from four different floor plans with options for a balcony or patio on select homes. Video walkthroughs of Phase I homes are available on our YouTube channel.
Also included in this section of the Phase III expansion will be a chapel, a bistro-style cafe, a state-of-the-art workout facility, and additional activity classrooms. We are also adding another level to the existing parking garage. Construction on Waterford Glens is expected to begin in March 2021.
For more information on Waterford Glens or The Cove, please visit WaterfordPlaceExpansion.org or call David Miedema at 616.437.4392.
The Manor & Villages
Waterford Place isn't the only community under construction. A few updates are underway at Sunset Manor & Villages.
We've given the main dining room a fresh coat of paint and added a new to-go cooler and beverage area.
We've also put a new roof on the pool area, installed new pool equipment and maintenance system, resurfaced the pool, hot tubs, and the deck, and will be updating the tile throughout. New windows are coming spring 2021.
Rose Garden
A brand new addition is under construction at Rose Garden! As an add-on to the existing building, this area will serve as a multi-purpose living space and common area for residents. We're looking forward to having more room for group or individual activities, events, worship, and fellowship.
Life at Sunset Senior Communities
We hope you are as excited about these new additions as we are. Every construction project, whether large or small, enables us to better serve our residents and to fulfill our mission of providing quality services for senior adults in the spirit of Christian love.
Please contact us with any questions about any of our growing communities or for more information on our services.