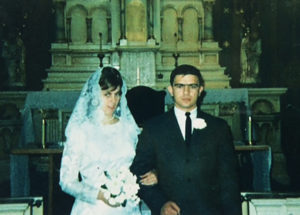 "Pete was such a great dad and grandfather," says Marge Salamone, his wife. "He adored his family. He was the kind of person that would drop everything to help a friend, and he always made the conversation about the other person."
Pete and Marge were married on August 28, 1965, and three children soon followed: Pete Jr., Laurie, and Timothy.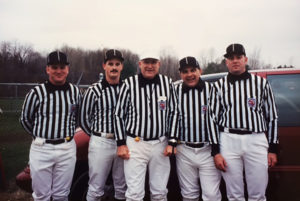 In 1971, Pete fractured his neck in a diving accident. Doctors were amazed he wasn't paralyzed, and it seemed like a miracle to Marge. Because he'd had a spinal injury, some companies were reluctant to hire Pete, but he found work he enjoyed, selling sports equipment. He loved coaching and officiating at high school games. The Salamones attended all their children's sporting events. Pete started a scholarship program to help young people become sports officials; he trained his son Tim when he was a teenager and was thrilled when Tim joined his high school officiating crew.
In 1994, when Pete was 50 years old, doctors discovered a brain tumor that was blocking his ear canal. Marge says, "I look back now and see the symptoms. He was hard of hearing, but so was his dad, so Pete didn't take it too seriously." Marge considers the detection of the tumor the second miracle in Pete's life; if it had gone undetected, he could have died.
After the 12-hour surgery, Pete woke up joking, but nerve damage had caused paralysis on the left side of his face and he suffered memory loss. He was disoriented and forgot how to get to familiar places, and he did not return to work.
Pete's mother, sister, and other relatives had had Alzheimer's and Marge suspected that Pete, too, had the disease, but doctors believed the symptoms were related to brain trauma from the surgery.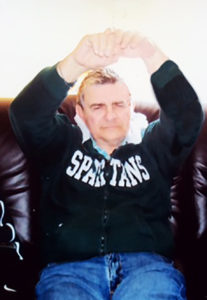 Then came another miracle. In 2005 Pete landed in the hospital with an infection, which led doctors to discover a life-threatening congenital heart defect. He had surgery to replace the faulty valve, but he'd had some small strokes.
Pete declined even more, and drugs didn't help. Before Marge left for work each morning, she left notes to remind him of the day's activities. One day Pete went shopping and purchased twelve Michigan State t-shirts; when Marge returned them, he didn't notice.
Marge says, "He was still officiating and he'd sit at the computer to look up where the fields were. He'd cry and say, 'I'm trying so hard, but I can't remember.'" This was heartbreaking for Marge. She heard from other sports officials that Pete was doing things that didn't make sense. When Pete got lost even when he relied on the maps Marge drew, she knew he could no longer do what he loved. Finally, she took his license away.
Marge took Pete to be tested for dementia, but doctors still believed that brain trauma was causing the symptoms. Finally, a PET scan confirmed that Pete had Alzheimer's.
Marge retired in 2011, and the same year their oldest son, Pete Jr., passed away. Pete's disease accelerated. He experienced "sundowning," becoming more irritable as the day progressed. He forgot how to swim. He was convinced someone was following him. He argued with his own reflection in the mirror. Sometimes he wandered outside, so Marge installed safety locks. Marge and Pete had close family, neighbors and friends, but when Pete acted out, their circle grew small.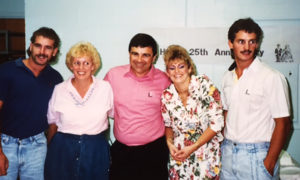 Marge kept a strict, simple daily routine and played Pete's favorite music from the '50s and '60s. When Pete refused his pills, Marge his them in his food. She took him on drives and they played simple games. They sat on the porch and talked to neighbors, and Pete still rooted for the Spartans during Big Ten games.
Every night, Pete asked Marge when he was going home. "I got really good at storytelling," she says. "I would tell him, 'You can stay the night here, I have an extra room just for you.' He would go to sleep, and we would start the same routine all over again the next day."
Taking communion had always been important to Pete, but eventually he didn't know what to do when he received the host. After he had an outburst during one service, Marge could no longer take him to church.
Marge joined a support group and became educated by contacting the Alzheimer's Association and Area Agency on Aging. She found more resources through Easterseals, Senior Millage and Home Instead. She brought Pete to adult daycare at Caretree and Side By Side so she could shop for groceries and clean the house. When Pete asked Marge why she was dropping him off, she told him he was volunteering. "A marriage that was based on honesty was now based on lies," she says. "It's hard, because this person you love so much doesn't really know who you are anymore."
Marge could never have gotten through without her faith. Every morning she prayed, "God, I know you'll help me get through this day." She looked at care facilities and chose Brookcrest because of its top-notch therapy program. She says, "Everyone I encountered was amazing, and I appreciated the small size of The Garden (Brookcrest's dementia unit).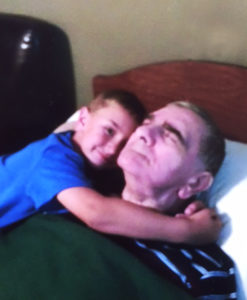 In 2013, Pete fell down the stairs in the middle of the night and needed 17 staples to close a head wound. When he became aggressive and would no longer allow Marge to bathe him, she knew it was time to bring him to Brookcrest. She says, "The day I left him was the hardest day of my life."
Pete had difficulty adjusting, but Marge visited him every day, working with the Brookcrest team to help him acclimate to his new surroundings. It was a long and arduous process but Marge was determined and tenacious, and Pete eventually became content and was a favorite among staff.
Marge says, "even when they can't communicate, their spirit is still in there and they are still your loved one. I talked to Pete about everything, just like before. I touched him and told him I loved him. You need to keep a sense of humor."
Pete's great-grandson Carter loved him, and he and Marge were frequent visitors. In Carter's childlike way, he accepted the residents as they were, chattering away and doing puzzles with them.
During Pete's last year, he could still carry on a conversation and recall some events from the past. He still loved to make people laugh, and he never forgot Marge's name. The Salamones celebrated their 52nd anniversary at Brookcrest.
On New Years Day in 2018, Pete became ill and was taken to the hospital. Marge prayed over him and read their favorite Scriptures. When Pete breathed his last breath, Marge held his hand and said, "I love you, Pete."
Marge says, "I got my answer to prayer. Every day I asked God, 'Lord, just let me live longer than Pete.' I didn't want him to be without me. Pete's last years were so hard, but I needed to honor my wedding vows: 'In sickness and in health.'"
According to Brookcrest staff, not only was Marge a constant tender presence for Pete, she was also a compassionate advocate for all residents of The Garden, treating them as if they were family too. Marge learned some important things during her role as Pete's caregiver. She says:
When a loved one is afflicted with this insidious disease, it's not about you; remember, they are bewildered and confused.
This disease can't be fixed, but it helps to know what works for your loved one and what triggers them.
Redirect is a keyword – never argue with them or force them, and always be kind because they don't know what they're doing.
 The more educated you become, the easier your lives will be.
You can't manage your loved one by yourself; rely on your support system and adult daycare as much as possible.
When you feel you can't physically or emotionally take care of a loved one, don't wait until something happens. If it's not safe for either of you, you really need to let go.
And above all, show love.