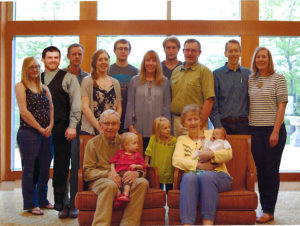 Carl Wykstra still remembers his 9th grade class verse: "Trust in the Lord with all your heart and lean not on your own understanding. In all your ways acknowledge him, and he will direct your paths" – Proverbs 3:5-6
Although Carl could not have foreseen the paths that God would lay for him, the verse has become his favorite.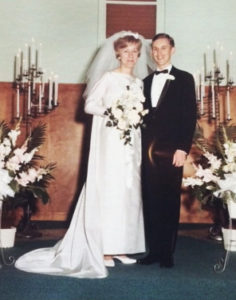 Carl was born on April 14, 1939, and grew up in Cutlerville. His father was a licensed psychiatric nurse at Pine Rest Christian Hospital, and Carl would tag along Saturday afternoons. One day Carl's father instructed him to ask a patient to teach him to play Dutch checkers. After the man did so patiently, he looked up, noticed Carl's father in the doorway, and said, "How dare you send a kid to do your job!"
My dad could never get this patient (a psychology professor) to do anything," says Carl. "I learned a lot about dealing with people from those Saturdays."
Carl's father was diagnosed with polio, and after he lost sight in one eye he went on disability at the age of 47. A habitual smoker, he died at age 51 of a major stroke.
From the time he was young, Carl did the chores his father could no longer handle, and he developed a strong work ethic. He worked several jobs to earn money for further education.
At Calvin College, Carl majored in math. When he interviewed for jobs he was always asked about his draft status. Carl discovered he would be called up in nine months, so he visited a Navy recruiter. "He hands me this booklet," says Carl, and says 'Pick what you want.' Two weeks after I graduated in 1960 I went to Naval Aviation Officer Candidate School."
As an intelligence officer, Carl was assigned to a squadron in California, but a year later he was sent to the Philippines. Tensions between North and South Vietnam were heightening, and the squadron to which Carl was now assigned patrolled the South China Sea from Saigon to Hong Kong and the 17th Parallel, the dividing line between North and South Vietnam. North Vietnamese junks (small sailing ships) were often seen transporting soldiers to South Vietnam.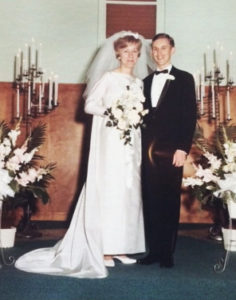 When Carl had served four years, he returned to Grand Rapids and worked as a commercial underwriter for Aetna Insurance. He says, "I'd been working twelve hours a day, seven days a week in the navy, and I realized there had to be a better way." Soon he met Linda Wiersema, who worked for another insurance company in the same building.
"The night I met Carl," says Linda, "I told my mom I'd met the guy I thought I would marry."
Linda was a church organist, and Carl accompanied her to church the following Sunday evening, where she was scheduled to play. While they dated, Linda went to nursing school and worked at Butterworth Hospital after she graduated.
Carl and Linda were married on May 26, 1967, and the following January Carl was transferred to Aetna's Toronto, Ontario office. During the four years they spent in Canada, the Wykstra's children were born: Laura in 1968 and Jeff in 1970.
Carl's next transfer was to Wheaton, Illinois. Linda says, "Every time we moved, the first thing we did was find a church. It became our family."
"My feeling is, the way you get to know people is to be involved," adds Carl. A bulletin announcement asked for volunteers to refinish inner city parsonage, so Carl showed up with his hammer Saturday morning to offer assistance. Only two other volunteers arrived, both of whom were experienced carpenters.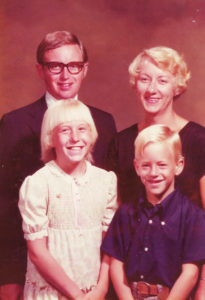 "I'd only used the hammer on paint can lids," Carl says, "and I told the guys I could sweep the floor and carry lumber, but I knew nothing about construction."
But Carl received intensive on-the-job training, and eight weeks later, when the job was finished, the other volunteers joked that Carl should pay them for the many lessons he'd received.
One of the Wykstra family's weekend bike routes took them through a park with a lake that featured many sailboats. Carl and Linda took classes and purchased a 12-foot dinghy, and sailing became a favorite family pastime. After five years in Illinois, Aetna transferred Carl to its Wheeling, West Virginia office, and he used his newfound carpentry knowledge to finish the basement of their home. He was transferred after five more years to Cleveland, Ohio and retired in 1994, after which the Wykstras returned to Grand Rapids.
Carl began volunteering for World Renew's Long-Term Disaster Response Reconstruction. Building teams, one after another, work in areas that have been devastated by fires, hurricanes, and other disasters until homes are again habitable.
Carl says, "I feel that people should tithe their time as well as their money, and there are a lot of people in need." Those whose homes have been destroyed are at their most vulnerable, and Carl has witnessed firsthand how important stability and security are to people.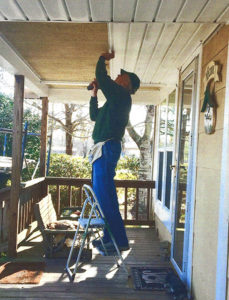 On a recent mission trip in Texas, Carl's team worked on a home that had been damaged by Hurricane Rita. The woman who owned the home was widowed the same week the hurricane hit. Carl says, "She had quit her job, stopped going to church, and stopped talking to people. She wanted to sell the house and move when we were finished. The first week she didn't say much. The second week she joined us on breaks, and by the time we finished we exchanged addresses. She wrote to say that she was back in church, working again, and had no plans to move."
Also after retirement, Carl replaced his 3-speed 27-year-old bike and became serious about the sport. In 2003 while on a ride, he was hit by a car. His bike and helmet were destroyed, so after healing from injuries and surgery he purchased a new bike and began training, he joined his friend on his first PALM (Peddle Across Lower Michigan) bike tour. This June, he plans to ride in his 16th consecutive PALM tour, which will run from Holland to Saint Claire. He has also biked across Iowa twice, and has participated in the DALMAC tour (from East Lansing to Mackinaw City) six times.
"My health keeps me going," says Carl. "My father and brother both died from a stroke, and biking keeps my HDL (i.e. "good" cholesterol) up. I also enjoy the camaraderie among the bikers."
Carl also used his woodworking skills to make furniture, and Linda has collaborated on some projects by adding stained glass. In 2013 the Wkystras moved to Waterford Place, where Carl serves on the board as resident representative. Carl and Linda have four grandchildren and three great-grandchildren.
"My wife says I never had a childhood, so I'm living it now," says Carl. And God has directed his paths all along.