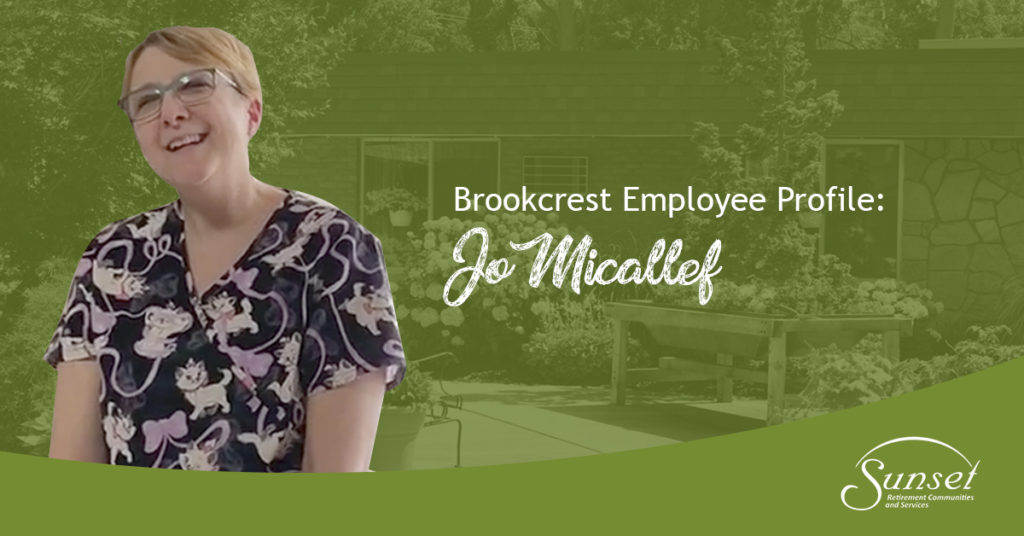 After working as a Certified Nursing Assistant (CNA) at Brookcrest for almost 15 years, Jo Micallef still loves helping her residents and finds joy in the little moments of every day.
Jo's bond with the residents she cares for begins and ends with a smile. On her best days, she brings her joy to her work and receives joy from making others smile. On her not so great days, she can count on her residents to give her a reason to smile. Brookcrest's staff have the God-given gifts of joy and strength and use those gifts to provide the best possible care for our residents.
Our residents are treated like family. Each day our staff continues to get to know residents and their stories and how to best care for them. As part of the Sunset Retirement community, every Brookcrest resident receives care and attention specific to their unique needs to ensure their physical, emotional, and spiritual well-being. One of Jo's favorite memories from working at Brookcrest was when she got to take one of her residents off-site to celebrate their birthday, a few days away from Jo's birthday.
According to Jo, her fellow staff members at Brookcrest are wonderful people, with strong Christian values. Together, they make their shared workplace a great place to be. Staff members work as a team to achieve the shared goal of providing the best care for their residents. Some days bring laughter, others bring tears, and sometimes, according to Jo, both happen in the same conversation. She can always count on the Brookcrest staff to be there for her and the residents all the time.
With a grateful heart, Jo finds moments every day to bring joy to her residents and fellow Brookcrest staff members.