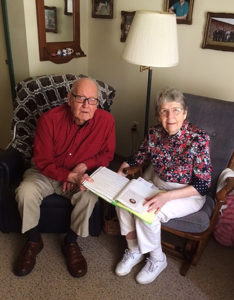 "Life is such a mystery," says Norma Terpstra, "but God always has a higher plan. Only in glory will it all be revealed; our stories are His story, and He orchestrates it all."
Jack and Norma Terpstra's lives intersected when they attended Wyoming High School, where they learned valuable life lessons.
"Even though it wasn't a Christian school," recalls Jack, "there were kids from so many denominations, and we'd stand on the street corner for hours, talking about theology. We challenged each other's beliefs."
Norma adds, "Those years prepared us to be more accepting. We learned that the Lord's people are everywhere."
Jack and Norma's backgrounds were very different. Jack's father immigrated from the Netherlands by himself at the age of 16. He was sponsored by a farmer in Iowa, but he ended up with a Baptist family who brought him to Christ. He later moved to Grand Rapids and married. Jack, born on June 15, 1931, started earning money at the age of 10, first on muck farms and later as a bricklayer and carpenter. "All the work I did was a joy," Jack says, "but all I ever wanted to do was become a carpenter."
Norma was born on April 29, 1931, in Oklahoma City, Oklahoma. Her father left the family when Norma was 18 months old at the height of the Great Depression, and she and her mother moved in with her mother's parents.
Oklahoma was also plagued by the Dust Bowl. Norma recalls, "On sunny days the sky was red with clay; even the grass was covered. If it rained, it trickled red. Dust came in through the skeleton keyhole of our door and through the window cracks.
"We ate so much cornbread and tomato soup, and I complained. My mother took me where the poor people lived, and I saw children lined up, waiting for soup. That taught me to be more compassionate."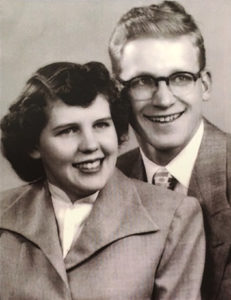 When Norma's mother remarried a man from Michigan, the family settled in Grand Rapids. Because her mother worked full time, Norma took care of the home and babysat her brother and the neighborhood children. Although she worked several other jobs over the years, nothing brought her as much joy as creating order in the home and taking care of children.
Although Jack and Norma's families frowned on going to the theater, they were allowed to attend showings of popular movies that were held at Wyoming High School. It was here that they met.
Jack notes that various ethnic groups besides the Dutch had settled in different parts of Grand Rapids. He says, "The people spoke the same language and supported each other. It was for survival. But the expectation was that young people should marry within their own culture and religion. Norma and I had a tumultuous start because I was Christian Reformed and she was Baptist. I was Dutch, and she was not."
"But we loved each other," adds Norma, "and we felt we could face the world."
The Terpstras married on December 17, 1949, and when Norma was pregnant with their first child she discovered she had retinitis pigmentosa, a rare genetic disorder that results in a progressive breakdown of cells in the retina. She was told she might be blind by the age of 35.
Jack and Norma joined a Christian Reformed church. Jack says, "The church eventually accepted us as a couple, but it was a rough road for a while."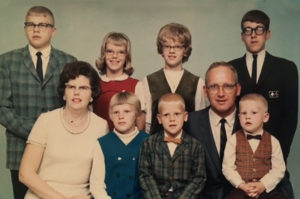 The Terpstras had seven children in thirteen years: Harry, Bob, Sharon, Diane, Marcia, Jeff, and Doug. Jack worked full time as a carpenter during the week and built homes on the side. As the family grew, they moved into some of his designs.
On one occasion, when a move was planned, Jack broke the news to Norma that they could not afford the home. But as a result, they later moved into a home located across the street from the children's school. "It was perfect since Norma couldn't drive," says Jack, "and God knew that."
Norma's loss of sight was gradual. Her health also declined because of the exposure to pollution from a nearby factory, and she was diagnosed with multiple sclerosis. She eventually lost all sight by her early 40's.
Although Norma was still determined to do most of the chores, Jack and Norma's mothers were a big help, as were various people in the church and community. "And Jack has been so wonderful through all the years," says Norma.
In 2017 the ABVI of Michigan interviewed Norma. In the video, she recalls that representatives from the ABVI had been so encouraging at the beginning of her journey by teaching her adaptions that would allow her to safely navigate unfamiliar places and continue to provide for her family. Norma states that, with any disability, if we can accept our circumstances without bitterness, we can be a blessing to those around us. She says, "I lost my sight but not my vision."
In 1986, Jack and Norma felt that God was leading them to help missionaries on furlough, so Jack built two apartments onto their home. This ministry became an incredible blessing for Jack and Norma as well. As they hosted families from all over the world, they learned about other cultures and developed deep friendships.
Jack says, "That was a miraculous time. We didn't have the money to do it, and we didn't even announce our plans, but the money, furniture, and materials started coming in, even from strangers."
After 20 years, the Terpstras focused on retirement. Jack says, "Norma is such a gracious lady; she doesn't hold earthly things tight, and we started giving things away 20 years ago."
Norma presents the analogy of a fist, opening little by little. "You learn that letting go is part of life," she says.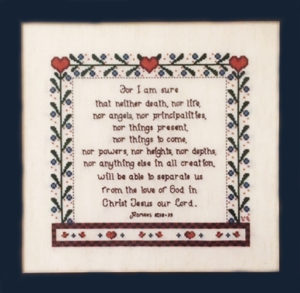 The Terpstras moved into Sunset's Rose Garden in January 2018. They praise the staff for their friendliness and excellent care, and their new residence already feels like home.
Jack and Norma are also grateful for their faithful family; their children all live in the area, and they have been blessed with 21 grandchildren, 29 great-grandchildren, and a great-great-grandson.
"The Lord takes us one step at a time," says Norma. "If He had told us what our lives would hold, we would have said we couldn't do it. But He has given grace, and we wouldn't trade our lives for anything."