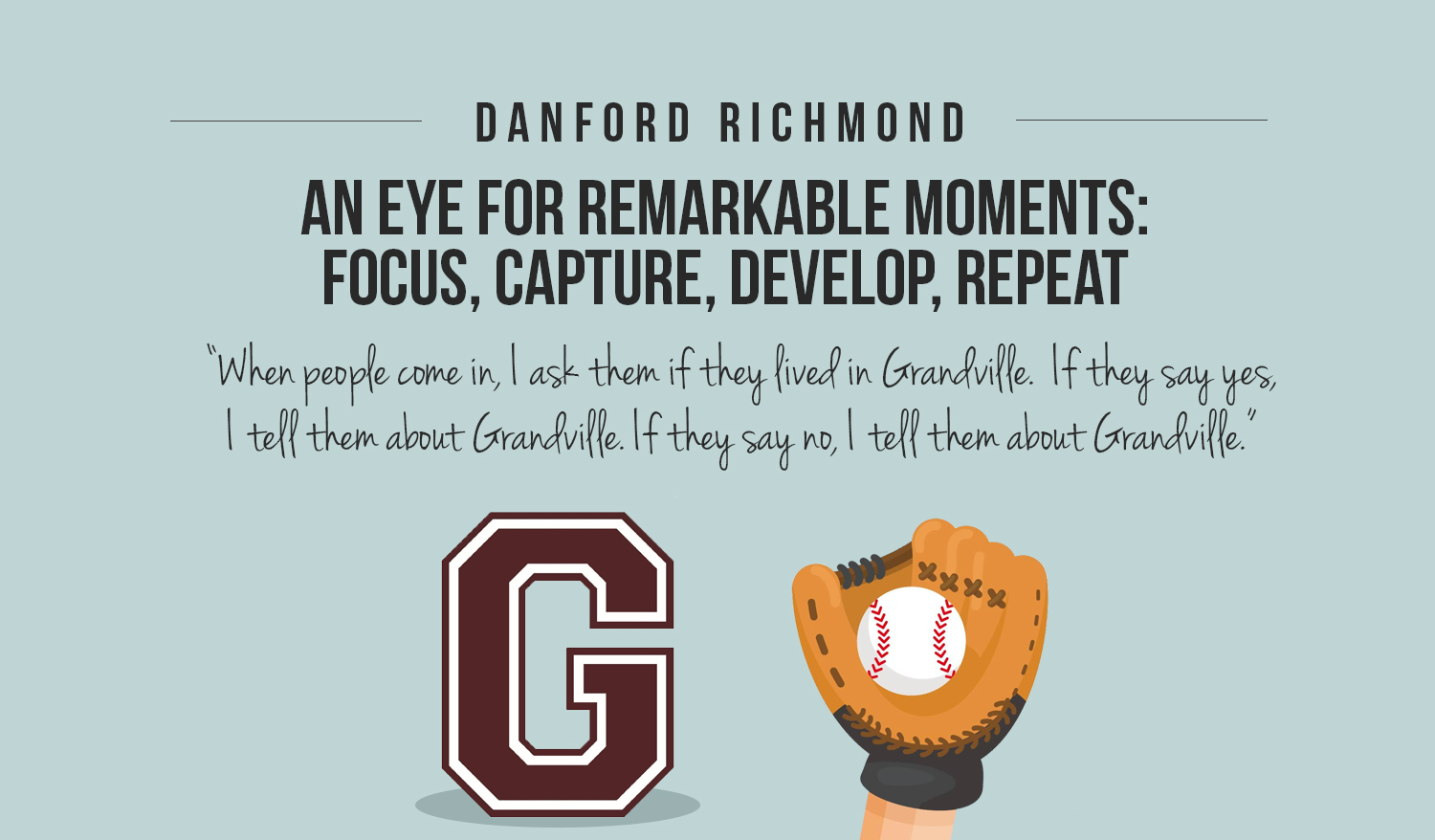 Even as a young boy, Danford Richmond had a knack for finding adventure.
Danford was born on August 14, 1921 in Smyrna, Michigan, in Ionia County. In 1928 his family moved to Grandville, where his mother was a kindergarten teacher. During the summers of 1933 and 1934 the family lived in Chicago, where his mom cleaned an apartment building for extra income. The Chicago World's Fair, held during the summer of 1933, was such a success that it was carried over into the next summer. "Dream cars" from Detroit were a popular exhibition, and the first Major League Baseball All-Star game was played at Comiskey Park in 1933. Danford attended a Cubs game at Wrigley Field, and when he visited the World's Fair he came home with a tin bank, a souvenir from the American Can Company, which he still has.
As a young teenager Danford had a series of jobs, including digging dandelions in a cemetery.
"I think the guy was just trying to keep me busy," he says.
Danford continued to work for the man, an advertiser, building frames for display cases. He used a dollar of his hard-earned money to purchase a 10-foot boat. It needed some color, so he collected leftover paint from neighbors; when he mixed it all together the result was a distinct shade of purple. Danford sailed his newly-decorated craft down the Grand River and rowed it all the way back.
In 1938, while Danford was working a hamburger stand at the Ionia Free Fair, he noticed that a man was taking people for rides in his small airplane. Danford paid $5 for a fifteen-minute ride, which sparked his interest in aviation. He earned his pilot's license through Western Michigan University's aviation program, and on December 7, 1941, after landing a Piper Cub, he heard on his car radio that Pearl Harbor had attacked.
The next month Danford enlisted in the Army Air Corps and was stationed as an airplane mechanic in Australia. He boarded the Queen Mary, a cruise ship that had been converted into a troopship during the war. As a passenger ship, The Queen Mary had been fitted with swimming pools, libraries, and tennis courts, but during the war her luxurious carpets, crystal, and artwork were placed into storage to make way for the soldiers. Danford slept in a hammock on the Q deck.
The Queen Mary had been painted a nondescript color by the navy, and because of her new appearance and high speed, she became known as the "Grey Ghost." Because she was too large to pass through the Panama Canal, the troopship traveled along the coast of South America, stopping at Rio de Janeiro to refuel. From there the ship refueled again in South Africa before the soldiers disembarked in Australia.
The men dug slit trenches, a difficult task because the ground consisted of coral deposits. As Danford recalls, the soldiers dove for cover when they heard three shots from a 40-millimeter anti-aircraft cannon, which signaled the approach of enemy planes. As World War II progressed, Danford was stationed in New Guinea and finally at Morotai, an island in the Netherlands East Indies.
One of Danford's friends sent him a camera, and another friend supplied him with plenty of film. "The strips were three feet long," says Danford, "and at night I loaded the cartridges under the covers after lights out."
On August 14, 1945, Danford planned to celebrate his 24th birthday with a steak dinner, but the soldiers were confined to the base; the announcement was made that the Japanese had surrendered.
While many veterans took jobs in the manufacturing industry upon returning home from the war, Danford got a job at Bultman Studios in Grand Rapids. After three years, he started his own photography business, Richmond Studios.
In 1949 Danford married Doris Slocum, and they had three daughters over the years. Doris was artistically inclined and added hand-painted details on Danford's photographs with specially-formulated oil paints.
To distinguish his business from others, Danford went door-to-door and photographed families and children (and even dogs) in the comfort of their homes. He also took a lot of aerial shots from planes. The vehicle he purchased was distinctive as well.
"I bought a BMW Isetta for $1,000," says Danford. "It fit my business."
Known as a "bubble car," the Isetta's steering wheel and instrument panel were attached to the inside of the front end, which doubles as a door. The "Shutterbug" made the rounds to local schools for picture days, and over the years Danford photographed many a bride and groom, some of whom are fellow residents at Sunset.
Joining organizations allowed Danford to meet other business owners and contribute to the community. While a member of Grandville's Reserve Police from 1950-1960, he directed traffic and took photographs at crime scenes. In 1955 he joined Grandville Rotary Club, where he was a member for 55 years. Gerald Ford, a State Representative at the time, made the rounds at various Michigan Rotary clubs during his tenure, and Danford met him several times.
Danford traded in his 10-foot boat for larger ones, and with friends he participated in the Queen's Cup—a boat race across Lake Michigan—for ten years. He and Doris traveled to the Bahamas in a sailboat and later a cruise ship. Other travels included trips to Mexico, British Honduras (now Belize), and the Amazon River.
Being a longtime resident of Grandville makes Danford an ideal candidate to show people around the museum that is run by the Grandville Historical Commission. He's witnessed many changes over the years; businesses have been built where crops used to grow, and advancements have been made in communications, industry, and leisure. Artifacts and, of course, photographs, that chronicle these changes are on display at the museum, where Danford can be found most Wednesday afternoons.
"When people come in," he says, "I ask them if they lived in Grandville. If they say yes, I tell them about Grandville. If they say no, I tell them about Grandville." The museum's collection of war artifacts includes Danford's World War II uniform.
Doris passed away in 2016, and Danford moved to Sunset the same year. He enjoys visits from his daughters, eight grandchildren, and ten great-grandchildren.