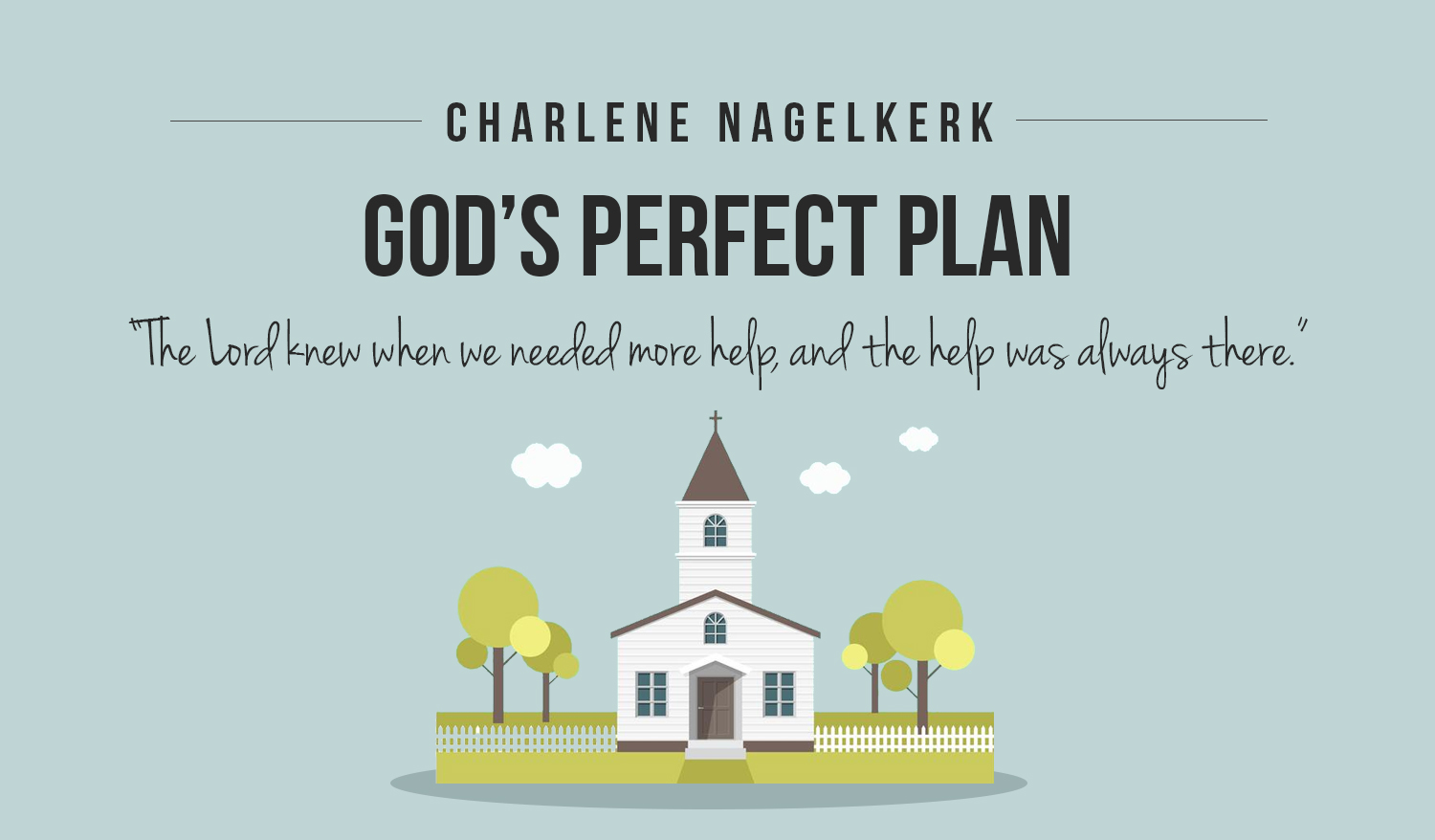 For Charlene "Chuck" Nagelkerk, a lifetime of caring for others is a wonderful connection between communities of family, faith, and work. Now in her 45th year working at Sunset, Chuck gives testimony to God's faithfulness.
Charlene Grace MacDonald was named after her father's cousin Charles and his wife Grace, but she's always been called "Chuck." As a student at Hudsonville High School, she enjoyed doing makeup and making props for theater performances. She saw firsthand how attention to the finer details impacts the big picture.
Chuck graduated from Grand Valley State University with an education degree, but in 1972 teaching jobs were limited. When she interviewed for a nurse's aide position at Brookcrest, she was hired on the spot so her father immediately went shopping for her requisite white shoes.
"I always believed the job would be temporary," says Chuck. But soon she was promoted to Team Leader; she had more responsibility with challenging patients and oversaw other nurse's aides.
One day the staff was told to expect a resident who had muscular dystrophy and had recently had surgery. Alan Nagelkerk arrived at Brookcrest on December 31, 1979.
"We heard he was challenging," says Chuck. "He'd had kind of a sheltered life, and he was in a wheelchair since he was 13. I say now that it was love at first sight, even though I didn't know what love was then."
"Alan always said that when I took care of him that first day he was afraid to ask for something, and I said to him, 'Well, you're the one paying for it, you can ask for anything you want!'"
Chuck and Alan shared a love of baseball, so she began taking him across the street to watch the local games in the park. After a while, it became their Friday night tradition to watch the games at Lamar Park, and their friendship grew over the years.
In 1980 Chuck was promoted to the Activities Department. Although she loved crafting and organizing activities, she didn't know if she was qualified. She was hired for a six-month trial period, and the rest is history.
Besides teaching knitting and beading, Chuck brought in musical groups and other programs. The annual Christmas Bazaar was a favorite, but it also generated funds for the department, so Chuck poured her energies into this event. Community Education came in to run exercise groups, but when this was cut, Chuck asked the teacher to train her so she could take over. So devoted was Chuck to her new role that she postponed surgery so she could ensure that Mother's Tea ran smoothly.
In 1983, Alan's parents also became Brookcrest residents and the Nagelkerk family home was vacant. One Friday night, after returning home from Lamar Park, Alan took Chuck into the dining room and proposed. Chuck was shocked, especially when Alan suggested that they marry the following week.
Her response was, "I've got to get through the bazaar in November first!" The wedding took place instead on December 10, 1983, and the transition to living in the home was easier than Chuck thought it would be.
She says, "People would ask me if it was hard, and I would tell them that I didn't go into this blindly. I knew Alan needed total care, and I had experience. The Lord knew when we needed more help, and the help was always there."
The Nagelkerks attended Whitecaps games and visited Alan's brother in Tennessee. They took two trips around Lake Michigan and visited Elim Christian School, Alan's alma mater in Chicago. At first Chuck had a mechanical lift on her car door, but later she purchased a specially equipped van.
When Brookcrest hired a certified recreational therapist in 2000, Chuck became a nurse's aide at Sunset. Third shift suited her because she could put Alan straight to bed and come straight to work. One nurse was required to be in the office, so Chuck often took this position. At that time cell phones were not as prevalent, so Chuck lined up some walkie talkies so Alan could contact her in the case of emergency. In later years, when he was no longer able to press the buttons, they adapted Alan's receiver so he could still be in contact.
Alan enjoyed reading news and researching on the computer, but eventually he could no longer use the mouse. Chuck's sister made some adaptations that allowed Alan to control the cursor with his eye movements. When it no longer seemed safe for Alan to be alone, his sister-in-law graciously spent the nights at the Nagelkerk home so Chuck could continue to work. When Chuck was recovering from surgery, two Brookcrest nurses cared for Alan in their free time.
Chuck was a member of Georgetown Grace Church and Alan worshipped at Faith Community, and instead of choosing one church, they attended both. Chuck says, "We had to be careful, because any time we mentioned we needed something, it would magically appear on the doorstep the next day." Alan's church also sent a crew to fix the Nagelkerks' roof.
As time went on Alan developed COPD (Chronic Obstructive Pulmonary Disease), in which airflow is obstructed. Chuck recalls, "Alan went to the hospital with pneumonia and his left lung had collapsed. We almost lost him on the table."
The Nagelkerks were told that Alan would probably only last ten days. Chuck took him home, and hospice nurses came in to monitor him. One day the nurse heard airflow in the lung that had collapsed, and the doctor confirmed the rare phenomenon. Alan and Chuck were blessed with two more years, and Alan died on April 23, 2008.
Chuck is now in her 45th year at Sunset. "It's a way I can give back," she says. She says it's also helpful to be around people.
"Alan and I loved "Great is Thy Faithfulness," and last Sunday was the first time after he died that I could sing it without breaking down. When I look back on my life, some people might think it was all a coincidence, but God has his own plan and we saw that in our whole marriage."