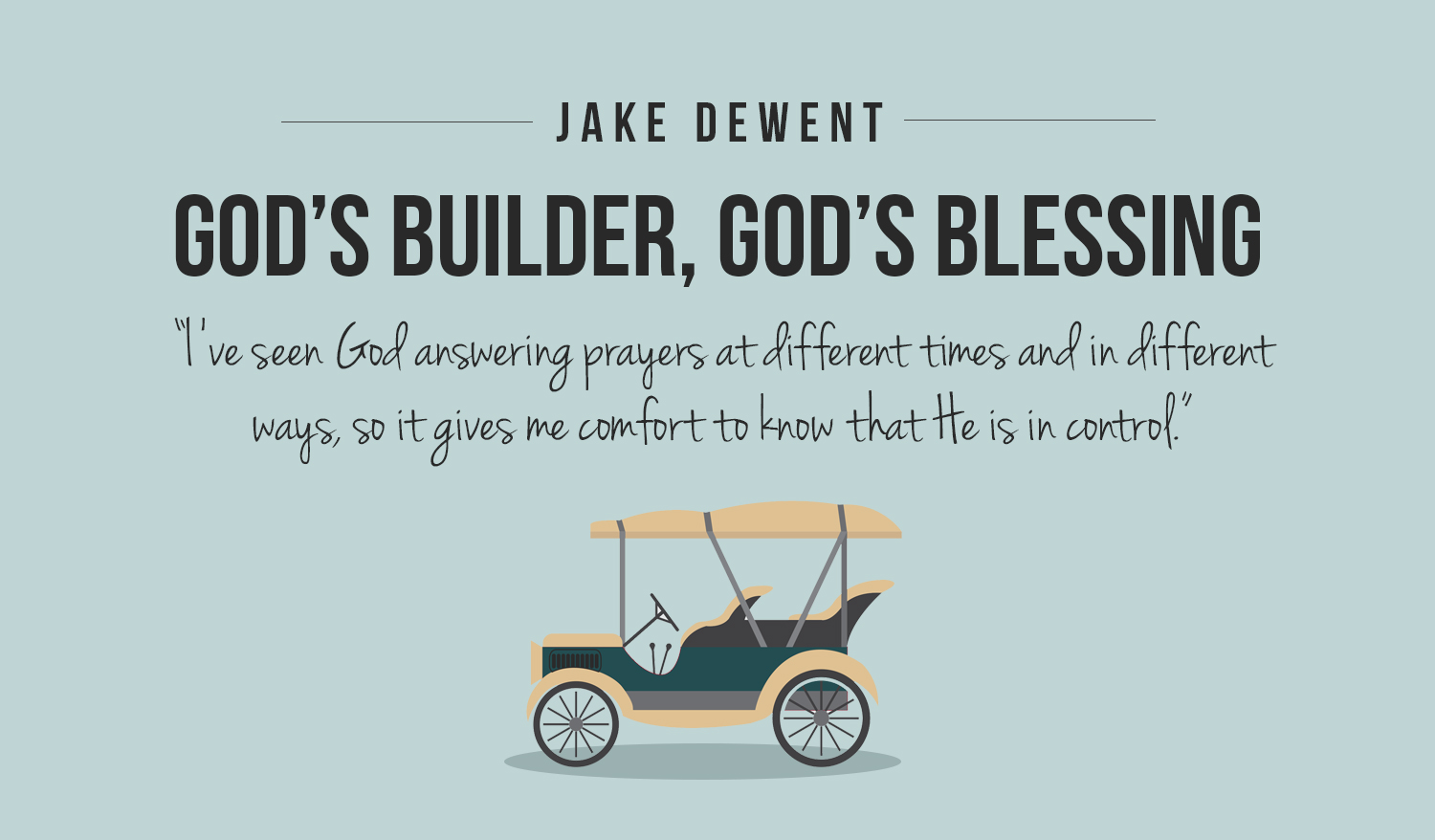 A small suitcase carries a lot of symbolism for Jake DeWent.
Jake was trained as an army medic during World War II. He shipped out from California on the U.S.S. Comfort, a hospital ship that was maintained by the navy. During the voyage to the South Pacific, the Navy asked for volunteers to help maintain the ship.
"I didn't have enough to do and I was running out of patience, so I volunteered," says Jake. "When I said I'd had experience in roofing, they told me, 'You're the ship carpenter.'"
Jake's shop, outfitted with a bench and cabinets filled with tools, was three decks down. He did everything from making signs to fixing rolling pins, but he was only on duty six hours a day.
"I thought about how to use my extra time," he says. "Since I'd be going home on furlough eventually, I knew I'd need a suitcase, so I started making one. I worked on it during my free time and hid it in a closet."
An officer got wind of the project, and, after admiring Jake's workmanship, he granted him permission to use any materials he could find on the ship. Jake's friend had the idea to raffle off the finished product, and they made $15. Jake continued to make and sell more suitcases to fund his train trip home, and soon he had $75. He kept one suitcase for himself, which he has kept to this day. The memento, crafted from aluminum and wood, represents resourcefulness, creativity, and commitment, which have been the common threads throughout Jake's life.
In Jake's one hundred years, he has learned to embrace the opportunities that God has granted him. At a young age, he found satisfaction by working with his hands, and he considers himself lucky to have been able to use his skills in work, leisure, and by helping others.
Born on May 19, 1917, Jake watched his parents make adjustments during the Great Depression. While his father had previously held odd jobs and worked for his own father, who was a carpenter, he purchased a farm in Hudsonville in 1930 at the height of the depression. Jake's mother grew a garden and canned fruits and vegetables, ensuring the family's food supply.
After he graduated from eighth grade at Hudsonville Public School, Jake found work where he could get it.
"Local farmers were paying a dollar per day," he says. "We plowed the fields with a team of horses because nobody could afford a tractor."
Jake took jobs in local factories, and at the age of 21 he worked for a roofer. "I found something I really liked doing," he explains, "but finding that kind of work was another thing." Almost 20% of Americans were unemployed at that time, and World War II was looming.
In 1941 Jake married Florence De Young, and they had a son, Clifford, in 1942. When the war began, he worked for General Motors, which had converted its Grand Rapids factory to produce army tanks. Men who worked for defense contractors were not drafted, but when General Motors no longer manufactured tanks, Jake was reclassified and was called up in 1944.
"When the war ended," says Jake, "I could have worked again at General Motors, but I knew that if I did, I'd probably stay there my whole life. There was a building boom, and every night in the Grand Rapids Press there was a list of "Carpenters Wanted," so I made a call and got a job for $1.25 per hour." He worked for various carpenters over the years, and he and Florence welcomed two more children, Bruce and Marilyn.
In 1948 Jake started his own company, DeWent Builders and Siding. His brother and his son joined him, and in 35 years of business, they never ran out of work. They built over 35 houses and took on many smaller projects that came their way. Jake found fulfillment in his work and discovered joy in service.
In the 1960s Jake and a friend visited Chicago; while there, they attended a meeting at Pacific Garden Mission, a nonprofit that serves homeless people, prostitutes, and addicts.
"The way they treated people—giving them food and shelter—made an impression on me. I wrote them a letter and said I'd be glad to come for a week in the winter to help with odds and ends. I ended up going down there for 15 years. That's the way the Lord works."
"A lot of people would say, 'You go on these trips and you pay your own expenses? Are you nuts?' But they didn't understand that I was the beneficiary, not the mission. I'm the one that gets the blessing."
In the early '70s, Jake and his brother went to Haiti, where his niece was a missionary. "It opened my eyes to the needs out there, and we had some skills that fit those needs." Through the organization His Hands, Jake and many other individuals completed projects in several countries.
Retirement did not slow Jake down. Fishing and camping were some of his favorite pastimes. One summer he drove horses on a carriage on Mackinac Island. He continued traveling for missions and for pleasure, ultimately visiting all 50 states and over 30 countries. He continued to expand his woodworking skills. Following some prints in a magazine, he made a violin, which his great-grandson now plays. Jake also spent a couple of days a week at Evergreen Commons Retirement Workshop, trading knowledge and ideas with other retirees. He specialized in crafting wooden model cars, tractors, and farm machinery.
Jake has experienced his share of losses. His son Bruce passed away in 2014. "You go through good times," he says, "and you go through tough times. Hopefully, it all makes you a better person. I had a 100th birthday celebration here at Sunset last month, and I couldn't believe how many people came. I was surprised at what they wrote in the cards—I guess I made an impression on a few people along the way, and they all left a mark on me, too."
Although Jake has only been at Sunset for two months, he says it feels like home. "I never realized how wonderful this place was," he says. "Everyone, the staff and the residents, are so genuine and they call you by name. It's like a family."
Jake has seven grandchildren, ten great-grandchildren, and one great-great-grandchild, and two on the way.
"I've had a good life," he says. "Maybe the secret is to find contentment in what you're doing. I enjoyed my work and I enjoyed my leisure, and there was always variety."
"After having all these experiences and seeing so much of this world, I have to believe in God. It's certainly made my beliefs more real. I've seen God answering prayers at different times and in different ways, so it gives me comfort to know that He is in control."