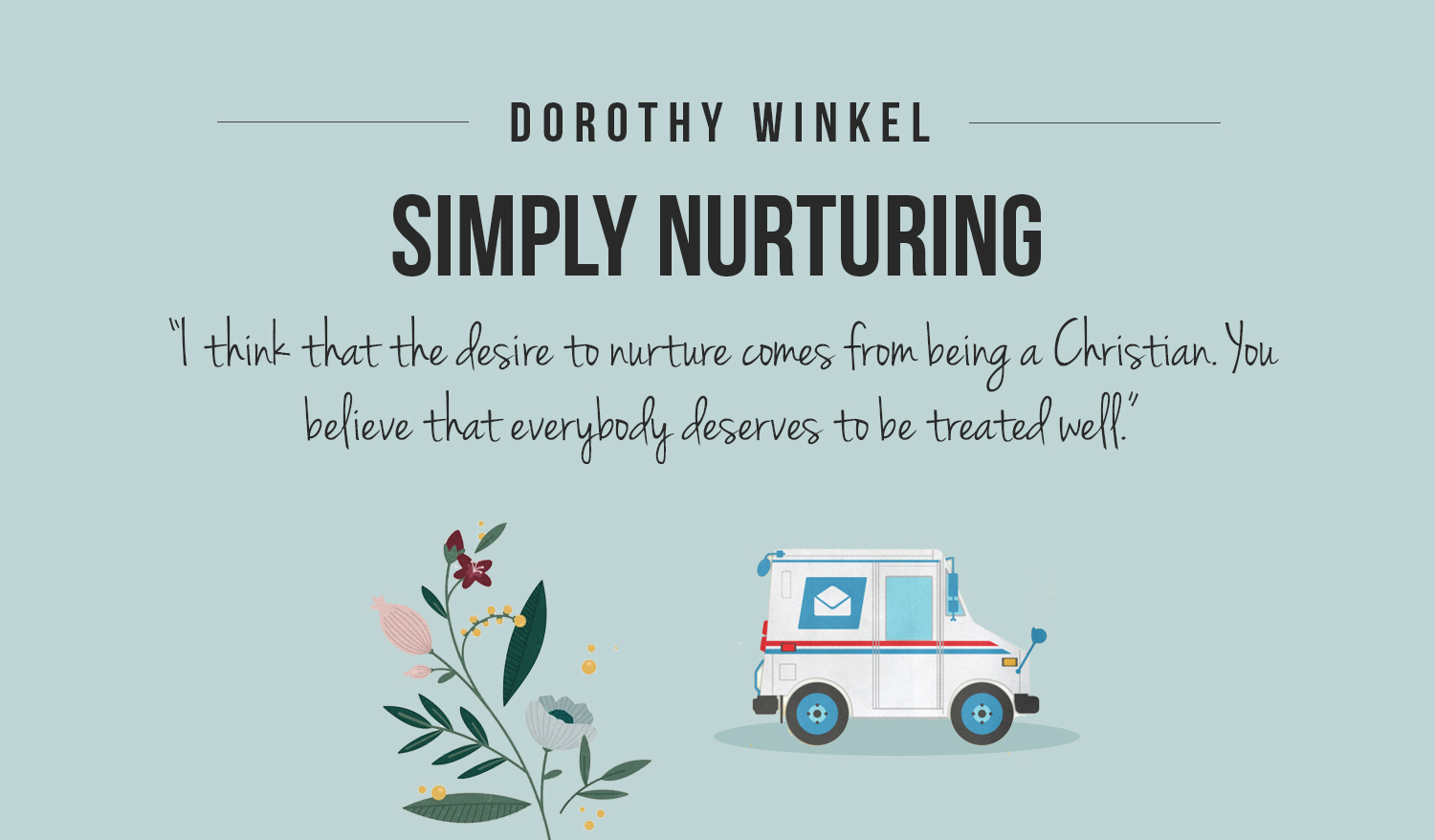 Dorothy (Slachter) Winkel showed a nurturing side even as a young girl. She lovingly cared for her dolls and even the chickens, which congregated on the back porch to wait for her and pecked at the door when they grew impatient.
Dorothy was born in 1933 in Lucas, Michigan. Her father helped build roads and bridges through the Works Progress Association (WPA), part of President Roosevelt's New Deal. Although millions of jobless Americans found work with the WPA, Dorothy recalls that her mother was embarrassed because she felt their family was benefitting from the government. It also made her uncomfortable that the family accepted the cheese, flour, and other staples that were distributed by the government during the Great Depression. "We were very poor," says Dorothy, "but my five siblings and I didn't know it."
Dorothy's mom sewed the family's clothing, and when one person outgrew a coat it was tailored to fit someone else. When Dorothy's father landed a solid job with BFGoodrich, her parents transferred her to a Christian school. She read everything she could get her hands on and took Latin because she wanted to become a nurse.
Dorothy recalls, "My biology teacher taught us about birds and their songs, which I remember to this day."
When Dorothy graduated from high school in 1952, she and her friend boarded at Esther Hall in Grand Rapids, a girls' dormitory. After completing a nursing program, Dorothy worked at St. Mary's Hospital.
On weekends, Dorothy and her friend rode back home with a young man who had family in the same area. Sometimes he took along a friend, Ray Winkel, who had recently returned from serving in Korea. Ray made Dorothy laugh, and she noticed that he was a "people person," like her. When they started dating, they discovered that they shared common values and interests. The couple was married on November 17, 1956.
At first, Ray worked wherever he could find it, laying cement and painting houses, but eventually he got a job with the U.S. Post Office. "We were so happy," says Dorothy, "because now Ray was earning two dollars an hour."
Ray loved getting to know the people on his route, especially the elderly. On more than one occasion, a homeowner called out to Ray for medical help. He also received his share of dog bites and required stitches after one encounter with a Great Dane.
The Winkels had four children, and Dorothy worked part-time at Villa Elizabeth, a nursing home. The family had one car, so when Ray came home from his job, Dorothy got in the driver's seat and went to hers.
"Ray did a good job with the kids," she says. "He cooked supper and gave them baths. We were a good team, and we still are."
Family vacations were cherished times. Ray and Dorothy shared a deep love of nature and enjoyed color tours in the fall. In the summer the family grew a large garden and took pleasure in nurturing the colorful fruits and vegetables. "Our kids spent a lot of time snipping beans and pitting cherries," says Dorothy.
After working at Villa Elizabeth for twenty years, Dorothy worked for Holland Home in a facility that served only women. She says, "I loved being a nurse, caring for people. Everyone was so grateful, and we were like family."
Life did not slow down for Ray and Dorothy after retirement. Ray and a friend started a painting business, and their precision and attention to detail ensured a steady supply of jobs. Dorothy and other women from East Leonard CRC joined Hope for You, a ministry that provides Bible lessons and correspondence to prisoners. The women offered compassion and shared the message of God's love and forgiveness.
"The men wrote that they felt shame for what they put their families through," says Dorothy, "and many of their families had given up on them. A lot of them said they had been saved when they were younger, but they slipped away from their faith and made bad decisions."
"I think that the desire to nurture comes from being a Christian," she continues. "You believe that everybody deserves to be treated well. I think it also comes from being in a home that is filled with love."
The Winkels moved to Sunset Manor in 2011 after Ray developed Parkinson's. Dorothy says, "We went to almost all the programs. They bring in such good talent, from church choirs to Grand Rapids Symphony groups. They even brought birds into the auditorium for programs. We became friends with so many wonderful people."
As Ray's disease progressed, the Winkels moved to different apartments so he could receive more care. In 2015 he fell and was not able to regain his mobility.
"There aren't many places where couples can stay together when one spouse needs so much care," says Dorothy. She and Ray found the solution at Sunset's Rose Garden, where they have lived since July 2017. They enjoy a beautiful view from their apartment, and they still appreciate the glory of nature—the finches that visit the feeder outside the window and the billowing clouds in the sky.
The Winkels' children live in the area, and they have 11 grandchildren and five great-grandchildren. Dorothy enjoys helping Ray with daily tasks and reads to him. Ray can enrich the lives of others with his singing.
"The nurses ask him to sing a song for them," she says. "he still remembers all the words. Today he was singing 'Heavenly Sunshine,' and it made the nurses laugh."
A love for simple things—nature, fellowship, family and love—were the common threads that drew Dorothy and Ray together sixty years ago, and through the years the threads have wound together to form a cord that cannot be broken.
Dorothy says, "I married the right person. We were in love all those years ago, and we still are. I'd rather be with Ray than anyone else, and I know it's a privilege to have the blessing of this relationship."