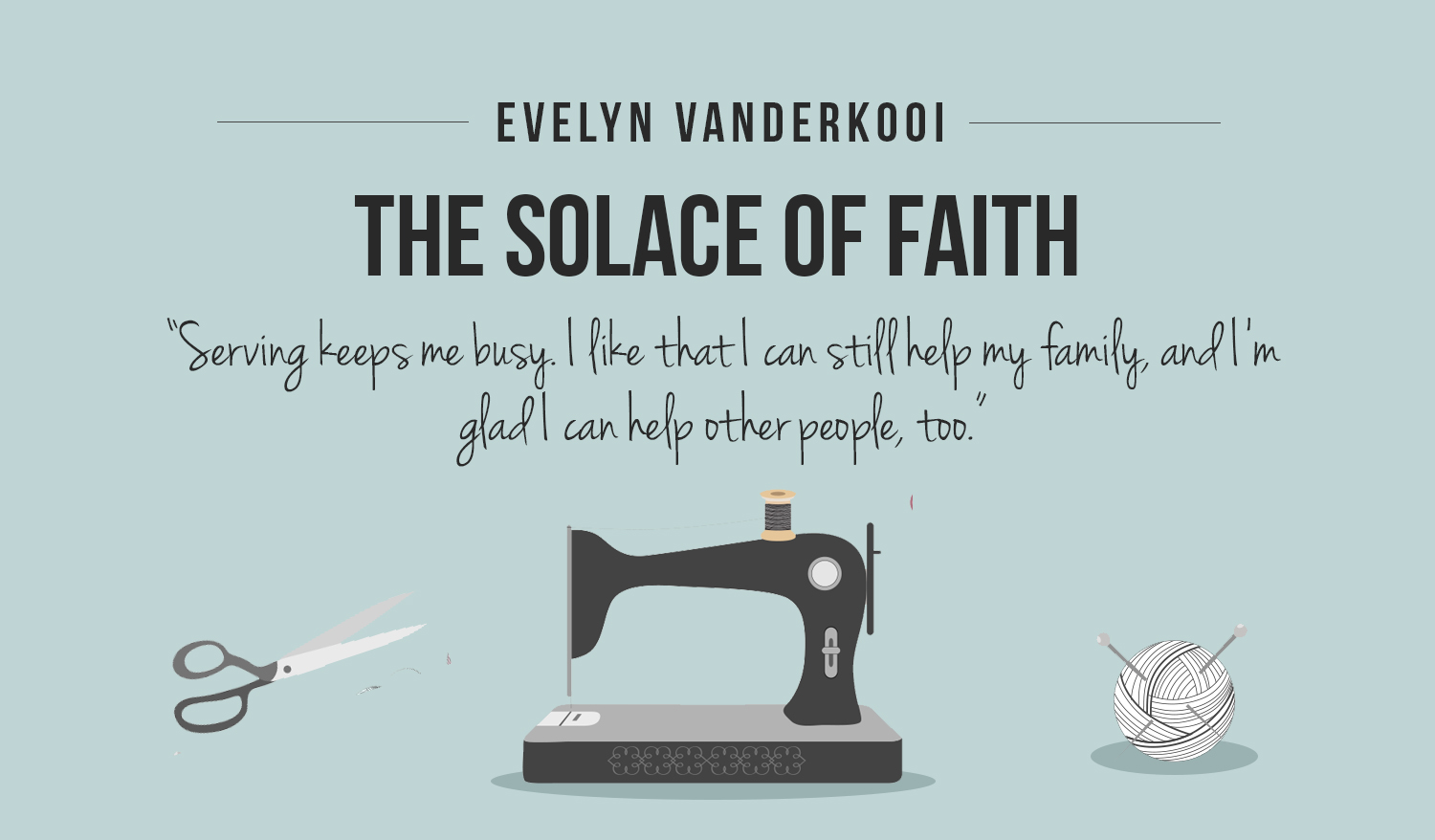 As a young girl, Evelyn (Zeinstra) VanderKooi watched her mother sew the family's clothing on a tread pedal machine. Today, Evelyn uses a computerized, state-of-the-art machine to sew her teddy bears, custom bags, and fleece apparel. For the years in between, sewing has been her livelihood and her outlet.
Evelyn was born in 1923 in Grand Rapids, Michigan. Four years later, the Zeinstra family moved to Borculo when her father purchased a farm. Most farmers at that time used horses for their fieldwork because they could not afford tractors.
"Horses were too slow for my dad," says Evelyn, "so he bought a tractor. In the country, everyone helped each other. My dad did custom work with his tractor for neighbors because it was so much faster."
In the 1930s during the Great Depression, the Zeinstras always had enough to eat. Evelyn helped her mother tend the garden and can the fruits and vegetables. Relatives who lived in town came to trade their used clothing for fresh eggs. Ten cows supplied plenty of milk, and Evelyn and her eight siblings pitched in with the milking after they had been trained on Bessie, the gentlest member of the herd.
Electricity became available on the farm in the mid- '30s, and Evelyn's father realized that modern machinery was the way of the future. He opened Zeinstra Tractor Sales in Hudsonville in 1940, and the store carried everything from milking machines to manure spreaders.
"All of the machinery was delivered by trains," recalls Evelyn. "Everything came as a kit, and we had to put it all together." She kept the store's books and helped her father assemble machinery.
After the depression was over, farmers traded their horses for tractors. Evelyn's mother traded in her tread pedal machine for an electric model, and as a teenager, Evelyn made all of her clothing.
At a young age, Evelyn observed the importance of community. "I learned that you had to work for what you got," she says, "and if someone needed something, you'd give it to them." Family relied on each other and faith was a constant. Evelyn continues, "We knew that God would take care of us."
Evelyn dated Nelson Coeling, and soon he began working for her father. In July of 1942, Nelson was called up to serve in the Pacific during World War II. When he returned, he and Evelyn were married, and over the years they were blessed with six children. Nelson continued to work at Zeinstra Tractor Sales and eventually purchased the store. Evelyn focused on her homemaking skills, including sewing.
"I could make a shirt for my husband for a dollar," she says, "and it would have cost ten dollars at the store." As a full-time mother, Evelyn knew shew as devoting her time to something essential.
Tragedy struck in 1968 when Nelson died of a brain tumor at the age of 42, when the Coelings' youngest child was three years old. As a young widow, Evelyn learned more than ever what a comfort faith can be. She still recalls her pastor's words at the time: "He said, 'Evelyn, you'll remember this time and you'll wonder how you got through it.' My faith was a silent thing, but it was always there."
Evelyn never doubted that God would provide for her family. She knew that the most important thing was to be at home for her children, so she became creative at making ends meet.
Before Nelson passed away, he and Evelyn had talked of becoming foster parents. After he passed away, she and the children decided that they would still like to follow through with the plan. Over the next eight years, Evelyn fostered 54 infants and 15 toddlers through D.A. Blodgett.
The children contributed to the family budget by working at the Creme Curls Bakery in Hudsonville after school, and in the summer they found work on neighboring farms. In their spare time, her sons fixed cars in a room behind the family store. The family worked together in the garden and canned the produce in season.
"Most nights after supper I sewed shirts," says Evelyn. "My boys did not have a store bought shirt until they could afford to buy their own clothes." When Western shirts with contrasting yokes were all the rage, Evelyn sewed some for her children. Their classmates noticed, and soon Evelyn was busy with special orders.
Around 1970, Evelyn began making teddy bears and clothing for Cabbage Patch dolls for the children at St. Johns Home (now D.A. Blodgett-St Johns), a nonprofit that provided residential care to orphans. "Even the 16-year-olds loved teddy bears," she says.
In 1977, Evelyn's cousin asked her to help him run a home for veterans in Hawaii, and she assisted him for six months. When she returned, she helped her brother maintain thirty apartments that he owned in Allendale. Evelyn cleaned, gardened, and sewed drapes for the apartments.
While Evelyn lived in Allendale, she married Egbert VanderKooi. He developed Parkinson's disease and died in 1996. When Evelyn's brother sold his apartments in 2009, she moved to Sunset and set up her sewing machine in her room. "I would not move anywhere without my sewing machine!" she says.
Evelyn passed along skills to her children that had been cultivated in her by her own parents. Her daughter now supplies her with homemade chili sauce, which Evelyn brings to breakfast to spice up her eggs. She has ten grandchildren and ten great-grandchildren. When one of her granddaughters had twins, the babies spent some time in Spectrum's neonatal unit. Grateful for the care they received, Evelyn gave back by making 100 blankets for the unit.
Evelyn estimates that it takes her two hours to make a teddy bear, and that she has made close to 5,000 over the years. Many of her plush toys and custom bags are donated to Love INC. She sews baby blankets, bibs, and other layette items for the Pregnancy Resource Center, a local nonprofit that provides low-income mothers with education and baby items.
The strong work ethic that was developed in Evelyn at a young age is still present. She often spends several hours each day sewing. She says, "Sewing keeps me busy. I like that I can still help my family, and I'm glad I can help other people, too."
Still today, faith is Evelyn's mainstay. "You have to rely on faith," she says. "Otherwise, what would you have?"