"My heart, O God, is steadfast, my heart is steadfast; I will sing and make music" Psalm 57:7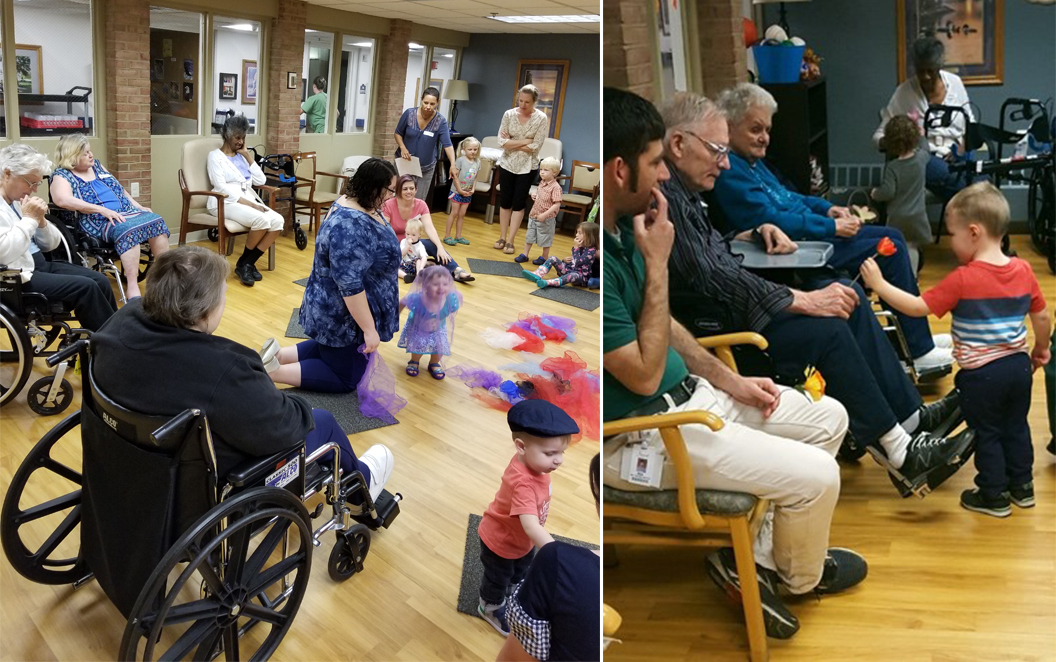 There are not many things in life that are as universal as music. Music is something that speaks to each of our souls and that every person, regardless of age, can enjoy. The Joyful Sounds Music Studio has developed its Generations program as a way to bring the community and children together through the power of music. And at Brookcrest Rehab & Life Center, our residents are experiencing the benefit of this special class first hand.
On Tuesday mornings, residents gather in one of Brookcrest's dining rooms to participate in the Joyful Sounds Generations class.  Each week, the hour-long class brings children to Brookcrest to connect with our community of seniors in a comfortable setting. Throughout the session, residents and children get to learn and share the joy of music, together.
The residents, whom the children call their "grandfriends," connect with children by experiencing a wide variety of musical genres, singing and humming along to songs, playing instruments like shakers and bells, dancing with each other, and having fun through different interactive musical activities.
"You can tell by looking at the residents' faces how much they enjoy it," said Margaret Lam, the wife of Brookcrest resident, Norman Lam.
The Lam's have attended every Generations session held this fall.
During the session, just by looking around the room, it is hard to deny the smiles, laughter, and joy coming from the residents and the children as they form bonds through the music.
Founded in 2007 by Michele Venegas, Joyful Sounds aims to bring The Joy of Family Music®™ to families in West Michigan. They are committed to providing high-quality music education to children in the community and establishing a lifelong love of music early on. They hope that through their lessons, they can strengthen not only the bonds of the child and their family but strengthen relationships within the community.
At Brookcrest, the Joyful Sounds sessions are a "win-win" for residents and the children as they use music to form irreplaceable cross-generational bonds.