The following is a guest blog post by Steve Starnes, MBA, CFP®, Principal, Grand Wealth Management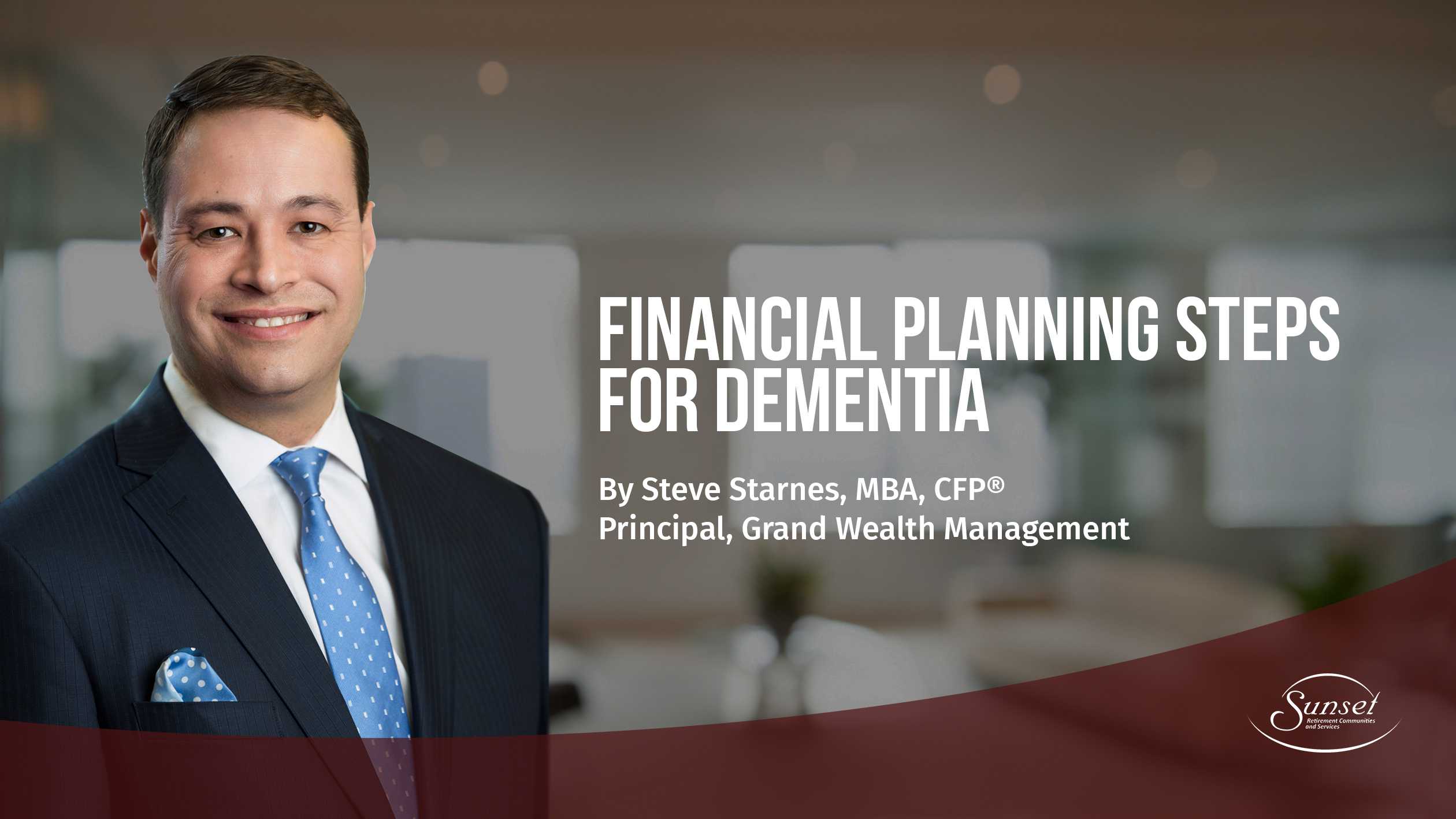 Why is paying attention to finances important?
If you have a loved one with dementia, or you are concerned someone may be showing signs of cognitive impairment, there are some significant financial risks to consider. Medical research confirms that, of all the symptoms, one of the first things people have trouble with in the early stages of dementia is managing finances. This means someone can make really expensive mistakes before anyone knows there is a problem. Disorganization, late bill payments, impulsive large purchases, social withdrawal, falling victim to a scam – these are all signs someone may be having trouble with financial decisions and could probably use some help. If your friend or loved one has been diagnosed with any stage of dementia, or if you even suspect there may be a problem, here are a few steps you can take to help.
Step 1: Have a conversation
Money is an uncomfortable subject for most of us to discuss with others, especially family. The reason for this is most of us are worried about being judged. Additionally, a person with dementia may also be worried about losing their independence and being told what to do. If you want to be allowed to help with finances, it is important to communicate that is your intention – to help.
Your offer of help is more likely to be successful if you have a conversation, perhaps more than once, about how to help and what is important to your loved one. In my work as a financial adviser, I find when a family is able to talk about money, and values, and care preferences, their loved one feels a greater sense of control and independence. They are also more likely to feel comfortable enough to delegate some financial decisions. As a result, you may help them avoid very expensive mistakes. There is no perfect way to have this conversation and there are also several articles and resources on the web. Additionally, I recommend you find opportunities along the way to compliment your loved one on the financial decisions he has made throughout his life so far.
Step 2: Simplify
One of the most helpful things you can do is help your loved one simplify their finances. It is normal for all of us to collect many different accounts though our lives. It becomes difficult for the best of us to keep up with everything, and impossible for someone with progressive dementia. At some point a person with dementia will be unable to make any financial decisions so it is important for you to understand where everything is.
If there are several accounts at different banks, move everything to one bank. If there are several different investment accounts at different companies, consolidate everything with one company.
This process of organizing finances will probably be much easier to accomplish if you get help. If your loved one has a relationship with a professional advisor, a good start would be to ask if you can sit in on meetings with this person. Just like when we go to the doctor, is can be very helpful to have someone there to help listen. If your loved one does not have a professional advisor then find someone with whom you are comfortable and follow his or her advice. I recommend you meet with a Certified Financial Planner (CFP®) because a CFP® professional has a duty to act in your best interest.
It is also important to recognize that, as a caregiver, your own financial decision making ability may not be as good if you are emotionally and physically exhausted. Organizing finances is important and needs to be done, but it can be time consuming and you cannot do everything all by yourself.
Additionally if you are acting as conservator, trustee, or with power-of attorney, it is also important to understand what it means to act as a fiduciary. It means you must focus solely on what is in the best interest of the person you are helping and you cannot manage another person's money is a way which benefits you. A professional advisor can help you ensure you do things right.
Step 3: Legal plans
Most forms of dementia are progressive, which means your loved one will probably get worse. In the early stages of dementia, while a person still has legal capacity to execute documents, it is important to meet with an estate planning attorney to update estate documents and make sure you have authority to make financial and medical decisions if needed. Most people should have a Will, Power of Attorney, and Medical Directive. For some people a Revocable Living Trust can make it easier for someone to help with finances. It may also be beneficial to talk with an elder law attorney to understand public benefits and how to qualify if that seems appropriate. With the right legal planning you should be able to avoid the much more expensive and frustrating process of having a court appoint you as guardian or conservator in the future.
Step 4: Understand Insurance
If your loved one has long term care insurance or cash balance life insurance then make sure you understand the benefits these policies may provide. Your financial advisor, or an insurance agent, may be able to help you with this.
Step 5: Understand Support and Service Options
It is normal to feel overwhelmed with the number of choices and stuck because you do not know which choice is best. Look to your health care providers and care professionals to provide input on what support and services are needed now, and may be needed in the future. Then, with that input, work with your financial advisor to develop a financial plan to address those likely needs over time. Consider how much risk is appropriate to take with savings and investments. There may be valuable tax planning opportunities as well.
In Summary
Your help with finances can be very valuable. Start by talking about how you can be helpful and focus on supporting your loved one's sense of independence. Then simplify the number of bank and investment accounts, get the right legal planning done, and find professional help for financial and care planning. Keep in mind that we all prefer to spend money in different ways. Part of your job is to help your loved one avoid really expensive mistakes. It is okay if you do not agree on everything your loved one wants to do. When you can, find ways to compliment your loved one how he or she had done so far.