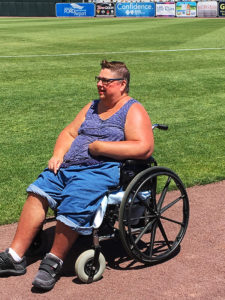 At a June 2018 West Michigan Whitecaps baseball game, Jayne Rinkus hit another one out of the park. She led the fans by belting out the national anthem from memory.
According to Nick Wahl, Brookcrest Recreational Therapist, Jayne has been singing either the anthem or "Take Me Out to the Ballgame" in the seventh inning stretch for several years.
Nick says, "I know it's a great source of pride for Jayne to sing in front of a crowd like that, and she always graciously accepts the praise of people in the stands as we wheel her back to her seat."
This should come as no surprise to those who know Jayne, also known as "The Singing Lady" at Brookcrest. Music has been meaningful throughout her life, and it may even be the reason she recovered so well following a stroke in 2004 at the age of 49.
"She was in a coma for a few months at the U of M Hospital," says Don, Jayne's husband. "They said she'd never come out of it."
Jayne says, "The doctors told Don to pull the plug since I had no chance of survival, but he said he didn't have permission."
"I thought God could take care of her, which He did," says Don. "When she was transferred to Brookcrest I told them she knew the words to a lot of songs, so Sarah, the therapist, would sing some lines of a song to her and then stop. One day, when Sarah stopped, Jayne finished the song." That song was "Amazing Grace."
According to the Alzheimer's Foundation of America, "Music can shift mood, manage stress-induced agitation, stimulate positive interactions, facilitate cognitive function and coordinate motor movements."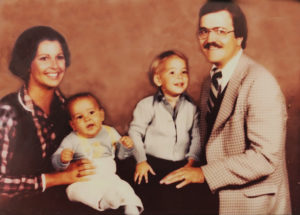 Jayne's progress was steady after this initial breakthrough, and she has retained the words to hundreds of songs that she learned over the years. Born on August 9, 1954 in Grand Rapids, she enjoyed the simple pleasures of family life and the great outdoors with her five brothers. She says, "My parents were my heroes. My dad was a painter, and my mom was a server at Kent Country Club. They both worked hard because it was important to have us at the Christian elementary school."
At an early age, Jayne demonstrated a flair for entertaining people with her perfect pitch. She remembers that Christian music was the only thing her parents played at home, and on Sundays the family listened to a radio program called The Children's Bible Hour, hosted by Uncle Charlie and Aunt Bea. When she was 10, her parents took her to audition for the show, and Jayne was a shoo-in.
"I loved every minute of it," she says, "We'd sing at the Civic Auditorium, and I sang up on stage to a full crowd."
Jayne sang with The Children's Bible Hour until she was 16 years old. By this time, she had also joined the Creston High School Madrigals as first soprano. In her senior year the group toured out East, and the highlight was singing in the Rose Garden at the White House when President Nixon was in office.
Jayne recalls, "Nixon had big feet, that's all I remember about him. Billy Graham was there, and I was more geeked about him. He talked so beautifully, and I thought, that's the kind of message that everyone at Creston needs to hear."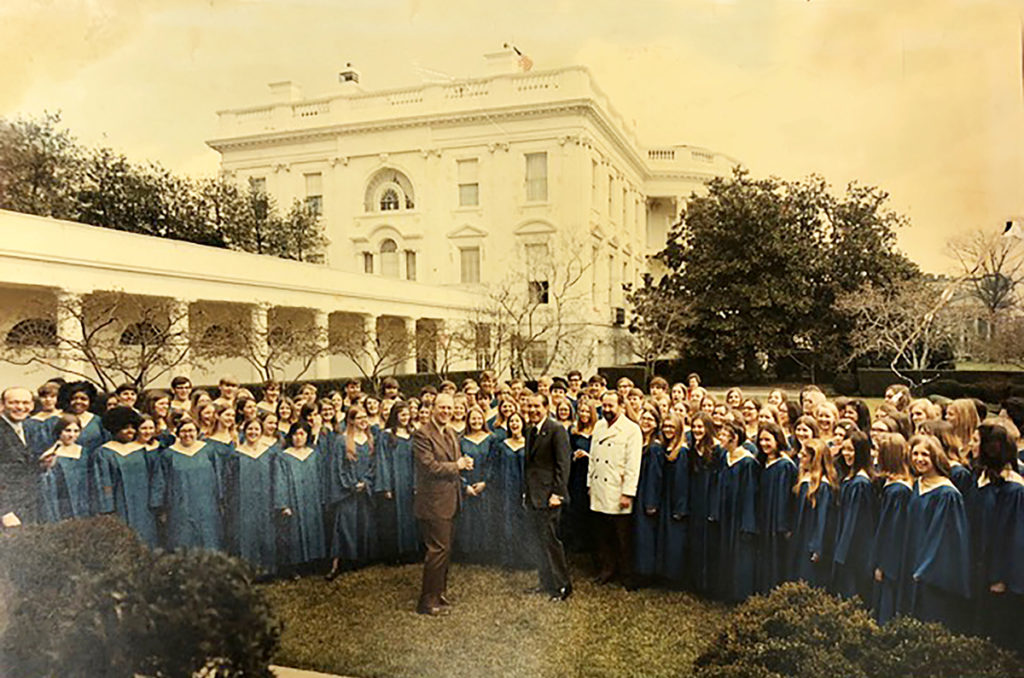 Other tour points were West Point Academy and Arlington National Cemetery, where the Madrigals sang "To God Be the Glory" at The Tomb of the Unknown Soldier.
After high school, Jayne was an Estee Lauder makeup consultant at Rogers Department Store and Steketees. She says, "I had the kind of personality that women could come to, and I never made fun of anyone. I think when you treat yourself, it lifts your spirits."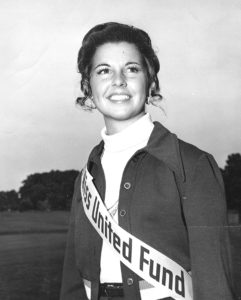 When she was 18, Jane won a contest and became "Miss United Fund" (later known as United Way). During the next year, she performed on a showboat with celebrities including Pat Boone.
Jayne also modeled and did television commercials, including one for 7 Up. "When I met Jayne," says Don, "I recognized her as the 7 Up Girl."
Jayne and Don were married in June 15, 1974, and had two sons, Tony and Pete. When Jayne devoted herself to motherhood her singing career slowed down slightly, but she always made room for it, joining the Calvin College Oratorio and church choirs.
Although her life has changed drastically since the stroke, Jayne is remarkably upbeat and vibrant.
Abe Cohen, Brookcrest Director of Recreational Therapy, says, "Jayne has never complained about her limitations. In her happy voice, she always asks how everyone is doing."
Her faith is very important to her, and she feels blessed to be so active. When she tends her on-site fruit and vegetable garden, she reflects about how God nurtures her.
She says, "I also get to sing with the residents in The Garden (the dementia unit) once a week. We sing hymns and even commercial ditties, any song that makes a connection. It's a blessing for them and for me."
Brookcrest Recreation Therapy Assistant Nikki Alcini says, "Jayne engages with each resident, which is a great opportunity for communication and socialization. She insists on singing all types of music so everyone can be involved and sing along."
"What is most remarkable is that Jayne has to sing every song from memory since she has difficulty reading. If she forgets a line, she improvises and creates one on her own. Her use of memory and creative thinking increases her cognitive abilities, and her overall mood is improved. These benefits work together to improve Jayne's mind, body, and soul—the positive impact music has had on both her life and her treatments is exceptional."
Jayne is honest about the things she misses. "I never thought I'd say this," she says, "but I miss things like cleaning and laundry, taking care of a home. I wish I could help in our restaurant because I loved greeting and seating people."
The Rinkuses own Sluggo's Pizzeria in Holland. Jayne says, "It was tough to come up with the money, but I prayed every day that it would work, and it did. Our son Pete has worked there since he was a teen, and I think he makes the best gourmet pizzas. Don is amazing, and he's the most hard-working person I know."
Jayne has high praise as well for the Brookcrest community and how hard they have worked to improve her life.
"Music therapy is the finest thing you can do for a person," says Jayne. And she is living proof.