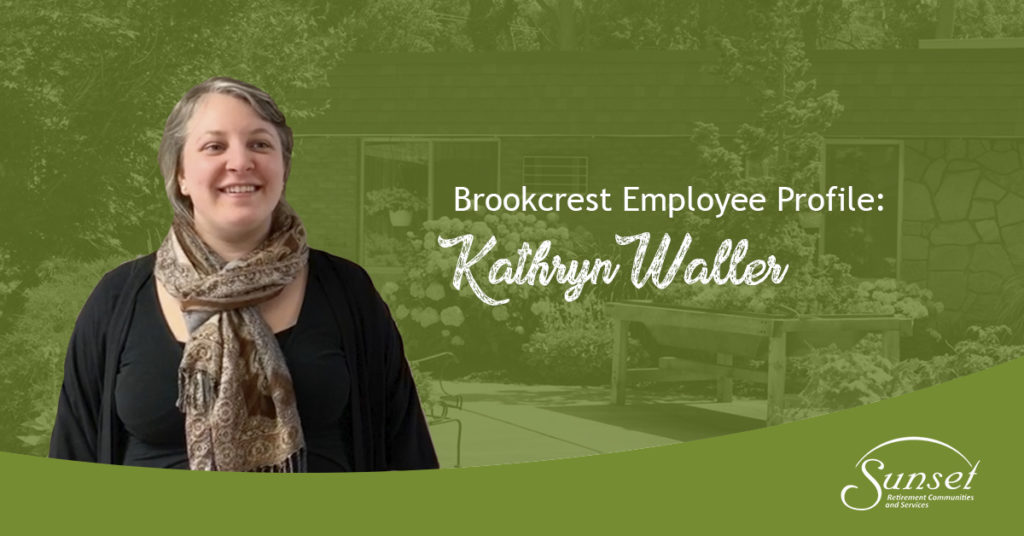 At Brookcrest, our staff does all of the small things with great care. Kathryn Waller, one of our devoted Certified Nursing Assistants, embodies that philosophy in her everyday work.
Kathryn describes her work environment as empowering. The culture of passionate service, teamwork, and communication allow staff to feel included and heard. Because of the love and encouragement received from her residents and fellow staff members, Katherine decided to pursue nursing school. She felt inspired by the nurses around her to further pursue her education in a rewarding field. Sunset's tuition reimbursement program for staff members also helped take those steps toward nursing school and provided the emotional and financial support she needed.
Compassionate staff members, like Kathryn, provide comforting and individualized care, including nursing, rehabilitation services, or memory care for your loved ones. Kathryn loves caring for her residents because they fill her up with so much joy and help bring out the best on her as a person.
We strive to foster a community, where all residents and staff members feel at home and like family. Kathryn feels inspired when her residents send her prayers when she has exams or when she has a positive interaction with those she encounters throughout her day. According to Kathryn, her residents feed off her energy and will know when things are good or bad. On either kind of day, her residents always find a way to make her smile, and she gladly returns the favor.
The best part of the staff-resident relationship, according to Kathryn, is the strong connection that comes with spending a lot of time together. The residents feel taken care of because they know our staff members go the extra mile to take care of the little things.
Connecting with residents
The transition to long-term care