Understanding your or your loved one's health care options is important in deciding which care will best meet your needs. Sunset Communities are proud to offer a variety of care services, including home services. We offer both certified home health care and private duty care.
We are here to help: https://www.sunsetcommunities.org/care/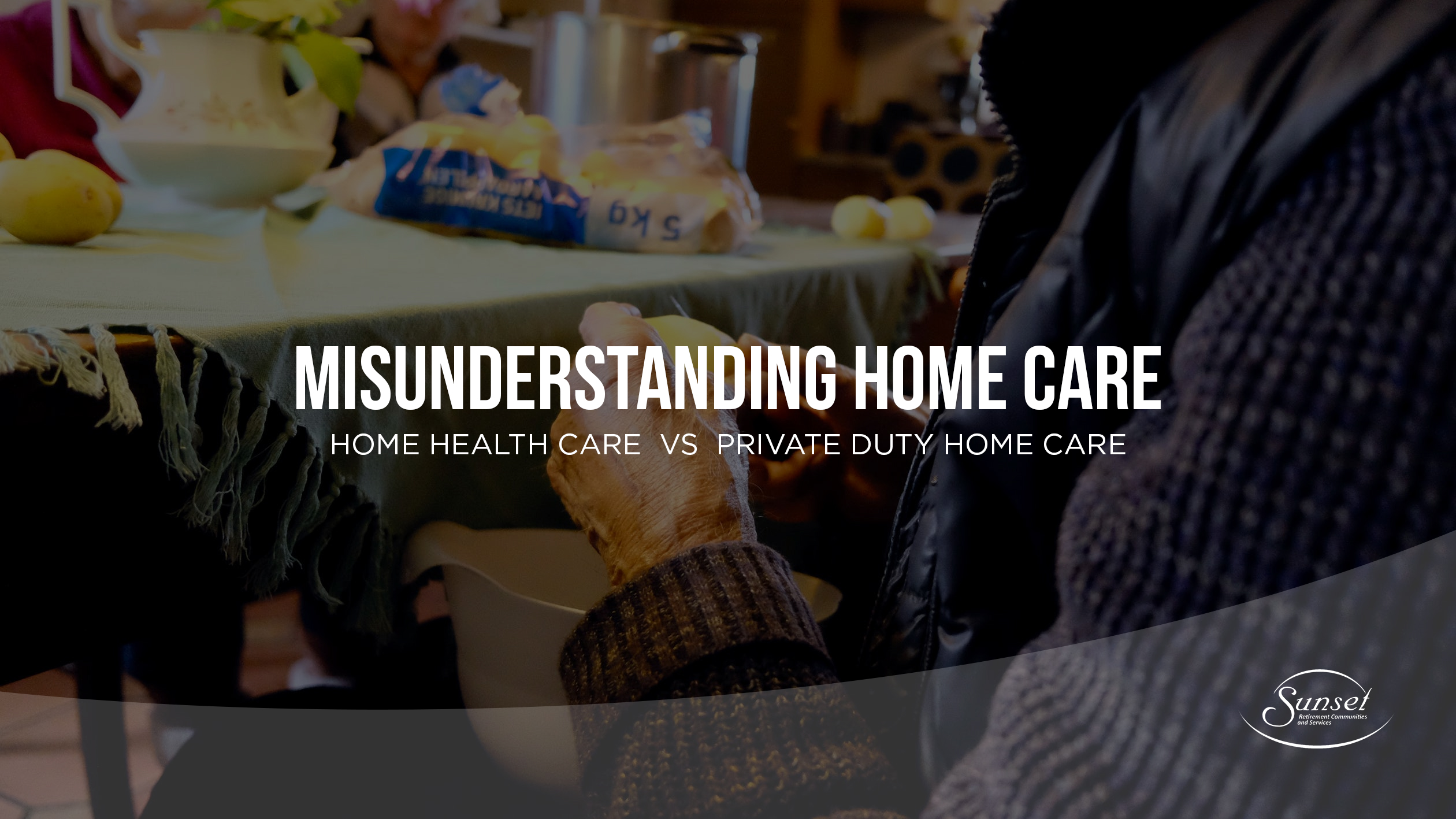 There are a lot of misunderstandings about home care. Many people are unaware of the two types of home care. Even websites that provide health information can be incorrect in describing home care.
The lack of knowledge, particularly in the medical community, is a huge disservice to patients. Because of the changes in healthcare, patients are often left to educate themselves and advocate for the best care.
Here's what you need to know about the two types of home care: home health care and private duty home care.
HOME HEALTH CARE
Home health care is medical care for homebound patients. It is a benefit of Medicare, Medicaid, and most private health insurances. Home health provides nursing, physical therapy, occupational therapy, speech therapy, social work, and home health aides.
To qualify, a patient typically has an acute health change. Home health care is often initiated upon hospital discharge, but hospitalization is not required to qualify. The patient must be homebound, meaning they only leave the home for medical appointments. If a patient is physically debilitated due to an illness or injury and needs therapy to regain strength and balance, they can also qualify.
Patients can also qualify for home health care based on a new and life-altering diagnosis, such as insulin-dependent diabetes. Diabetics are at risk for a multitude of problems associated with uncontrolled blood sugar, so education and monitoring are essential to prevent complications.
Home health is always set up on a short, temporary basis. Home health must be ordered by a physician to be covered by insurance. Visits are determined based on the nurse's initial assessment and/or the physical therapist's assessment.
The goal of home health is to improve health outcomes. Medicare expects the home health team to educate the patient and family specific to the ordering diagnosis and discharge them as soon as possible. Medical procedures that were once done by nurses, such as dressing changes on wounds, daily catheterization, and injections, are now taught to patients and families with the expectation that a responsible family member or friend will provide these medical procedures.
Home health aides can only provide personal care according to Medicare guidelines. This includes bathing and grooming but does not include providing meals, housekeeping, or any tasks that are not directly related to personal care. Physical therapists' main job is to educate the patient on how to perform therapy exercises on their own.
Home health is set up on a 60-day basis. The professionals will typically be in the home for 45 minutes to an hour. As the 60-day certification period progresses, visits decrease, unless the patient's health status declines. If the team determines the patient has improved, discharge will be before the 60 days. If the patient continues to have significant health needs, home health can recertify the patient beyond the 60 days.
PRIVATE DUTY HOME CARE
Private duty home care is non-medical. The services are provided by caregiver's and/or certified home health aides. The services are considered custodial care and do not require a physician's order. Services are designed to help the care recipient remain in their home by providing hygiene, meals, light housekeeping, companionship, errands, and medication reminders.
The amount of services provided are determined by the care recipient, and/or family because private duty is not covered by health insurance. Most private duty home care services are paid out of pocket, but some may be covered in part or whole by long-term care insurance or Veteran's benefits.
Private duty often works in collaboration with home health agencies because the services are different in nature. Typically, if someone needs home health, they also need assistance with daily living activities.
Private duty home care is available 24 hours a day, 365 days a year. Clients can obtain services long term or short term. Some agencies require a minimum number of hours either per shift, per day, or per week.
Understanding your health status, or your loved one's status, and what your needs are can help you obtain the best services. You have the right to choose a home health or private duty company. Ask the tough questions, ask for references, and research the company you are interested in.