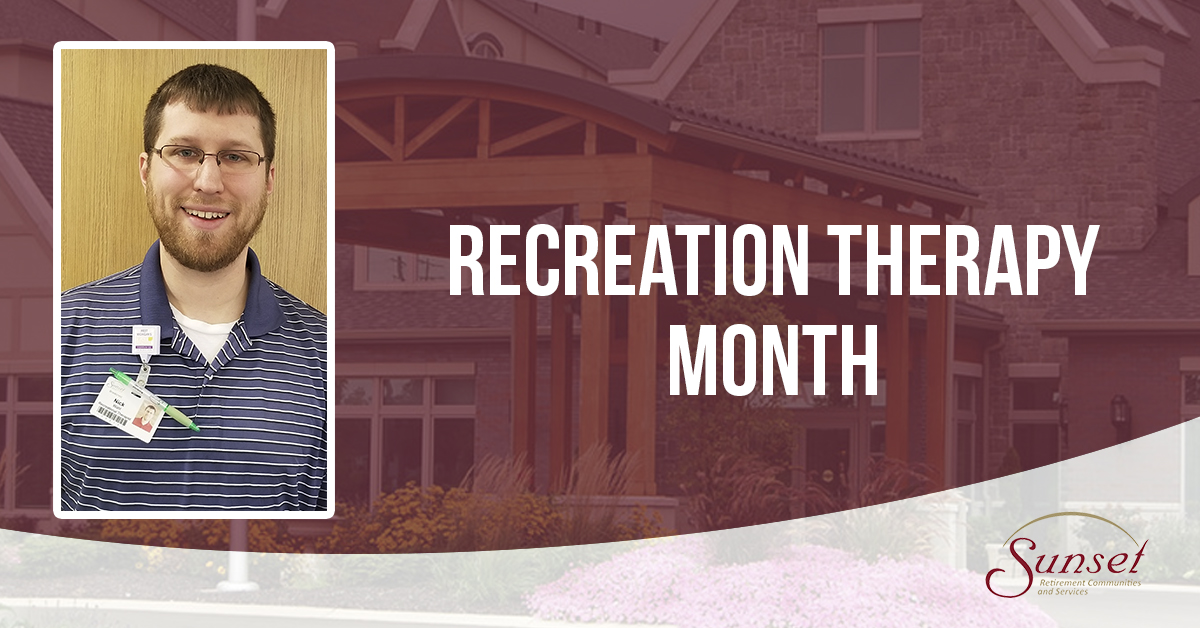 February is often known as a month of celebrations and holidays. Everything from Presidents' birthdays, Valentine's Day, and even National Chili Day! However, February is also an important month to celebrate a profession within the medical field. February is also National Recreation Therapy Month.
You might wonder to yourself, "What exactly is Recreation Therapy?" Recreation Therapy is "a systematic process that utilizes recreation and other activity-based interventions to address the assessed needs of the individuals with illnesses or disabled conditions, as a means to psychological and physical health, recovery, and well-being." In a nutshell, Recreation Therapy uses leisure to meet treatment goals and to make dreams or past leisure interests into realities. A Recreation Therapist is someone who will carefully assess and plan specialized activities based on a person's interests, and use them to benefit someone either physically, psychologically, spiritually or emotionally.
Sunset Communities have a Certified Therapeutic Recreation Specialist as the heads of their departments for each of their campuses, ensuring the best quality in programs and interventions offered to their residents. Brookcrest is one of the few organizations to employ not just one Recreation Therapist of their team, but three of them!
Abe Cohen, the Director of Recreation Therapy, has been employed with Sunset for 15 years, and fondly remembers helping a resident on hospice fulfill many items off his bucket list, including an outing to go fishing one last time and reserving the dining room for his family to perform a play he wrote on the Book of Ruth. "Seeing the importance of these events for the resident and his family is reward enough, even if it meant just being there as a guide," said Abe. The resident has since passed away, but his memory remains and has inspired Sunset to create a "Silver Bucket List" to allow others to fulfill their dreams and live life to the fullest. Among the outing planned are taking a husband and wife to dinner and a play, and having a gentleman go target shooting again for the first time since his admission to Brookcrest.
Christie Vander Meet has been the Recreation Therapist for the past three years on the Garden, a specialized memory care unit. The stereotype with Dementia care is to keep them in a locked unit and from wandering out. For Christie, she believes in a different approach and not only takes them outside but also into the community for special events and concerts. Her favorite memory to date is taking one resident to see their husband play a concert with his band. "She has never missed one of his concerts," said Christie. "And her admission to the unit was not going to be a barrier to seeing him play again." Christie organized the outing, and the resident was not only able to see him again but able to see all her old family and friends whom she recognized by name, much to the shock of everyone there. The resident got to dance the night away and had a song dedicated to her by her husband.
Nick Wahl is a Recreation Therapist in the Rehabilitation Unit for the past four years and assists with specialized interventions offered at Brookcrest, namely cooking. His group " Cook's Corner" meets weekly to get back in the kitchen and cook a masterpiece for staff and residents of Brookcrest to enjoy. "'It is good to be back in the kitchen again' is the most common statement I heard from the ladies the first time we tried it," says Nick. Each week residents look forward to trying a new recipe or dusting off an old favorite provided by family. The residents have also made it a goal to take what is made and pass it out to the staff and residents to enjoy as well. "I love seeing them pursue an interest that they thought wasn't possible when they came here to Brookcrest," said Nick. "And getting a sample dessert cooked by professionals who have been doing it for over 50 years is not a bad thing either." The residents are excited for their next cooking project which is to combine their expertise and make chili for the Brookcrest Annual Chili Cook-off. And you can bet they will make something delicious.
In Recreation Therapy, there is a saying that "leisure is medicine." At Sunset Communities, we very much live by this philosophy and feel that a person's well-being is one of the most impactful aspects of their quality of life. Brookcrest has the best Recreation Therapy Assistants, who help ensure every day that those who come to stay with us, for however brief or long, have the best quality of life and are pursuing leisure interests important to them. We feel blessed as a department to live out God's calling to show love to everyone in need. Martha Torreson, RTA at Brookcrest for the past 14 years said it best when she said, "when you get to know someone as well as we do during the groups, you do not see them as residents but instead see them as family."
In honor of Recreation Therapy Month, be sure to find your Recreation Therapy team for yourself or your loved one and thank them for their service to our residents. They work very hard to provide the best experiences, create moments of joy for the residents and help to make sure that our facilities are less like a building and more like a home.
#PassionMeetsCulture