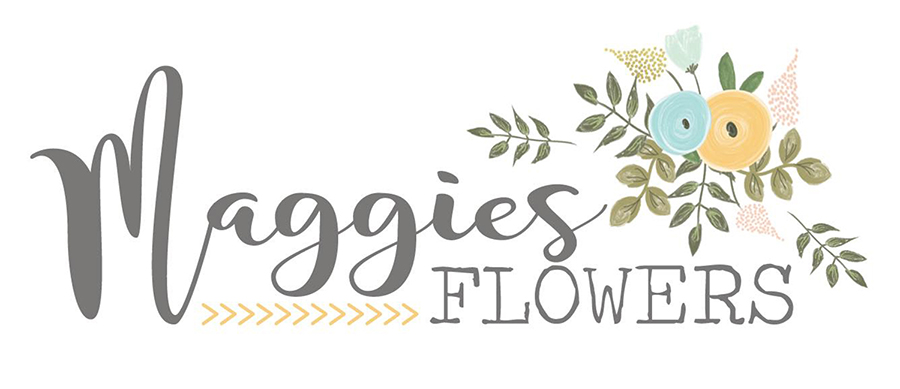 Sometimes a simple idea can sprout into something groundbreaking.
In 2010, when Maggie Hartman was five years old, her family was planning a vacation. There would be an opportunity for hang
gliding, but it would cost $100 per person. Maggie and her family brainstormed ways she could raise money, and she decided she would sell flowers.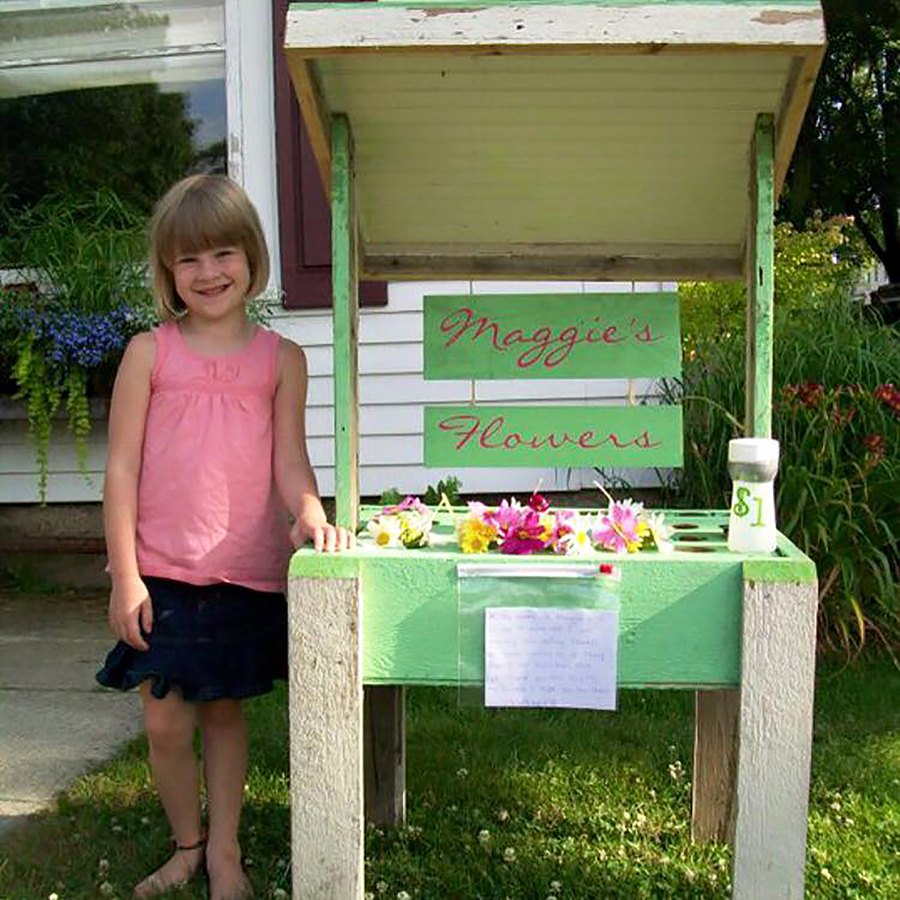 That spring, the whole family got involved. With "seed money" from Maggie's grandmother, Lynda De Vries, Maggie planted zinnias, cosmos, snapdragons, and sunflowers. Maggie's father, Chris, rototilled the land and her mom, Jil, helped tend the garden. Ronald De Vries, Maggie's grandfather, built a stand for her bouquets, which she sold for one dollar. That summer, Maggie's Flowers was in business. With the $200 she earned, she treated her dad to a hang gliding adventure as well, but that was just the beginning.
"God has taken this further than we could have imagined," says Jil. "Humans have limits, but God doesn't."
Maggie had been bitten by the entrepreneurial bug, and the next spring she headed for her garden with fresh ideas and ambition. She planned to raise money for a visit to a museum in Chicago, but she wanted to provide Christmas gifts for children whose families could not afford them. She raised almost $500 and purchased gifts for about 30 children. She also "adopted" a family of 11, supplying a Christmas dinner and presents for all.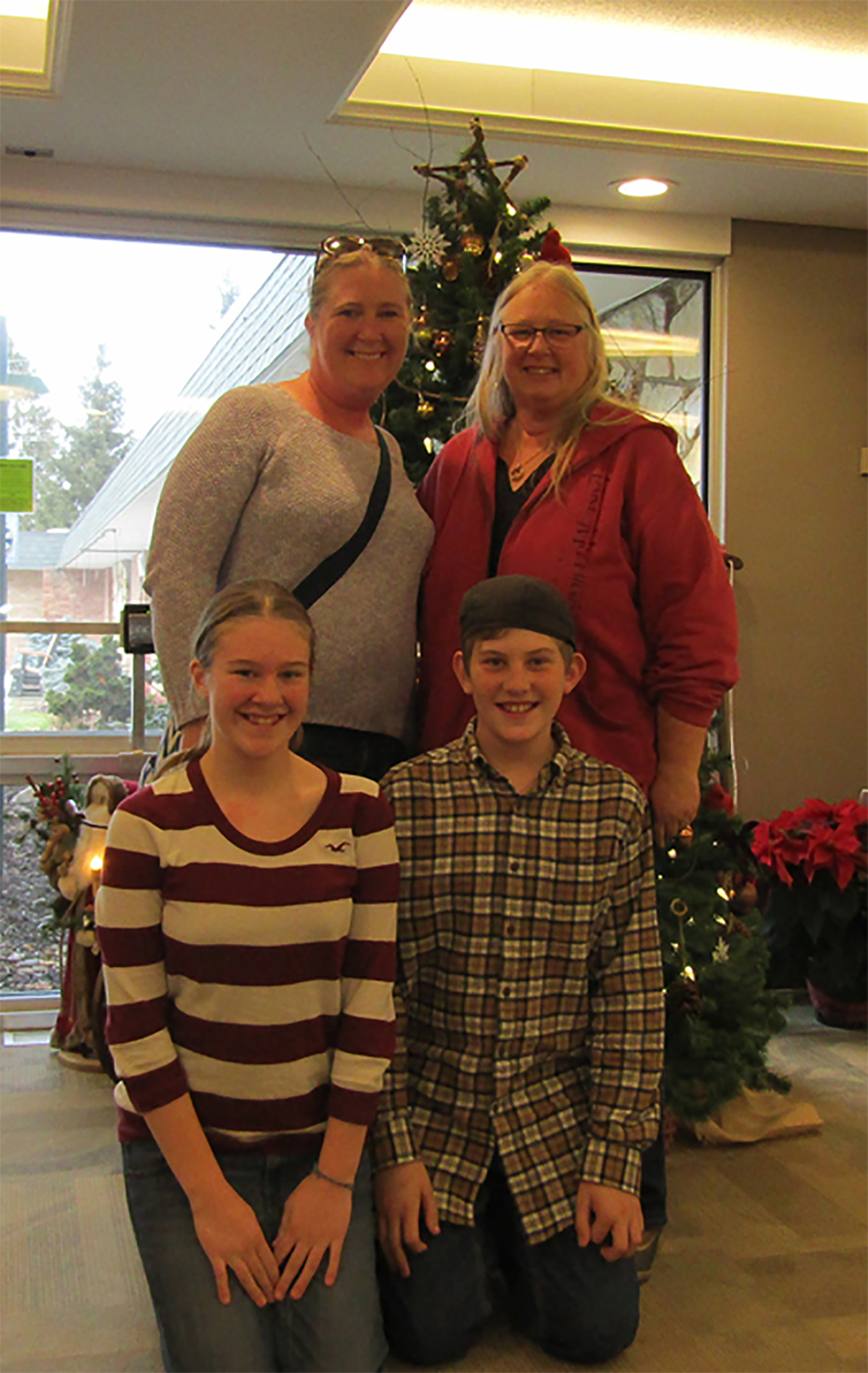 In 2012, profits spiked again. Maggie used $150 toward a trip to Washington D.C., and with the remaining $1000 she opened a "Christmas Closet" at a local food pantry, where parents came to choose toys for their children. Maggie and her family stood by to wrap the gifts, 60 in total. They heard about a single mom with two children who was also raising the three children of her sister, who had recently passed away. Maggie adopted this family too, and purchased clothing, household items, and groceries.
The next year, profits reached the $2,000 mark, allowing Maggie to continue the Christmas Closet and adopt three families. With the extra money, she thought about donating to a local nursing home. Maggie's grandmother suggested Brookcrest, where her own grandmother had been a resident.
Maggie asked 12 residents what she could do to make their Christmas more special, and was able to purchase gifts for each. She recalls that one woman was overwhelmed when she received a large-print Bible.
In 2015 the Hartmans moved to Dorr. The new homestead has an expansive garden, and the Hartmans cleaned out a chicken coop to serve as a storage area for Maggie's Flowers. They later installed a 10' by 12' greenhouse.
Like the flowers that Maggie grows, goodwill for her venture blossoms annually. Maggie and Gerrit attend Zeeland Quest School, and last year third and fourth graders contributed earnings (over $400) from their market day to Maggie's Flowers. On Fridays, staff members at the school may wear jeans if they contribute to a fund, and this money was also given to the charity.
Generous donations such as these allowed Maggie's Flowers to raise over $5,000 in 2017, which translated into 300 Christmas gifts. The Hartmans partner with Sunny Crest Youth Home, a working ranch near Lansing whose mission is to provide a safe place for boys. To build responsibility, each boy is assigned an animal.
One boy did not know what to ask for, since he was not used to receiving Christmas gifts. Maggie bought him a cowboy hat. "When the boy opened his gift, he was immediately overcome with joy," recalls Jil.
Other Way Ministries provides support for families who live in certain areas of Grand Rapids, and Maggie donated over 50 toys to the nonprofit this year. She sponsored four families and purchased gifts for all the residents on one wing at Brookcrest.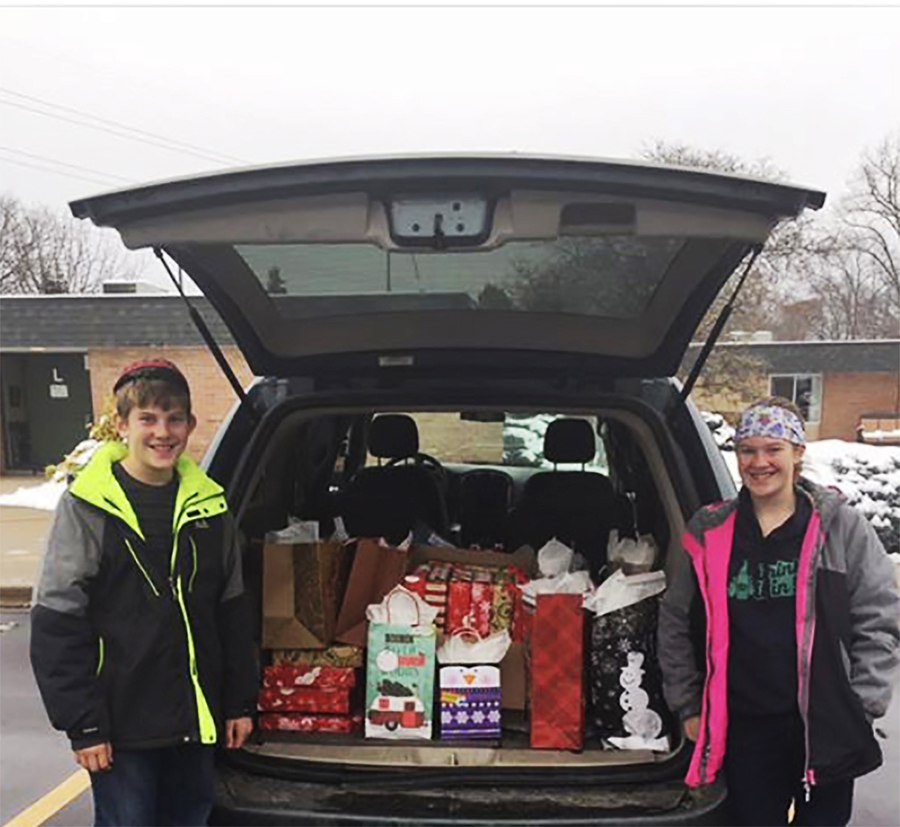 On the day of the celebration, after residents sang Christmas carols and enjoyed holiday treats, Maggie and Gerrit distributed the gifts. When one woman opened hers (a beautiful nightgown patterned with tiny cardinals), she asked Maggie incredulously if she would be allowed to keep it. Another resident was over the moon with her Donald Duck stuffed animal, which reminded her of a family trip to Disneyland when she was a child. Hand lotions and devotion books were appreciated, and many residents received fleece blankets in fun prints, sewn lovingly by Maggie.
Maggie says, "It makes me feel really good when I see that people like the gifts we give them."
"I'm so proud of my granddaughter," says Lynda, "and I'm proud of my daughter (Jil) too, for helping Maggie make this happen. It's such a great thing for the family to share."
This past July, Lynda's husband Ronald De Vries passed away. Jil says, "Maggie's grandfather built her first stand, and every one since. Anything that needed to be done for Maggie's Flowers, Papa did it. They were two peas in a pod and their deep love for each other went both ways."
Maggie sells her flowers in season from three stands (in Dorr, Hudsonville, and Zeeland) on the honor system, and at Zeeland's Peddlers' Market. In October, she focuses on the Christmas season. Shopping for toys is a year-round activity; the best sales are in the summer, but Postal Service and Fed Ex deliverers know the Hartman address well.
During the off-season, Maggie buys her flowers at wholesale. Her bouquets can be purchased year-round at Hudsonville's The Found Cottage, and they grace the tables at two local Chick-fil-A restaurants. She has also supplied flowers for a wedding and for a staff luncheon at Sunset.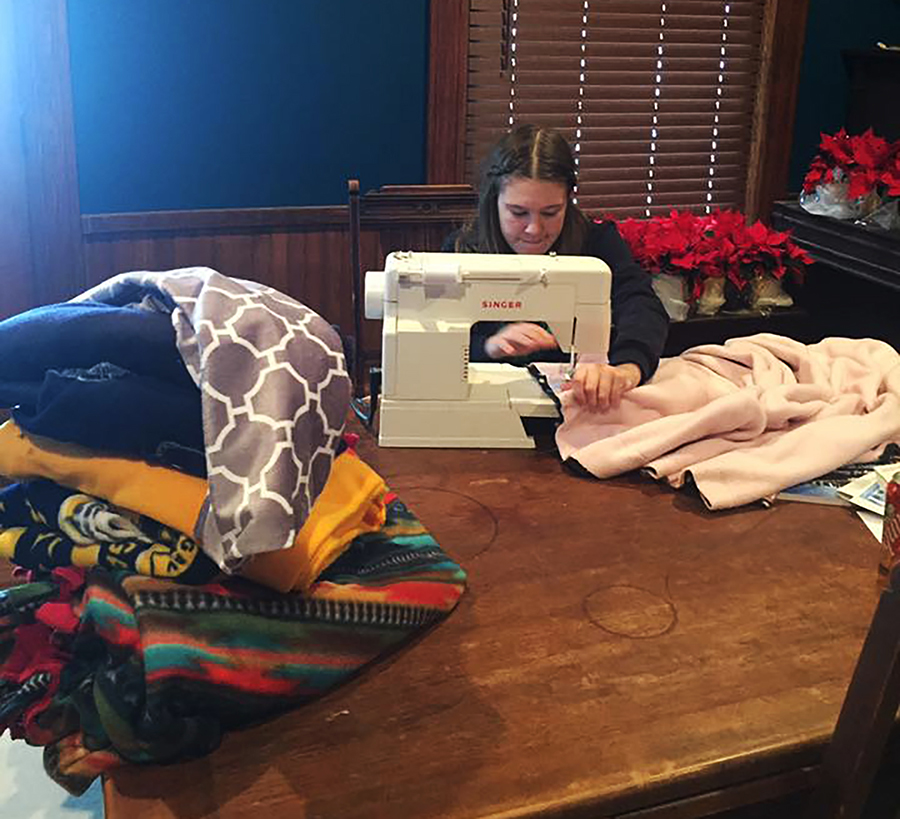 A bouquet for a loved one at a nursing home can be ordered on www.maggiesflowers.org; donations can also be made to Maggie's PayPal account. Look for updates on Facebook and Instagram. The Hartmans hope to register Maggie's Flowers as a nonprofit in 2018, and Maggie is also fixing up  an office in the Hartmans' basement.
Maggie has learned at a young age that showing compassion is life-changing for the giver as well as the receiver.
"We tell the kids that there will always be people who have more," says Jil, "but there will also be those who have less, and that's who we need to focus on.
"It starts with a seed, which grows into a flower. A byproduct from these little dollar bouquets is that so many lives have been touched—residents and staff at Brookcrest, so many children and families, and a community that has made it possible."