Our culture has always valued food, not just for the taste but the experience. It's no different here at Waterford Place Memory Care. Residents can choose from our carefully prepared menu options, which are tailored towards their well-being – in fact, our Chef is a trained brain diet expert! Our options allow residents to decide how their meals fit into their desired lifestyle.
DAILY DINING OPTIONS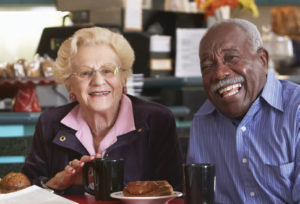 Chef Justin Ely and his talented team prepare three delicious and well-balanced meals each day. Your loved one may choose from our Chef's special of the day or from our expansive "Always Available Menu" which includes a variety of sandwiches, soups, salads, entrees, and side dishes alongside a number of beverage options. Each neighborhood has its own kitchen and a cozy family-style dining room where residents can gather for fellowship.
BRAIN DIETS
Waterford Place Memory Care is pleased to offer healthy "Brain Diet" options, which are rich in vitamin E, protein and omega-3 fatty acids. Some of our healthy options include salmon, nutritional smoothies, nuts, and other protein rich foods. These choices are offered on our "Always-Available Menu" and also incorporated into our Chef's daily specials.
GRAB & GO MENU
Each neighborhood kitchen is supplied with "grab and go" options for residents who would prefer to eat on the go. These options are available 24/7 for the convenience of each resident and include a variety of meals and snacks, such as homemade smoothies, sandwiches, snacks, crackers, and many other tasty treats.
COOKING UP MEMORIES
"Cooking Up Memories" is a great activity for residents to prepare and share their favorite recipes with the community. Our Chef and recreational therapy team come together to assist the residents for an interactive experience with good food, good aromas, and good times