Waterford Place Memory Care offers three unique neighborhoods designed to incorporate all of the five senses, so our residents can rediscover the world around them and maximize their opportunities to reconnect. Each neighborhood feels like a community of its own with private residential units, complete with vintage 1950's personalized mailboxes at each door, as well as community settings to provide independence and choice without ever leaving Waterford Place.
MEMORY CARE RESIDENCES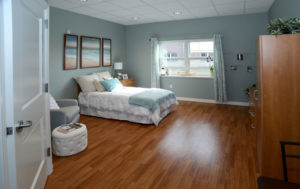 These private studio style units include large bathrooms and showers and come furnished with an oversized bed, nightstand, dresser, armoire, and flat screen television. We encourage each of our residents to personalize their space as they did their homes – using our furniture or their own — to help each person feel comfortable in their new space.
KITCHENS
Each neighborhood has its own kitchen stocked with snacks and goodies where residents are able to help themselves at any time. These home-style kitchens are also where all of our delicious food is served.
LIVING ROOMS & SITTING AREAS
You will find that we have many living rooms and sitting areas throughout our neighborhoods. Each area is designed for the residents to spend time together, and welcome family and friends who may want to visit.
COMMUNITY ROOM
The Community Room is often buzzing with excitement. This is where we hold services, group activities, music therapy, exercise, SAIDO Learning, "Cooking Up Memories", movies, and many other fun events.
SERENITY POINTE
This tranquil space offers a peaceful environment with a variety of sensory interventions including: dim lighting, soft music, relaxing videos, tactile objects, essential oils, interactive visual displays and comfortable seating. All of which can enhance feelings of comfort and well-being, relieve stress, and maximize the individual's potential to focus.
COURTYARDS
Our beautiful and expansive courtyards provide a fantastic opportunity to enjoy God's creation in a safe and accessible environment. Each courtyard is designed to offer a unique and serene experience for all of our residents, friends, and family.