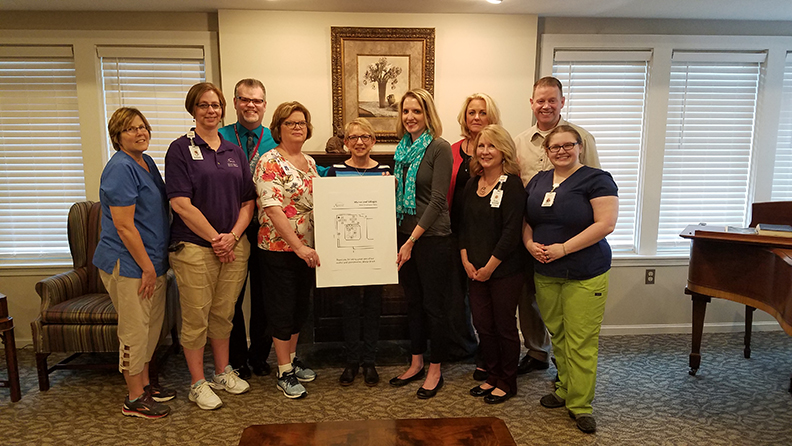 Giving is cyclical. At Sunset, our staff gives their hearts and souls to care for our residents every day. Acts of good will are put out and eventually come back around in new and inspiring ways. Manor and Villages' new outdoor patio for employees is the product of a circle of giving. One resident's gift of kindness towards others led to gifts of kindness from their family and allowed Sunset to provide a gift of kindness for our hardworking staff. The new outdoor patio space exists as a reminder of the love, compassion and service God wills us to enact on Earth.
Open Door…. Open Heart
Marge Brock moved into her new home at Sunset nearly 8 years ago.  Located by an entrance, her window on the first floor looked out to the "gazebo" courtyard, a view which she enjoyed very much. "It is such a beautiful view, especially in the Spring," she remarked.
Soon after Marge settled in, she watched her neighbor walk through the courtyard only to struggle opening the outside door.  A true servant at heart, Marge quickly walked to the adjacent entrance to open the door for her friend.  This became a routine for Marge and her friend.  Somedays, Marge would be waiting for her friend with an open door; other days her friend would signal her by tapping on her window.  It wasn't long before Marge was opening doors for others, which she did with a glad and open heart.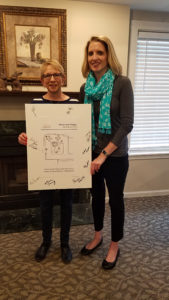 Last October, Margie's life took a turn.  Her cancer spread.  The final prognosis prompted Marge to organize her estate.
Always mindful of others, Marge reached out to me with a specific request.  With a strength known to those who are bound together in Christ, Marge asked, "Who is going to open the door to the courtyard?  Who is going to hear them tap on the window?  Can you get one of those automatic door openers with the money from my estate so people can walk through the courtyard after I'm gone?"
Moved by Marge's gift to think of others before herself, I humbly replied, "Yes, we can do that."
Different Gifts… Same Spirit
Not long after, Marge's health began to wane.  Her family watched the Sunset staff care for their mom and grandma as if she was theirs.  "The way the nurses, aides, kitchen staff, housekeepers, and maintenance staff loved and cared for our mom is overwhelming," Marge's son remarked. "It was humbling to see Sunset staff come in on their day off work to sit with mom, hold her hand, and talk to her," her daughter exclaimed, "They didn't have to do that."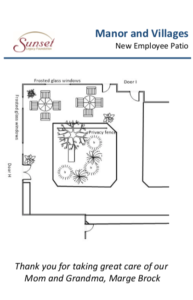 With a heart overflowing with gratitude and joy, Marge's family approached me and asked if there was a way they could honor Sunset's staff for going above and beyond, for caring for Marge with grace and love?
Moved by their gift of encouragement, I humbly replied, "Yes, we can do that."
Marge never stopped using her God-given gifts to serve others.  Her children used their gifts to encourage staff and embolden the love and grace they observed first hand.  Sunset staff generously shared their compassion and skill even when no one was looking.
Marge's story inspires us.  No matter our stage in life, we should never stop sharing our spiritual gifts. Sharing our gifts inspires others to share theirs.  Every gift is needed.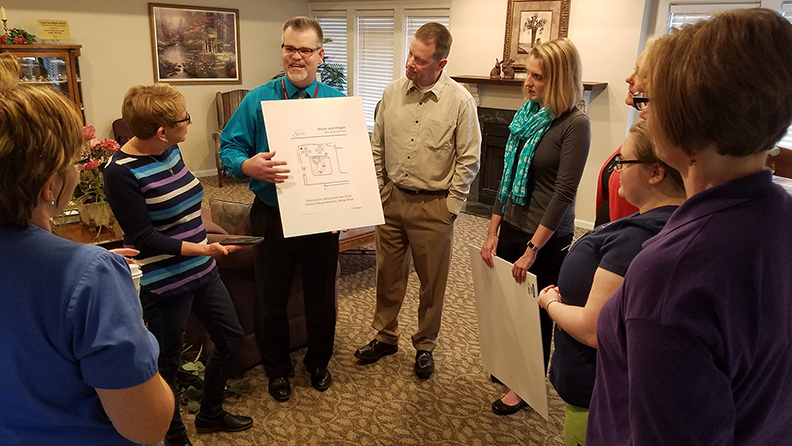 Like Marge, those we serve are uniquely gifted by God and have an honored place in our hearts. The new outdoor patio space provides our caring staff with a place for rest and self-care, so they may better care for your moms, dads and grandparents. Our devoted, kind-hearted staff continue to create a warm, loving environment for our residents and plant the seeds for acts of kindness and giving to continue to grow.