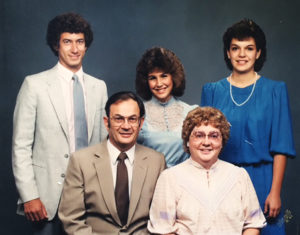 After Dave Holkeboer retired, he bought a book in a second hand store called Furniture Making From the Inside Out, which described the inner structures of furniture that hold it together.
"It's the glue, not the nails and screws, that make strong joints," he explains. "A glue joint is stronger than the wood; if made properly, the wood will break before the joint."
Dave has learned the importance of connections throughout his life. He finds comfort in Psalm 139, in which David marvels at God's omnipresence. "I appreciate that God watches over us wherever we are," says Dave, "because I've been around."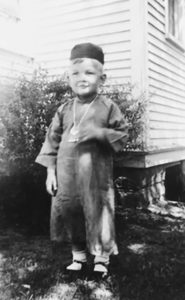 Dave was born January 14, 1932 in Grand Rapids, Michigan. His father was a doctor, and while the Holkeboers did not experience great financial stress during the Great Depression, Dave noticed that his father often came home tired and frustrated. So when an 8th grade teacher encouraged the class to think about careers, Dave considered other options.
"I liked taking things apart," he says, "but I didn't have much success in putting them back together."
Dave decided to go into mechanical engineering. He took classes at Calvin College and continued at the University of Michigan, where he met Marilyn Vande Kieft, who was pursuing a master's in education. They married in 1959 before Dave graduated with his Ph.D.
Dave had specialized in automotive engineering, realizing that the auto industry had a strong future, but a professor encouraged him to interview at General Electric headquartered in Schenectady, New York. He and Marilyn took a leap of faith and moved East. Dave worked in GE's general engineering lab, which provided specialized technology to various departments. He continued to work for small high-tech companies in the East throughout his career.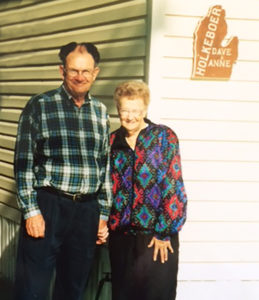 Over the years, Dave and Marilyn adopted three children: Scott (1963), Shelley (1966), and Laurie (1970). Wherever they lived, the Holkeboers became involved in their church and established strong relationships.
"We got into small groups, and usually found our best friends in church," Dave explains. "They took us in, and got to be like family. In a community, you have to participate if you want to be part of the group."
The Holkeboers spent vacations visiting family in Michigan and Florida. In their used pop up trailer, they enjoyed weekend trips in the picturesque Adirondack Mountains and an extended trip out West. The children later attended Calvin College and settled in Grand Rapids.
In 1993, Marilyn was diagnosed with cancer. Only four months later, she passed away. In 1994 Dave married Anne Kamstra, a family friend who had been one of Marilyn's wedding attendants. The Holkeboers had visited Anne often in Washington D.C., where she served many years as Gerald Ford's administrative assistant, from the time he was assigned to the Warren Commission (established to investigate President Kennedy's assassination in 1963) through his presidency.
Dave says, "When our family went to Florida, we'd stay overnight at Anne's, so my kids knew her. She was retired and wondering what to do next, and I was lonely, so the doors all opened."
When Dave retired in 1997, he and Anne moved to Byron Center to be close to their families. Soon afterward, another door opened when Dave landed on the book that led to his passion of woodworking.
"That book hit the engineering nerve," says Dave. He taught himself how to draw his own designs using CAD programs and sometimes used patterns from magazines.
Dave and Anne moved to Sunset in 2009. Anne had been experiencing problems with her heart, and she passed away in 2012. Again, Dave faced another void; he found some solace in keeping busy.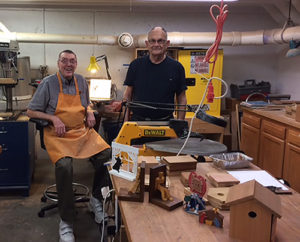 Dave had donated his equipment to the recently redesigned Sunset Woodworking Shop. He concentrated on smaller projects, such as jewelry boxes and decorative tables. Word of mouth has kept him busy, and no job is too small. Residents ask him to make doll chairs and toys for grandchildren and shelves for collectibles, and he repairs wobbly furniture in their rooms. A staff member was thrilled when he fashioned a set of small birds for the top of her daughter's wedding cake. Projects for Sunset have included a Dutch shuffleboard and a windmill for Rose Garden. The price is always right, as Dave only charges for materials.
"For me," he says, "the work is entertainment. It's nice to be able to help people."
Dave's current commissions include custom cutting boards for a wedding shower, bat houses for Sunset, and birdhouse kits for Brookcrest residents.
Another "regular" in the woodworking shop is Tom Zylstra, Sunset resident since 2013. Tom raised about $600 at Sunset's 2017 Fall Bazaar selling his masterpieces. He recently fashioned several intricate crosses on which seven views of Jesus's birth are depicted. Tom donates all of his proceeds to the Benevolent Fund.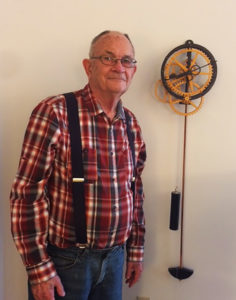 God has continued to bless Dave with new connections. One of Anne's friends who visited frequently during her illness was Carolyn Hart, and she has become Dave's special friend. A former history teacher, Carolyn introduced Dave to the joys of genealogical research.
Through their travels, Dave obtained a copy of his maternal grandparents' homesteading grant, signed by President Wilson in 1920. Although Dave visited their northern Minnesota farm as a boy, a recent trip with Carolyn revealed no trace of the homestead, now an overgrown forest.
"My grandparents left the homestead in 1942," says Dave. "My grandma lived with us afterward, and she had a lot of interesting stories. I wish I'd written them down."
Dave has also traveled to the Netherlands, where his father was born. He says, "The Holkeboers were farmers from Friesland. Loosely translated, our last name means 'farmer from a small valley,' so I tell people I'm the Farmer in the Dell."
Family, faith, relationships, and a wide variety of interests have been the glue that has supported Dave throughout his life. It is a powerful thing to be able to say in all circumstances, "Even there, Your hand will guide me, Your right hand will hold me fast." – Psalm 139:10