As we continue to adjust to a different way of living, we are constantly amazed by the love demonstrated within our walls. As you may know, Sunset began restricting visitors on March 12, almost two weeks before Michigan's stay-at-home order was issued. While we knew this was the best way to protect our residents and staff members, there were still many questions about how this isolation would affect residents. The connection with friends and family members is a big part of what makes us such a loving and supportive community. However, after a few days of checking in, we heard again and again that residents are feeling safe and happy.
Life Is Still Good
Even though our communities are practicing social distancing, there are still plenty of smiles and laughter to go around.
We checked in with a few residents and asked how they were doing. "This is a great place to live," said one gentleman. Another resident remarked, "You feel safe here. And the food is good too."
"I'd love to get out of course," said another, "but I'm making the best of it and it's going okay. Just take one day at a time." Some residents are using the extra time to pursue hobbies. Reading is a popular activity, and one resident is making a quilt for a family member who is expecting a baby.
Celebrating Victories
We are still making a point to celebrate victories and milestones!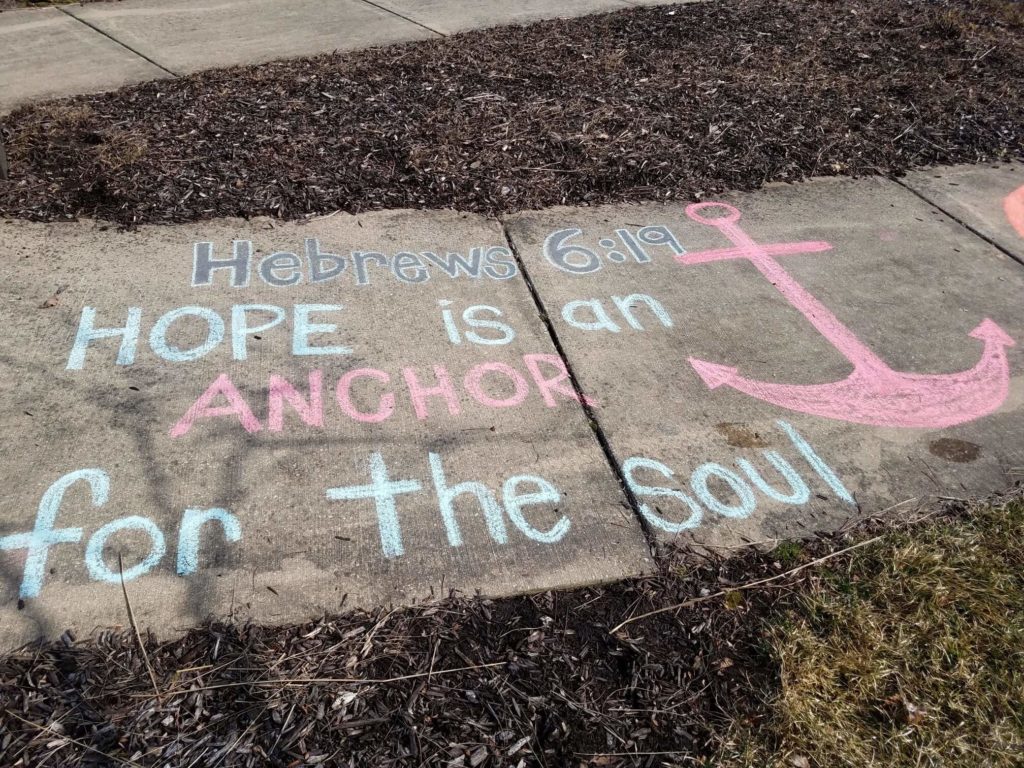 A staff member and her children decorated the sidewalks at Waterford with encouraging messages and Bible verses. What bright and colorful messages!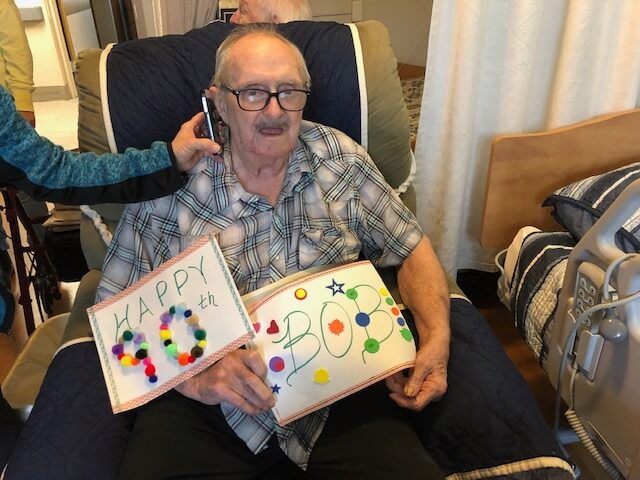 A Brookcrest resident celebrated his 90th birthday! Bob's daughter and son-in-law came to his window to wish him happy birthday and talked with him over the phone.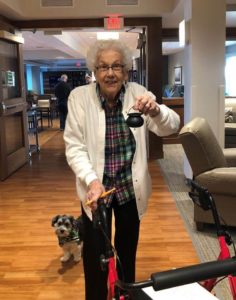 Waterford Memory Care practiced social distancing and celebrated Saint Patrick's Day with a visual scavenger hunt. The lucky winner found all ten items and won a pot o' gold!
One Day At A Time
These uncertain times come with a good amount of worry, and it's all too easy to focus on what we can't do. We can't visit in person with friends and loved ones. We can't give hugs or hold hands. Six feet apart suddenly seems like an impassable distance. However, as our residents and staff members have shown us, there's still so much we CAN do. We can read a new book, crochet a baby blanket, or encourage others with a phone call or note. Caring doesn't stop with distance.
One resident said it best: "Just take one day at a time." This is good advice for today and good advice for whatever the future may hold. Until we can safely interact with the community, we'll be taking one day at a time, safely caring for each other, and trusting in the One who holds the world in His hands.
Write a Resident
Would you like to share an encouraging note with our residents? During this time of restricted visitors and social distancing, we are inviting community members to "Write a Resident". To minimize germs, please type up your letter and email it to smiedema@sunsetmanor.org. Your letter could include a happy story, well-wishes, or your favorite Bible verse. We will print out these letters and safely distribute them to residents.
As the situation with COVID-19 continues to evolve, every Sunset community is keeping up with all local and national recommendations. Please read our most recent update or call directly with any immediate concerns.