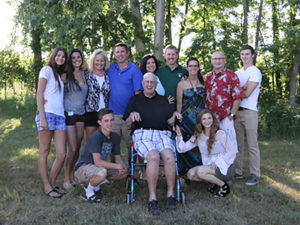 It's easy to see why Frank Collins is a treasured member of the Brookcrest community. With a twinkle in his eye, he's quick with a joke and a smile, even when you least expect it. According to his daughter, Tricia Forbes, Frank has always been very social, and when he is asked what he's enjoyed about various aspects of his life, he responds without hesitation: "The people."
Frank had a stroke in 2013, and although he relied on a wheelchair, he was able to live independently. In September 2016 he fell and damaged his spinal cord, which severely limited his ability to move his arms and legs. In addition, he would only survive if he agreed to rely on a feeding tube for the rest of his life. Frank chose life.
Over the years, Frank's independence had gradually diminished: he had lived on an 80-acre farm with his family, then in a condominium after retirement. He moved to assisted living after his stroke. But because of the spinal injury, he would be completely dependent on others for the rest of his life.
Frank's family chose Brookcrest because, since he would now require tube-feeding, a facility with a Registered Nurse on duty was required.
"We're really happy with Brookcrest," says Tricia. "I love how they treat him."
Frank says, "I do too."
Yet although Frank's circumstances have changed drastically, he has an exemplary positive spirit, according to staff members. Three days a week, Frank joins an exercise group led by Nick Wahl, Brookcrest Recreational Therapist.
Nick says, "When Frank first started training with us, he had a hard time moving his arms, and his legs were not moving really at all. Now, he can lift a 1.5 to 2-pound weight bar up by his head, he can move his toes up and down, and is even moving his arms away from his body. It's a major improvement, and that shows his dedication and determination to improve."
Besides weight training, the exercise group does seated yoga and plays games that include an exercise component. They are starting to phase in seated tai chi, seated Zumba, and boxing.
"Frank really enjoys boxing," says Nick, "especially when I get my face close enough and he thinks he can give me a little nudge with his glove."
Frank was born Frances Kowalski on July 4, 1933 in Manistee, Michigan, the second-born of six children in a family rooted in the Polish-Catholic community. As a high school student, he joined the football and baseball teams. Frank's hard work paid off when he was recruited to pitch for a Detroit Tigers farm team in 1949, and although he was never called up to play in the Major Leagues, he enjoyed the group's camaraderie for two years.
In the early 1950s, Frank joined the Air Force, but before he enlisted he changed his last name to Collins because it sounded less ethnic. He served overseas during the Korean Conflict but chose to continue with the Air Force after the war ended. Frank found that he was well-suited to the Personnel department, where he advised Airmen on job specialties and training programs. Frank served for 10 years, and says he enjoyed everything about the experience, especially the people. In his spare time, he took flying lessons and even bought a 2-seater airplane.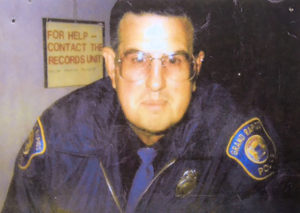 When Frank moved to Grand Rapids in 1964, he became a police officer, specializing in the Homicide Unit. He began to date Judy Mae Woods, and as they grew serious he realized that he needed to sell his plane in order to settle down and get married. "I always got the best deal," says Frank.
Frank and Judy married on March 6, 1965, and had three children: Tricia, Frank Jr., and Hal. Judy loved horses, and the whole family invested in her passion on their farm in Dorr. According to Tricia, after Frank came home from work, he switched roles and became Judy's full partner in raising the family.
Tricia says, "My dad was really good at leaving his work at work. I can only recall one time that he brought his work home. He was having awful nightmares about a homicide, but he worked really hard to keep that separate from us."
Frank gave all his children lessons in how to safely handle and shoot a gun. He also modeled self-discipline. Tricia recalls that her father was adamant about not even entering an establishment that served alcohol. He had seen the effects of alcohol on his own family, and as a result he'd grown up fast. While in the Air Force, he had sent some of his income to his sister so she could raise their siblings.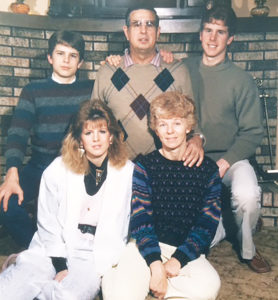 Frank retired from the police force in 1994. During his 30-year career, he also worked as a detective. After retirement, he served as a U.S. Marshall, escorting prisoners to and from courthouses. Although his job was high pressure, Frank says he did not often feel that his life was in danger. And with the characteristic sparkle in his eyes, he confirms that he, like all policemen, ate a lot of doughnuts over the years.
Tricia says, "I was told he was very fast and agile as an officer. That was proven one day when my brothers were, I think, 15 and 16. They went to take Dad on, and he pinned them both down as quick as can be right there in the living room. You didn't see it very often, but when you did, you thought, 'My dad is Superman.'"
Judy suffered a brain aneurysm in 2002 and died 11 days later. "We miss Mom," says Tricia. "She was good at everything. Mom and Dad were inseparable."
Frank points out a blanket on his bed that is imprinted with Judy's picture. He says, "She's still always with me."
Frank's son, Frank Jr., followed in his father's footsteps and serves on the Grand Rapids Police Force. All Frank's children and his five grandchildren live in the area, and Brookcrest staff are impressed with the family's faithfulness in visiting.
"My wife did a good job raising them," says Frank.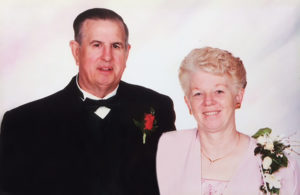 Although his life has changed dramatically, Frank's faith is still important to him. He is proof that although our purpose can change, we can always contribute to God's kingdom. He is proof that quality of life is not determined by what we can do, but also on what we bring to others. He is choosing to live with the courage and loyalty that have been the common threads of his story. Rather than focus on his limitations, Frank consciously puts others at ease and even makes their days a little brighter.
"I can honestly say he is one of my favorite people ever," says Nick, "and I feel my life is more enriched with Frank Collins in it."