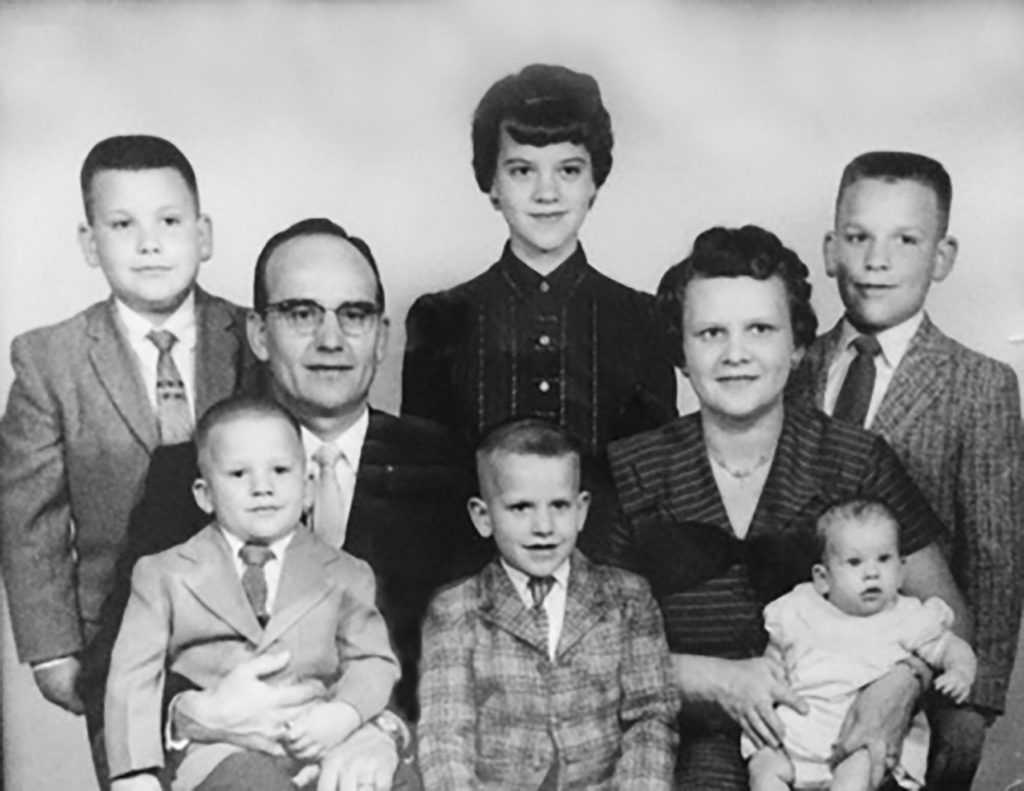 Henrietta (Blankespoor) Byker's ancestors emigrated from the Netherlands because they believed the United States was the "land of promise." When they established roots in northwest Iowa, they put their priorities of faith, family, and farming into action.
Henrietta, born on March 12, 1921, was the third child of Gysbert and Hilda Blankespoor's four children. As soon as they were able, the children tended to the chickens, sheep, and pigs, and milked the cows by hand. There was no indoor plumbing, so water was pumped by hand and carried into the house. Henrietta and her brother did laundry with a hand-pumped washing machine. Fruits and vegetables from the garden were canned, as well as pork and beef.
The children did not have much time for leisure. Even when Henrietta went to the fields to herd cows and sheep, she was sent with bags of socks to darn because time was considered too precious for daydreaming. A strong work ethic, self-discipline, honesty, and devotion to God were cultivated in the children. They were often told, "Pride is a sin, and humility is a virtue."
"We didn't feel deprived," says Henrietta. "The simple things brought pleasure, and I'm grateful that my parents were Christians. My mother refused to learn English, so we said prayers and Psalms in Dutch."
During the Great Depression, the children were transferred from the Christian school to the public school to free up money for payments on the farm. The transition was difficult for 11-year-old Henrietta, but even more devastating was her parents' decision that she would not attend school beyond eighth grade. She was expected to take over the work that had previously been done by the live-in maid.
Henrietta's father hired a young man named Gary Byker to take over the shepherding job so Henrietta could help her mother. The Byker family had lost their farm during the depression and Gary, the oldest of eleven children, left school to contribute toward family expenses.
My earliest memory of Gary," says Henrietta, "is when we scooped snow together into the cistern when we needed water for laundry." Another time, when Henrietta was cleaning out the gutters in her barn, Gary offered to finish the job for her.
When Henrietta was 15, electricity was installed on the farm and a new radio connected the family to the outside world. The next year, her parents sent her to live with a woman whose husband had died in a farm accident. The widow did the farm chores while Henrietta tended to the four children and the domestic chores. When she had a break, she often sat at the sewing machine (operated by a foot pedal) to mend clothes, a skill she had learned as a young girl when she made clothes for her dolls.
Henrietta and Gary had begun dating, but her parents disproved of the relationship because they did not feel Gary would be a good provider. But Henrietta saw many redeeming qualities in Gary. Even as a teenager, he was interested in world events and never missed the evening news radio broadcast; he has a curious mind and was a hard worker; he was a devout Christian, dedicated to his family and extremely patriotic.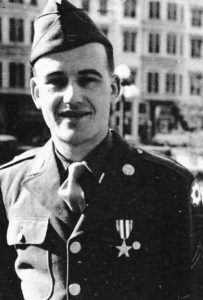 Gary joined the National Guard at 19, and when Pearl Harbor was attacked in December of 1941, his division was the first to go overseas. Gary and Henrietta became engaged before he left. Henrietta lived with Gary's family in town and enjoyed working at the local bakery and drug store. She basked in the warmth of the Byker household, which was a stark contrast to her childhood home.
Henrietta says, "My mother-in-law had blue eyes and gave birth to eleven brown-eyed children. She was the closest thing to an 'angel' you could ever find on this earth."
Gary was injured three times in Italy, and each time the police delivered a telegram. "It was always scary when we saw them coming," says Henrietta, "because we didn't know how serious it would be." Gary was awarded a Purple Heart for his injuries and a Silver Star for his bravery. He was offered a battlefield commission, but he chose to come home instead. He and Henrietta were married on June 20, 1944.
The newlyweds farmed in Hull, Iowa, for several years, but moved to Michigan in 1950 with their two children, Joanne and Gaylen. For the first time in her life, Henrietta had the luxury of running water. She immediately focused on a way to support her family by starting the Shopper, a publication that featured advertisements from local businesses that was distributed to every Hudsonville resident at no cost.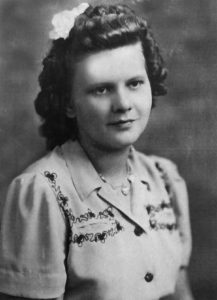 "We moved on January 27," says Henrietta, "and our first issue went out on March 15. Businesses paid for advertising spots in the Shopper,and we cleared $100 per week."
The family's attempts at "muck" farming were not successful, which Henrietta now sees as a blessing in disguise. Another son, David, joined the family, and despite the busyness of their daily lives, Henrietta encouraged Gary to pursue his education. He earned his GED and went to Calvin College on the G.I. Bill, graduating in 1954 with a degree in education.
After teaching in Calvin's sociology department for a year, Gary started Byker Realty in 1956, and over the years, three more children were born: Harlan, Carl, and Gretchen. In 1968 Gary was elected to the state Senate, a position he held for 11 years. Henrietta supported him every step of the way, fielding phone calls all hours of the day on the second phone line they'd installed in the house for real estate and legislative issues. Gary spent four days a week in Lansing, and Henrietta focused her energies raising their children and running the Shopper. She even managed to earn her real estate license.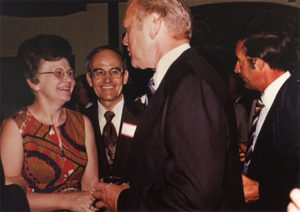 Henrietta says, "When Gary was a senator we felt we were living in a dream world, grateful to our Heavenly Father to be given so much responsibility." A highlight for her was attending Ronald Reagan's Inaugural Ball.
The Bykers enjoyed vacationing with their children in their motorhome, and after retirement they cherished their winters in Florida. Henrietta continued to take joy in creating things for her children, including expansive scrapbooks for each. She even crocheted her daughter's wedding dress.
As a mother, Henrietta found it incredibly rewarding to care for "the bodies and souls that the Master has entrusted to our care." She embodies that generation of women who believe that homemaking—cooking, sewing, even cleaning—was an art form, an opportunity to express one's abilities.
Henrietta and Gary were equally adaptable and ambitious, united in the dreams they had for their children. With guidance from their church, they built a Christian home in which they passed their values to their children. They provided the education that was not available to them; when Henrietta adds up the years of Christian education for her six children, she comes to the impressive number of 106. "It was worth every penny!" she says.
Gary died in 1997, and Henrietta has lived at Sunset since 2001. She was elected as the resident representative on Sunset's board and considers it an honor. She says, "Sunset's board is well-run by qualified, committed volunteers. I get to attend their monthly meetings and enjoy it immensely. It would be difficult to imagine a comparable facility. The amenities and food are excellent, and there is great entertainment. I once told my family, 'I feel like a spoiled brat!'"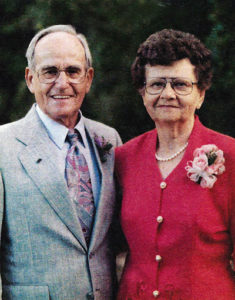 Henrietta keeps busy with board games and book club, volunteers as a greeter at the lobby desk, and offers devotions in the Manor dining room. She can still effortlessly recite Dutch prayers and hymns.
At 97 years, Henrietta has gained perspective through life's joys and sorrows. When she considers what is more important, she says, "The greatest legacy my husband gave me was my children. They are my greatest blessing and joy." Her growing family includes 15 grandchildren and 26 great-grandchildren.
While many things have changed since the Bykers' ancestors came to this country over a century ago, Gary and Henrietta shared the faith that their efforts and sacrifices would be an investment for future generations. Like their parents, they held the firm belief that lives which are rooted in God's unchanging grace can never be uprooted.