Every one of our Sunset residents, no matter where they're from or where they live now, has a unique story. Like fingerprints or snowflakes, no two residents are alike. What makes our residents special is their individuality and the life experience they bring with them to our communities. While we feel blessed to be a stop on their journey, our residents' wishes sometimes take them out into the surrounding neighborhood.
To help make those dreams come true, Sunset created the "Silver" Bucket List Fund. Through this program, we help residents check items off their bucket lists and make memories, in any small or big way we can.
Donajean Essenburg is a resident at Brookcrest, where she has lived for the past three years. She loves to participate in cooking club and play Wii bowling, reminiscent of the bowling alley she and her husband used to own. Donajean is an active member of the Brookcrest community, attending as many outings as possible.
For her Silver Bucket List wish, Donajean wanted to visit and explore the Boulder Ridge Wild Animal Park in Alto, Michigan. She really wanted to see a baby giraffe, so the Brookcrest team submitted a request.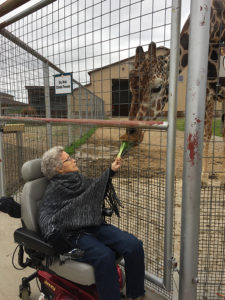 On Monday, May 20, Donajean's wish came true. Accompanied by her longtime friend Cheri as well as Brookcrest Resident Engagement Committee member/CNANick Parmenter and recreational therapist Christie Vander Meer, Donajean got the chance to meet and experience the animals up close. She interacted with the animals outside of their enclosures, including baby birds, legless lizards, and giraffes. She lit up with joy when she cuddled with a 4-month-old baby wallaby, which got so comfortable in her arms, it began to fall asleep.
Following her animal adventure, Donajean was treated to a lovely dinner at Bistro Bella Vita in downtown Grand Rapids, as the second part of her wish. She enjoyed a plate of Rigatoni Bolognese while reminiscing about how downtown Grand Rapids has changed over the years.
Our staff is honored to create the most caring and loving environment in the spirit of Christian love for our residents.
The "Silver" Bucket List Fund helps us provide last chance experiences. Turning these wishes and dreams into realities is made possible by compassionate neighbors, who designate their generous gifts to the "Silver" Bucket List Fund.
Give the gift of love and help make our resident's days joyful and memorable. Learn more about the "Silver" Bucket Fund or donate online.