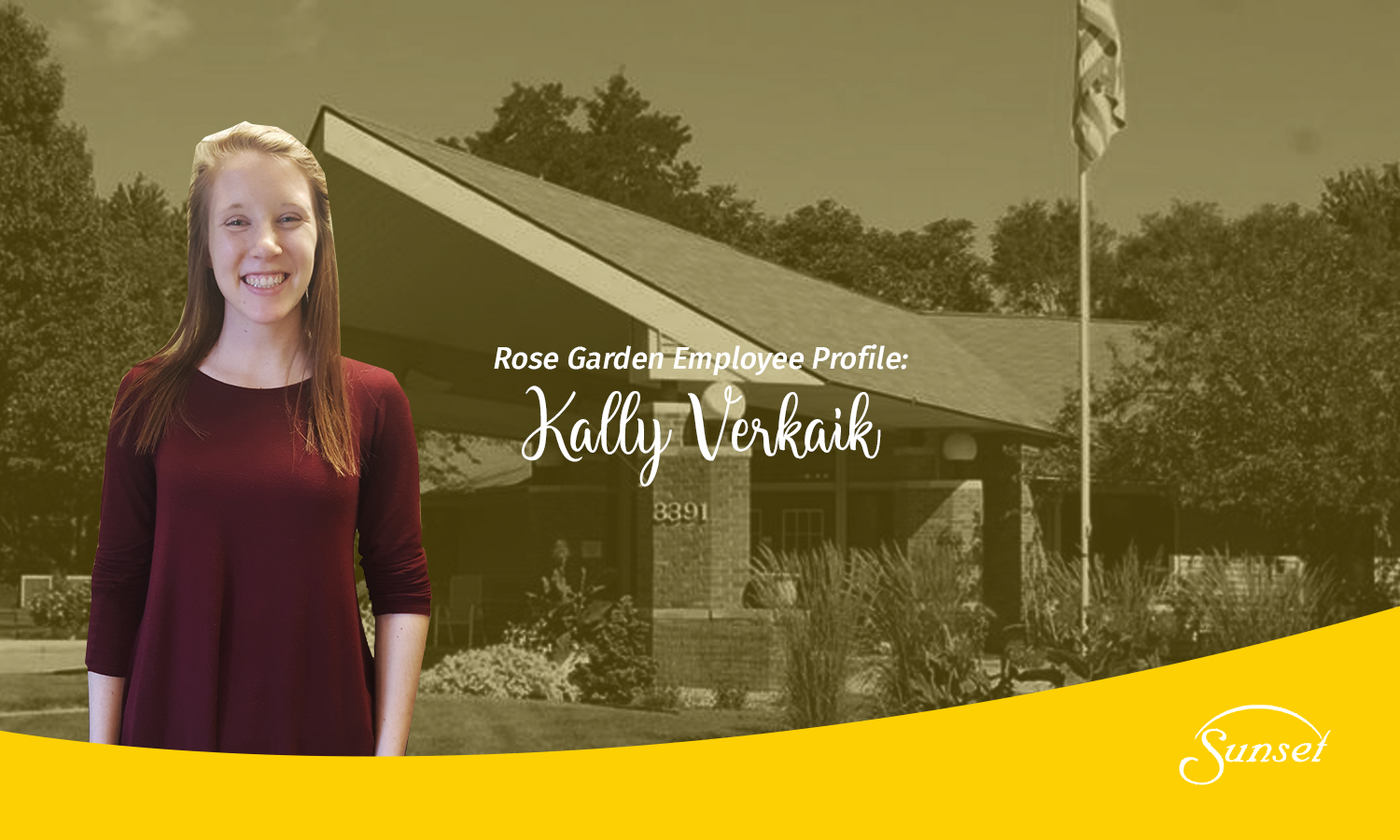 When Kally Verkaik was a child, she would help out at the retirement community that her aunt worked at whenever she visited. Kally would pass out the mail, help in the kitchen, or spend time talking with the residents. So, it is only natural that later in life, Kally would find her way to Sunset Retirement Communities & Services, where she currently serves as the Life Enrichment Coordinator at Rose Garden.
Two years ago, Kally started working on call at Waterford Place, but within the first week of training, Rose Garden was looking for someone to fill a part-time position. Kally decided she could do both and for several months worked at both communities. When a full-time position opened up at Rose Garden, Kally was the first on the list to receive the offer.
"I had been looking for full-time opportunities, and I was sitting on one I didn't even know existed," says Kally.
Always changing
As Life Enrichment Coordinator Kally plans anything and everything that has to do with the residents' well-being. She gives extra attention to plan events she thinks the residents will enjoy.
When a resident first comes to Rose Garden, Kally likes to meet with them to learn about their interests and activities they enjoy, so that she can develop events catered towards them.
"The residents are always changing, so my events continue to change too," says Kally.
Kally is often able to take the activities that residents used to do in the past and adapt them to allow residents to experience them in new ways.
"A year ago, I started balloon volleyball, and they loved it," says Kally. "I wasn't sure how it was going to go, but I brought a net from my house, figured out how to set it up, blew up a balloon, and the residents absolutely loved it."
For Kally, she hopes that the events she plans can bring some joy into the lives of residents stating that empowering residents to remain active and engaged is her passion in life.
"If I can brighten their day just a little bit, I have done what I have come to do," says Kally.
Special moments
While Kally is continuously busy planning upcoming events and activities, she says that it is the small special moments, which she doesn't plan, that means the most to her and the residents.
Recently, Kally took several residents on an outing to a barn for cider and donuts. When one of the owner's turned on some music, one of her residents with dementia immediately started to dance.
"All of a sudden the music turned on, and it was like a switch," says Kally. "I went over and started dancing with her, and for those two minutes, we were immersed in that special moment. There were lots of smiles and laughs."
"I can do all the planning in the world, but it is those little things, those little surprises, that fill my heart," says Kally.
#PassionMeetsCulture