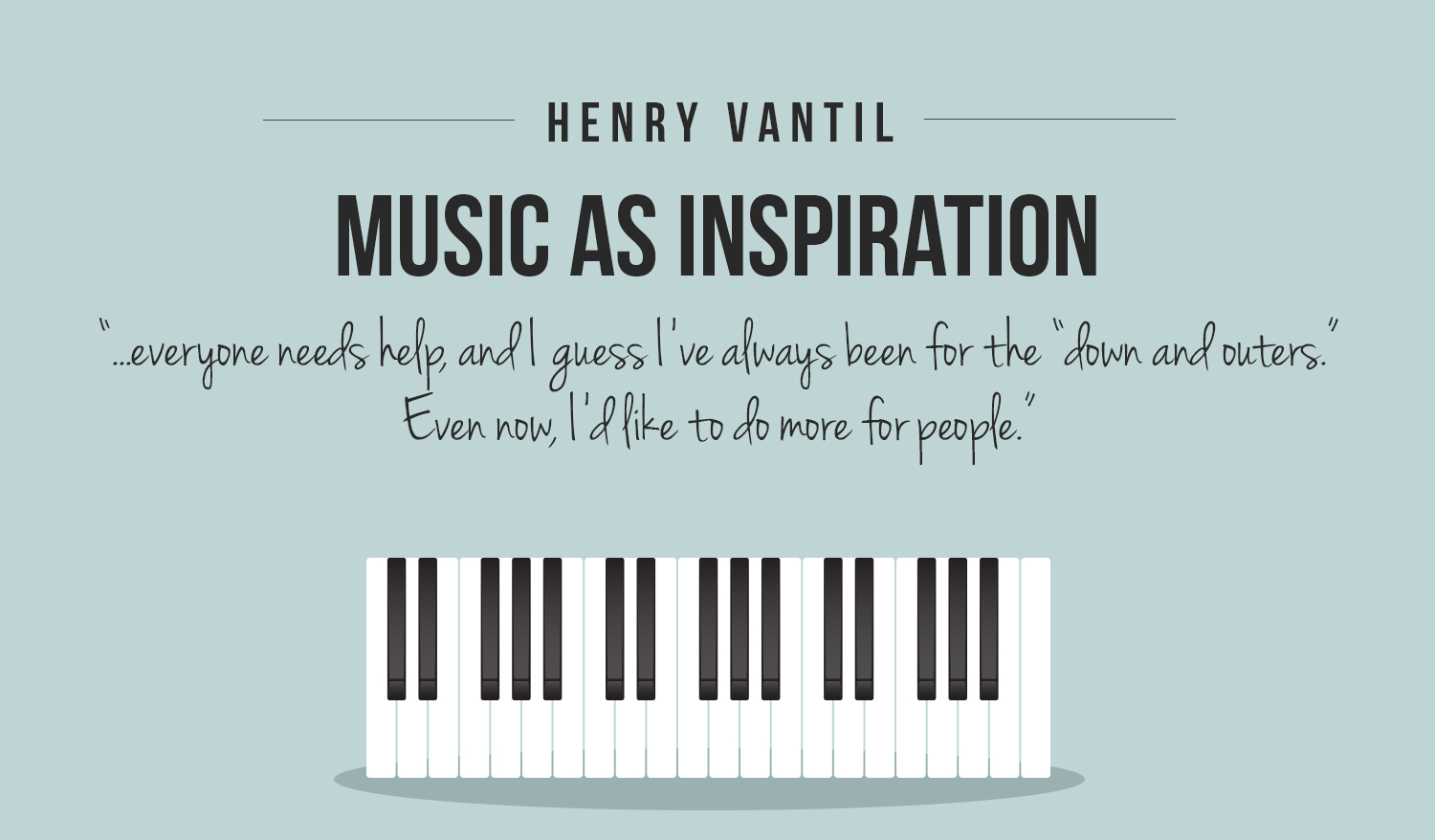 On a difficult Saturday evening in Henry VanTil's life, a nurse at Sunset Manor had a powerful impact. After taking the time to talk to him, she suggested that he focus on a Bible verse he had memorized. After returning to his room, Henry sat in his favorite chair and pulled an afghan over his legs.
"Rather than going over a verse," he recalls, "I went over the song, "Jesus, Lover of My Soul," and I fell asleep before I finished. When I woke up the next morning the sun was shining, and I felt great. Going to church that morning was a wonderful experience.
"I don't know who that nurse was, and she may not remember me, but I can just thank Sunset for the people they have here."
Henry was born in Arlene, Michigan on August 11, 1926. "When my mother was pregnant," he says, "my father needed to get his tonsils removed. My mom told him to go to the hospital, but he had it done at his dentist's office like some of his friends had done. When my mom went to pick him up the dentist met her at the door and said, 'I'm sorry, your husband is dead.'"
Things were tough for Henry's mom, now a single mother to Henry and his older sister. During the first Christmas season after Henry's father died, someone anonymously left a package on the family's porch: a framed picture that featured Romans 8:28.
The family moved to Grand Rapids and Henry's mother supported them by working in a factory. Eventually she remarried, and her new husband adopted Henry and his sister.
Henry's adoptive father drove a pedal wagon in Borculo during the Great Depression, delivering groceries to rural residents. When he was laid off from a later job at a furniture factory, he helped build Franklin Park as part of President Roosevelt's Works Progress Association (WPA), which provided work for millions of unemployed people during the depression.
After ninth grade Henry worked as an upholsterer for Stow & Davis Furniture Company in Grand Rapids. The music in church resonated with him and he took a strong interest in the Bible. He made a profession of faith and dated Geraldine Kremers, whom he met at church.
Henry recalls, "One day Dad came home from work on a Sunday with an "extra," which was a special edition of the newspaper. That's how we found out that Pearl Harbor was attacked."
As soon as Henry turned eighteen he was called up by the army. His troopship arrived at the Philippines in early 1945, shortly after the Battle of Manila. The soldiers arrived at night during a storm, and they dragged their packs through clay and mud to their camp. Henry recalls, "The next morning I stepped out into the sunshine and it was a beautiful day. I saw women carrying baskets on their heads and ponies pulling carts. It seemed like I was in a different world."
Henry recalls that the chaplain conducted a service in which he talked of the dangers ahead of the front lines. While at combat, Henry and his fellow soldiers slept in shallow holes called "slit trenches."
"When President Truman took over after Roosevelt died," says Henry, "he ordered all 18-year-olds off the front lines. For the remainder of the way I helped build camps, and then I spent a year in Japan during occupation as part of a demolition squad and then as an MP (Military Police)."
When he returned home, Henry continued to work at Stow & Davis and in 1947 he married Geraldine. A few years later, he heard about a community that needed help and felt called to serve.
"A minister told me about an area that was referred to as 'Skunk Hollow,' just west of Marne," says Henry. "People lived in trailers and sheds, and every home was broken. I had seen great hardship during the war, but nothing prepared me for what I saw there."
While Henry and his partners from Hope CRC established what was later known as Little Farms Chapel, he took classes at Reformed Bible Institute, now Kuyper College. He then served at several churches, including a mission church in Hamilton, Ontario, and Bowens Mills Chapel, sponsored by Boston Square CRC.
In 1965 Henry applied at Calvin College, and despite only completing ninth grade, he was accepted. After a year, he determined that juggling a full academic load was not compatible with raising a family of six children so he returned to Stow & Davis. Even while working full time, he sometimes preached two sermons on Sundays.
Henry knew that his birth father and his adoptive father had both played the harmonica. One day, on a whim, he purchased one. He started with "Jesus, Lover of My Soul," and discovered that when he played various hymns, the words came back to him.
Geraldine passed away in 1985; Henry married Clarissa Van Drie in 1987, and they moved to Sunset in 2013. Clarissa passed away in 2015. Henry has 16 grandchildren and 38 great-grandchildren.
"When I first came to Sunset," he says, "I played my harmonica in Assisted Living. I don't play for entertainment, I play for inspiration. Entertainment appeals to your emotions, but inspiring has to do with the heart."
"All of my experiences– in the war, at Skunk Hollow, and at missions– have made me realize that everyone needs help, and I guess I've always been for the "down and outers." Even now, I'd like to do more for people."
Each night before he goes to sleep, Henry goes over the words of "Jesus, Lover of My Soul," the hymn that has been meaningful at many times of his life.
"I find music to be tremendous therapy," he says. "It gets your mind off of whatever situation you're in. When I play my harmonica and focus on the words, I can live those songs."