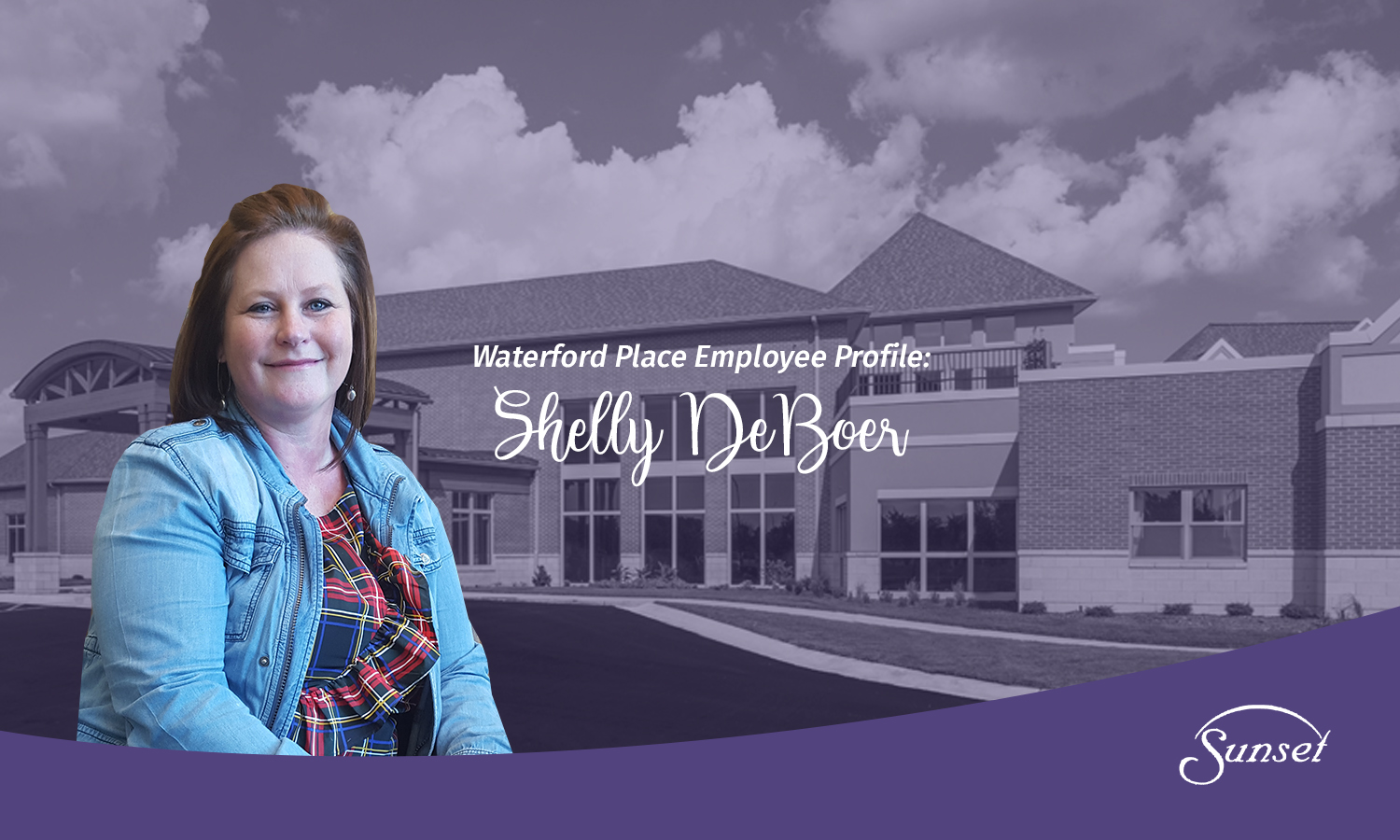 Shelly DeBoer never imagined that she would become the Life Enrichment Coordinator at Waterford Place. When she first came to work for Sunset 20 years ago, Shelly taught pool classes a couple days a week while she was raising her three sons. She loved how family-oriented Sunset was, which allowed her to work ten hours a week, so she could spend more time with her kids.
Over the next 15 years, Shelly would fill in and help with various activities at each of the Sunset communities. One day, when she went to Waterford Place to fill in for a fitness class. It came to her attention that they were looking to fill a life Enrichment Coordinator Position.  She applied, and was offered the new position at Waterford Place.
"I really came over thinking I was going to fill in for a fitness class and left that day with a new opportunity," says Shelly. "God always has a plan for us and this position was truly a gift, I love it here at Waterford Place."
Connecting to the Heart
Shelly loves to plan events that residents will enjoy. Some of her recent favorites include a Veteran's Day event where Sunset staff served breakfast in the morning and then held a concert featuring The United States Air Force's popular music ensemble band Hot Brass, complete with a firework show, in the evening. She wants each and every veteran to feel honored on that day.
Another favorite is "The Quest for the Best" where staff take residents around West Michigan to find the best treats. This summer, they went on the quest for the best ice cream. After visiting many ice cream parlors around West Michigan, the residents voted for their favorite.
Recently, Shelly also started a journaling class that residents have really enjoyed. Each week, she provides residents with prompts like 'What is the greatest give you ever received or gave?' or 'Write a letter to each of their kids.'
"It is really great to have them writing and sharing their favorite memories," says Shelly.
While Shelly loves the planning that goes into making these events possible, she says that her true passion is connecting to the hearts of residents.
Her office is centrally located in Waterford Place and there is always a revolving door of residents coming in just to chat and talk about their day. For Shelly, being able to provide a resident with comfort if they are having a bad day or sharing some joy with them is one of the best parts of her job. She believes that her authentic nature helps her to connect with each resident.
A resident Shelly really connected with was Don. Each day, Don would come by her office to joke around and share a laugh. One day in conversation, Shelly mentioned that on her days off on Fridays, she would stay in her pajamas all day and after that, it became a joke between the two of them.
While at home one Friday, she got a call from Don asking if she was coming to his and his wife's party. Before Shelly gave him a definite answer, Don said, "Well, I suppose you're probably going to be in your pajamas" and told her she wouldn't dare come to the party dressed like that.
Shelly, always the one for a dare, took him up on it.
"I put on my pink fuzzy robe and white slippers, and I showed up at the party in my pajamas," says Shelly. "Everyone enjoyed a big laugh."
Small Things with Great Love
Shelly has always loved that Sunset is family oriented, but now one of her favorite parts about working at Waterford Place is the people she works with. No matter what she needs, anyone from any department is willing to help to make sure that the residents are engaged and having fun.
"Everybody has each other's back. If I have a big event, it doesn't matter if somebody is in admissions, reception, or the kitchen, they all jump in and are excited," says Shelly.
One of Shelly's favorite quotes is 'Do small things with great love' by Mother Theresa.
"That's what our team does," says Shelly. "No matter what department they are in, they all do small things with great love, and that's what sets us apart."
#PassionMeetsCulture