Memory Care is a type of residential long-term care designed to improve the safety and quality of life for those with dementia or other memory-affecting condition. If you're researching Memory Care options for a loved one, you probably have a lot of questions about what life looks like going forward.
Sunset Senior Communities offers Memory Care at Manor & Villages and Waterford Place, both located in Jenison, Michigan. Our programs are focused on the individual needs of each resident and helping them live purpose-filled lives in a safe environment. Here's what to expect in Memory Care and what patient-centered Memory Care looks like at Sunset.
Activities Designed to Engage the Mind
Activities for Memory Care are designed to help residents settle into a routine and engage the mind. They might look very similar to activities in Independent or Assisted Living. Regular group activities like exercise classes, gardening, crafting, and hymn-sings help residents find a sense of normalcy and community with other residents.
Sunset's Life Enrichment Team tailors activities to residents' hobbies or interests. We often take favorite family recipes and recreate them in our kitchen. Going through the familiar steps of combining butter and sugar, adding eggs, flour, and chocolate chips is a wonderful way for residents to reminisce about fond memories and socialize with fellow residents. And we all get to enjoy a delicious snack once the cookies are out of the oven!
We also have special programs to exercise the brain. SAIDO Learning uses simple reading, writing, and math exercises to engage the area of the brain responsible for decision-making, planning, and memory recall. Just 30 minutes a day, five days a week helps residents exercise their brains like we exercise our physical bodies. We've seen some amazing results for residents who regularly participate in SAIDO sessions. Residents are reading again, calling family members by name, and communicating their basic needs.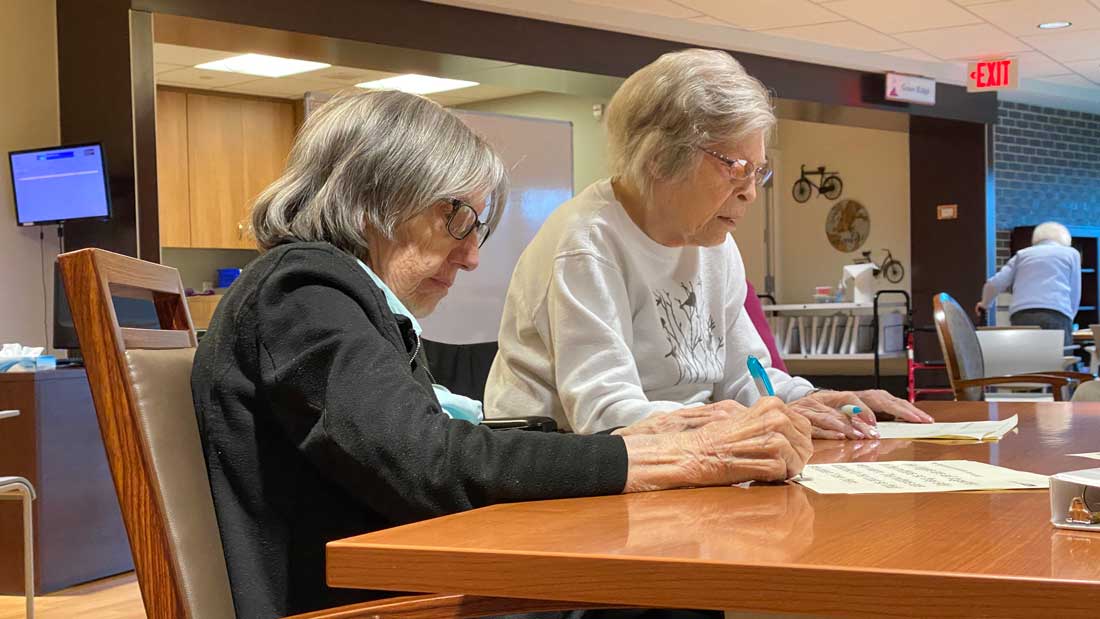 Sunset is one of the few senior living communities in the U.S. with a SAIDO Learning program. You can read more about how SAIDO came to Sunset and some of the other benefits we've seen in a previous blog.
Special Features for Resident Safety
People experiencing memory loss are more apt to wander (6 in 10, according to the Alzheimer's Association), so Memory Care communities have features to keep residents safe. You may see security measures like alarm doors, elevators that require a code, or enclosed outdoor spaces so residents can't leave unattended.
Even with these extra features, we carefully design our communities to look and feel like a normal senior living community, not like a locked-down nursing home. Common areas are welcoming spaces where residents can attend group activities or visit with family members. We choose paint colors, furniture, and layout to be calming and minimize confusion or stress.
Specially Trained Staff
Experiencing memory loss is a confusing and unpredictable time for many residents. Feelings of isolation and confusion can lead to anger or aggression. Staff members learn de-escalation tactics and how to handle behavior like resisting care. There are typically higher staffing ratios compared to other kinds of senior living. Staff members check in with residents more frequently, make sure they get to meals, and participate in the activities they enjoy.
Memory Care teams at Sunset fully invest in caring for each resident as a unique individual. Staff members have regular team meetings to ensure each resident receives the best possible care. We also encourage family members to ask questions and meet with staff members to talk about progress or potential changes so we can best serve and care for your loved one.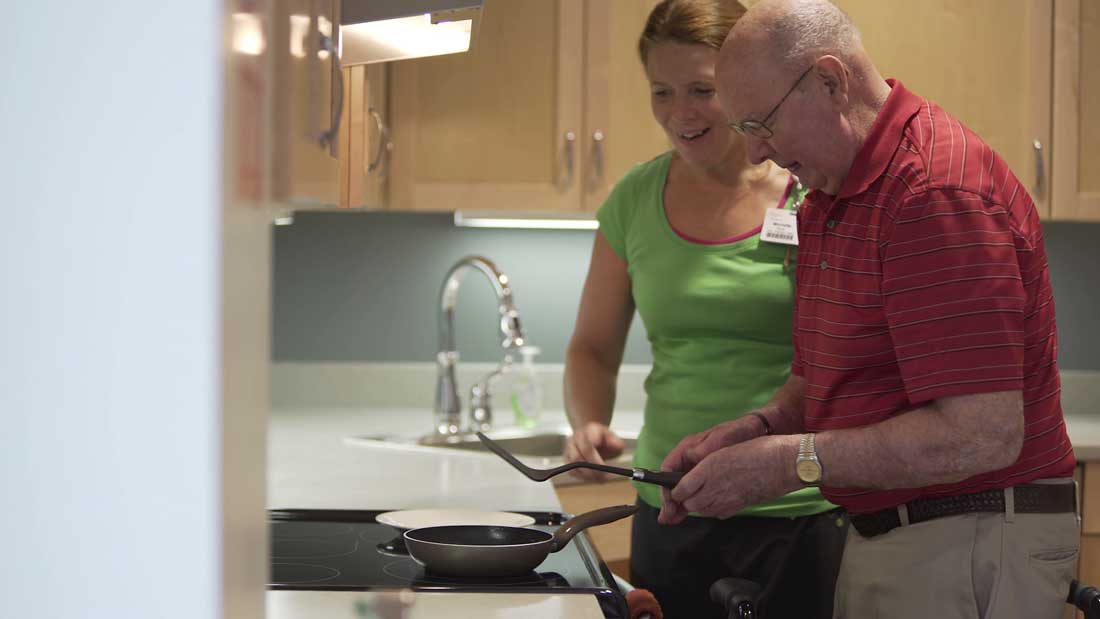 Support for Loved Ones
Sunset is here to serve not just residents, but family members and loved ones too! Memory loss is a difficult and confusing time—for the person experiencing it and their circle of friends and family. It's a challenging journey that can be hard to understand for those who have never experienced it. We are here to support and encourage you, especially when you don't know what to expect from day-to-day.
Sunset Takes A Patient-Centered Approach to Memory Care
We believe Memory Care shouldn't solely focus on treating the disease or symptoms but on caring for the individual's mind, body, and spirit in a safe environment. This patient-centered approach keeps life as normal as possible and helps residents maintain their independence and dignity. Please let us know if you have questions about our Memory Care services or would like to take a tour.